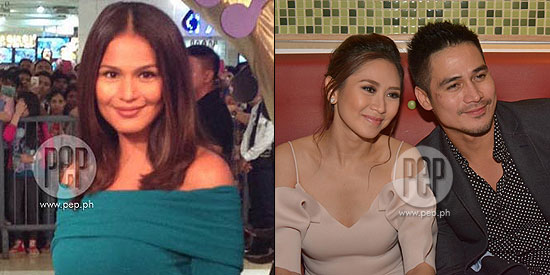 ---
Iza Calzado apologized to Sarah Geronimo's fans who were dismayed by the 32-year-old actress' reaction to the comparison between Star Cinema's The Breakup Playlist (2015) and the Hollywood movie Begin Again (2014).
"To all the popsters [Sarah's fans], my apologies if I hurt your feelings.
"Next time I will be more cautious about the manner by which I respond para clear," stated in Iza in her Twitter post yesterday, July 8.
FILIPINO CELEBS EMBARRASSED BY THE COMPARISON. It all started when Gab Valenciano shared a link of an ABS-CBN article stating "five reasons why The Breakup Playlist is better than Begin Again."
Gab, for his part, said that it's "kinda embarrassing" to compare The Breakup Playlist with Begin Again, even if some moviegoers believe that both share a similar theme about breaking up and the dynamics in the music scene.
Other celebrities who replied to Gab's post included Lea Salonga, Iza, and Cacai Bautista.
"Oh goodness... why the comparisons? Please, let's not go down this road," stated Lea in response to the article that Gab shared on his Facebook account.
Iza, who shared the same sentiments towards the article, posted an embarrassed monkey emoticon.
IZA'S STATEMENT. Apparently, some avid fans of Sarah felt bad about Iza's post, given that it's a bit contradictory to the latter's claim that she fully supports the Piolo Pascual-Sarah Geronimo starrer.
But while she admittedly enjoyed watching Piolo and Sarah's movie, Iza maintained that she disagrees with the ABS-CBN article, which stated that the Breakup Playlist is better than Begin Again, topbilled by Hollywood stars Keira Knightley, Mark Ruffalo, and Adam Levine.
Iza further explained: "I was at the premiere night of the movie [The Breakup Playlist].
"I enjoyed it especially technically but I can't say it's better than Begin Again.
ADVERTISEMENT - CONTINUE READING BELOW
"If I posted [embarrassed monkey emoticon] it means I felt it was nakakahiya to compare.
"They are 2 totally different films.
"If the fans are hurt by it, imagine how the fans of the movie [plus Adam Levine and Keira Knightley] would feel if they read that article?
"Sana lang wala na comparison."
Iza further stated that she would have agreed with the article if it centered on why The Breakup Playlist is more relatable for the Filipino audience than the said Hollywood film.
"IMO the article should've said '5 Reasons why the Break Up Playlist is better than Begin Again for the Filipino Audience' I would've put [thumbs up emoticon]."
Nevertheless, Iza stressed that would be more circumspect about her social media posts to avoid any miscommunication next time.
Here is Iza's complete series of Twitter posts regarding the issue:
I was at the premiere night of the movie. I enjoyed it especially technically but I can't say it's better than Begin Again. If I posted 🙈

— Izadora Calzado (@MissIzaCalzado) July 8, 2015
It means I felt it was nakakahiya to compare. They are 2 totally different films. If the fans are hurt by it, imagine how the fans of

— Izadora Calzado (@MissIzaCalzado) July 8, 2015
Imagine how the fans of the movie (plus Adam Levine and Keira Knightley) would feel if they read that article? Sana lang wala na comparison.

— Izadora Calzado (@MissIzaCalzado) July 8, 2015
IMO the article should've said "5 Reasons why the Break Up Playlist is better than Begin Again for the Filipino Audience" I would've put👍🏾

— Izadora Calzado (@MissIzaCalzado) July 8, 2015
SHARE THIS STORY The Breakup Playlist is better than Begin Again."" data-url="https://www.pep.ph/news/54474/iza-calzado-apologizes-to-sarah-geronimo39s-fans-but-maintains-i-can39t-say-the-breakup-playlist-is-" data-desc="Iza Calzado, Lea Salonga, Gab Valenciano embarrassed by comparison between The Breakup Playlist and Begin Again. " data-image="https://contents.pep.ph/images2/news/3aba77a3c.jpg"> The Breakup Playlist is better than Begin Again."" data-url="https://www.pep.ph/news/54474/iza-calzado-apologizes-to-sarah-geronimo39s-fans-but-maintains-i-can39t-say-the-breakup-playlist-is-" data-desc="Iza Calzado, Lea Salonga, Gab Valenciano embarrassed by comparison between The Breakup Playlist and Begin Again. " data-image="https://contents.pep.ph/images2/news/3aba77a3c.jpg"> The Breakup Playlist is better than Begin Again."" data-url="https://www.pep.ph/news/54474/iza-calzado-apologizes-to-sarah-geronimo39s-fans-but-maintains-i-can39t-say-the-breakup-playlist-is-" data-desc="Iza Calzado, Lea Salonga, Gab Valenciano embarrassed by comparison between The Breakup Playlist and Begin Again. " data-image="https://contents.pep.ph/images2/news/3aba77a3c.jpg">
SHARE THIS STORY
The Breakup Playlist is better than Begin Again."" data-url="https://www.pep.ph/news/54474/iza-calzado-apologizes-to-sarah-geronimo39s-fans-but-maintains-i-can39t-say-the-breakup-playlist-is-" data-desc="Iza Calzado, Lea Salonga, Gab Valenciano embarrassed by comparison between The Breakup Playlist and Begin Again. " data-image="https://contents.pep.ph/images2/news/3aba77a3c.jpg"> The Breakup Playlist is better than Begin Again."" data-url="https://www.pep.ph/news/54474/iza-calzado-apologizes-to-sarah-geronimo39s-fans-but-maintains-i-can39t-say-the-breakup-playlist-is-" data-desc="Iza Calzado, Lea Salonga, Gab Valenciano embarrassed by comparison between The Breakup Playlist and Begin Again. " data-image="https://contents.pep.ph/images2/news/3aba77a3c.jpg"> The Breakup Playlist is better than Begin Again."" data-url="https://www.pep.ph/news/54474/iza-calzado-apologizes-to-sarah-geronimo39s-fans-but-maintains-i-can39t-say-the-breakup-playlist-is-" data-desc="Iza Calzado, Lea Salonga, Gab Valenciano embarrassed by comparison between The Breakup Playlist and Begin Again. " data-image="https://contents.pep.ph/images2/news/3aba77a3c.jpg"> The Breakup Playlist is better than Begin Again."" data-url="https://www.pep.ph/news/54474/iza-calzado-apologizes-to-sarah-geronimo39s-fans-but-maintains-i-can39t-say-the-breakup-playlist-is-" data-desc="Iza Calzado, Lea Salonga, Gab Valenciano embarrassed by comparison between The Breakup Playlist and Begin Again. " data-image="https://contents.pep.ph/images2/news/3aba77a3c.jpg">