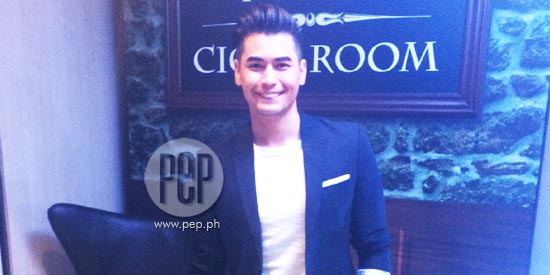 ---
Fabio Ide feels very blessed.
Even if his life and businesses are not exactly stress-free, "It's so amazing how many opportunities have been coming my way this year, I am just very grateful."
Add the fact that, "...everything I am doing now is everything I really love."
At the Palace Pool Club in Bonifacio Global City, during the one-night-only AXE Black Fabio Pop-Up Bar event, PEP.ph (Philippine Entertainment Portal) had the chance to chat with him about the recent issue thrown at Valkyrie, where he's one of the partners.
It can be recalled that last month, the swanky club earned the ire of LGBT community and a number of Netizens after fashion designer Veejay Floresca was denied entry because of the club's strict dress code, which says no to cross-dressing.
The model/businessman explained, "I think, to clarify, we already had a meeting with them, my partners already had a nice meeting with them, they already apologized to them, we explain what happened."
STRICT DRESS CODE. Fabio, who has business investments in 71 Gramercy, Valkyrie at the Palace, and the Palace Pool Club, reiterated their stand regarding the recent misunderstanding.
"Everyone is very welcome here, in the Pool Club, in Valkyrie. So that was a problem that happened and we already apologized to them and I think it's okay na.
''Our team already spoke with them. I'm sure everything is okay..."
Explaining their side of the issue, Fabio elaborated, "At the end of the day, we allow all different kinds of people to come here.
ADVERTISEMENT - CONTINUE READING BELOW
''It doesn't matter if you're gay, if you're straight, transgender. We don't have that [dress code].
''But we do have a policy where for guys, for girls, and for anyone, that if you're not dressed up properly, then it's our job to stop you.
''But it can be a girl, can be a guy, we don't have a policy na, 'no transgender,' we never had.
"What happened was a misunderstanding."
He's glad it's all behind them now, "But just to make sure, we don't have that, that's not our policy, that's not how we work."
AFTERMATH. Did the incident have any effect on the income of the establishment?
In hindsight, he remarked, "It didn't affect...I think for the people who didn't know Valkyrie before, now everybody knows Valkyrie!
"We are still trying to throw really good parties for everyone.
"For everyone who comes here, we try to give them the best, we try to give them a nice party, a nice experience," he stressed.