"What do you mean when you say you love our country, today? During martial law, we had to put our lives on the line to defend our freedom."
This is the question that martial-law survivor Esther Isberto posed to students from different schools around the country.
Contrary to claims that martial law is golden age of the Philippines, Esther is one of the Bantayog Ng Mga Bayani volunteers who help educate today's youth with real stories of martial-law brutality.
At the same time, Esther encourages exchange of ideas among students in the martial-law forums that Bantayog Ng Mga Bayani mounted for the past several months.
Here, PEP.ph (Philippine Entertainment Portal) rounds up some of Esther's takeaways from the school rounds that she and other martial-law survivors did in the past few months.
Among the schools who participated include U.P. Manila, Polytechnic University of The Philippines, Ateneo de Naga University, San Beda College-Manila, Miriam College, Center for Positive Futures, and the Montessori School in Parañaque City.
1. Teach the lessons of martial law even if it means dealing with traumatic memories of martial law.
Esther and six other martial-law survivors volunteered to be resource speakers/facilitators in the "TalaKalayaan" forum held at Camp Crame last February 15.
Esther related, "It was difficult for many of us martial law veterans to go to Camp Crame for this occasion.
"One of us (Bernie Aquino) could not sleep the night before, just thinking about entering Crame the next day.
"In my case, I was interrogated there several times, so the thought of going there for this TalaKalayaan was not a pleasant one."
But all of them knew they had to go in order to connect with the millenials who need to know what really happened during the martial-law era.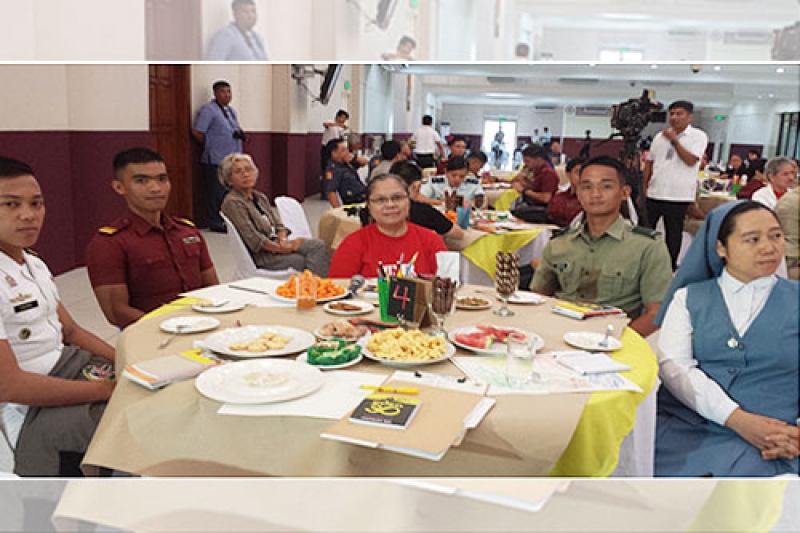 2. School textbooks barely show the dark years of martial law.
This is the primary reason why Esther and other fellow volunteers spearheaded forums that will shed light to the horrors of martial law.
Citing one of the TalaKalayaan discussions in Camp Crame, Esther said, "I pointed out to the military, police cadets and students in my table that the Marcos government's propaganda line during martial law was, Sa Ikauunlad ng Bayan, Disiplina ang Kailangan.
"Then I asked, if a leader demands that the people be disciplined, isn't it incumbent on that leader to first practice the discipline he is preaching. But what happened during martial law?
"The economy collapsed and the country fell deep into debt, while Marcos and his cronies were accused of amassing billion of dollars of ill-gotten wealth and Imelda collected jewelry and shoes.
"What happened to the discipline of our leaders?"
3. Love for one's country means joining the local work force rather than looking for better opportunities abroad.
In the Center for Positive Futures, a group of students presented a skit about a senior college student who turned down a chance to find a job in Singapore.
Here's the dialogue between the senior college student and her OFW mom, as seen in the skit:
Nanay: Anak kumusta na ang practice ninyo sa graduation?
Anak: Ok naman Nay. Nag e-enjoy kami at looking forward sa graduation day.
Nanay: O, di pagkatapos kailangan mo nang asikasuhin ang mga papeles mo para magpunta ka rito sa Singapore at magsama na tayo.
Anak: Nay, pag-iisipan ko muna kung gusto ko bang pumunta diyan.
Nanay: Ha? Kailangan pa bang pag-isipan iyan? Akala ko ba nag-usap na tayo dito?
Anak: Oo Inay. Kaya lang, kung lahat kaming mga bagong graduate ay aalis para magtrabaho sa ibang bansa, sino ang maiiwan sa bansa natin? Sino ang tutulong para umunlad ang bansa natin? Kaya Inay, nagdedesisyon ako na hindi na ako mag abroad. Dito na ako magtrabaho sa ating bansa.
4. Make the country the proud by striving to be the best in one's chosen field of career.
When asked how they will show their love for the country, students of UP-Manila responded, "We will show our love for our country by being the best in the field that we chose.
"When we will be working, whether in the private sector, the government, or NGOs, we will be the best in our field of expertise and push for the development of our country."
5. Show what martial-law brutality is like through the eyes of a Batanes artist.
In a forum held at Ateneo De Naga, the Randalf Dilans' mural titled "Salvaged Memories, Salvaged Lives" was used as a stage backdrop.
The artwork, which was commissioned by the Hilaraya Gallery, depicted the late dictator Ferdinand Marcos amidst martial-law victims to remind Filipinos to never let history repeat itself.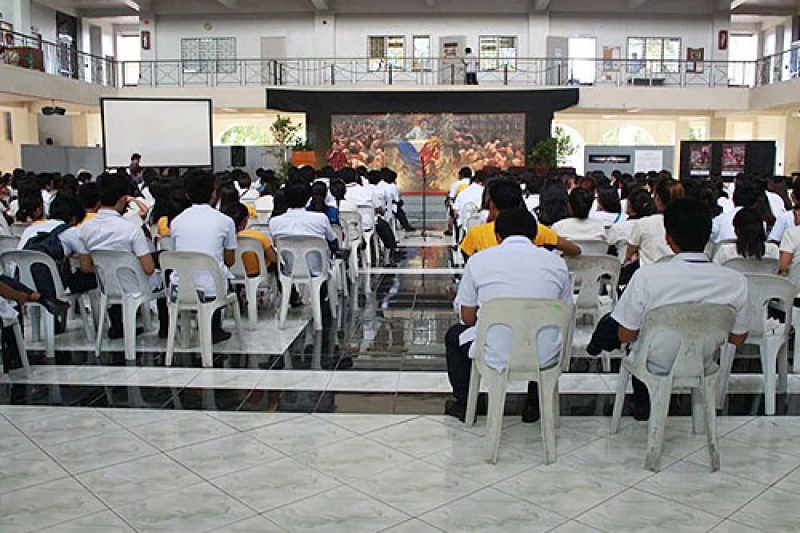 Esther Isberto is an architect, who practiced social infrastructure rather than physical infrastructure, with a Masters in Development Management from AIM and a retired development consultant.
RELATED ARTICLE: True stories of martial-law brutality still fresh, says CARMMA