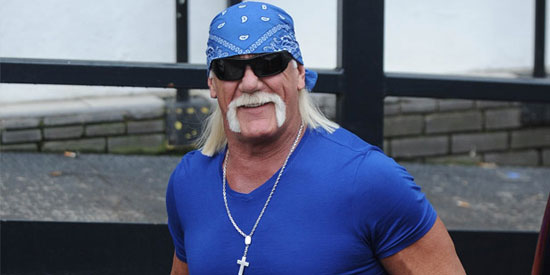 ---
WWE have terminated Hulk Hogan's contract following claims he made racist comments on video.
World Wrestling Entertainment announced today, July 24, they were releasing the Hall of Fame Superstar as reports broke on RadarOnline.com and via National Enquirer that Hogan had allegedly used the 'N-word' while complaining to ex-lover Heather Clem—the former wife of his friend Bubba 'The Love Sponge' Clem—about his daughter Brooke Hogan's apparent taste in men on an unauthorized sex tape leaked in 2012.
The tape is the subject of an upcoming court case between the grappling icon and Gawker.com.
A statement released by the company, who rehired the multi-time world champion in 2014, read: "WWE terminated its contract with Terry Bollea (aka Hulk Hogan). WWE is committed to embracing and celebrating individuals from all backgrounds as demonstrated by the diversity of our employees, performers and fans worldwide."
Following the WWE's decision, Hogan, whose real name is Terry Bollea, has left his role as a judge on reality show Tough Enough and all mentions of him and his merchandise have been removed from the company's website.
ADVERTISEMENT - CONTINUE READING BELOW
The transcripts of Hogan's comments in which he is also alleged to have uttered the sentence "I guess we're all a little racist" have reportedly been filed in a Florida court, under seal, in a bid to prevent them from being publicly released as part of his $100 million lawsuit against Gawker for invasion of privacy.
Gawker posted a short grainy clip of the sex tape, which was filmed before 2012, and Hogan took legal action against the website as he claims they breached his privacy as the tape was taken without his consent and was not in the public interest.
Although the documents were sealed, National Enquirer and RadarOnline.com in a joint investigation claim they obtained the material from five separate sources.
In the wake of his departure from WWE, Hogan, 61, took to Twitter to reveal he was placing his faith in God.
He tweeted: "In the storm I release control, God and his Universe will sail me where he wants me to be, one love. HH"
ADVERTISEMENT - CONTINUE READING BELOW
HULK HOGAN APOLOGIZES. Hulk has promised to "improve as a person" and has apologized for using "offensive language" in a private conversation in which he used racial slurs.
Hogan has issued a statement in which he apologizes for his words and insists the comments are "inconsistent with his own beliefs."
In a statement released exclusively to PEOPLE.com, he said: "Eight years ago I used offensive language during a conversation.
"It was unacceptable for me to have used that offensive language; there is no excuse for it; and I apologize for having done it.
"This is not who I am. I believe very strongly that every person in the world is important and should not be treated differently based on race, gender, orientation, religious beliefs or otherwise.
"I am disappointed with myself that I used language that is offensive and inconsistent with my own beliefs."
He added to the publication he will use the situation to "improve as a person" and considers what has happened to be an "important learning experience."
ADVERTISEMENT - CONTINUE READING BELOW