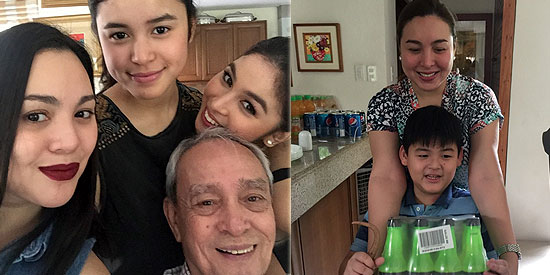 ---
Seems like Claudine Barretto is making up for lost time with her family, especially with sister Marjorie and her kids, following their reconciliation a couple of weeks ago.
Marjorie and her kids even celebrated Claudine's advance birthday party last July 19.
Read: Claudine Barretto welcomes 36th birthday with sister Marjorie, niece Julia, and the rest of Barretto family
Claudine posted her photos with Marjorie's children, older brother Mito, and their dad Miguel on Instagram.
Claudine also posted photos of herself and niece Julia Barretto, Marjorie's daughter.
In her captions, Claudine called her niece "baby" and "sweetie."
Claudine posted these photos on Tuesday, August 4, which were additional ones to the photos she posted last Sunday, August 2, the time when the occasion occurred.
Her nieces with Marjorie, namely Julia and Dani, also posted pictures on their Instagram accounts from the same occasion last Sunday.
Claudine even posted a photo of her son Santino with Marjorie, who has given Santino bottles of his favourite soda.
Claudine also tagged estranged husband Raymart on the said post.
Meantime, Julia also posted a pic on her Instagram account with her Tita Claudine last Sunday and captioned it, "Keep up with the Barrettos."
A photo posted by JULIA (@juliabarretto) onAug 2, 2015 at 3:55am PDT