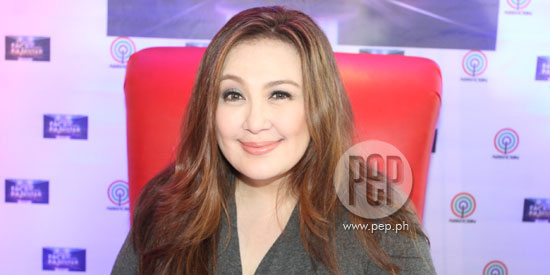 ---
After five days in the hospital, Sharon Cuneta revealed that she is back home but still recovering from her persistent cough.
The Megastar was brought to St. Luke's Medical Center, and was diagnosed of "allergic rhinitis and a post-nasal drip and a bacterial infection" last Sunday, August 9.
On Facebook, she posted earlier, August 15, that she's feeling better but a bit emotional after being away from her family for several days.
"Hi, everyone. I got home just yesterday [Friday] after five days of confinement.
"I was supposed to have a couple more tests at the hospital and possibly be discharged today, but I requested to leave yesterday as I thought it was also an emotional thing that was keeping me there longer because I really was missing my family too much.
"I love being back home!
"I am still weak and left the hospital with a new [haaaaay...] cough, and LOTS of meds to take home, so [or but] for some reason I am feeling better today. It's my family!
"My Miel, though, got sick and has been down with a high fever since three days ago," said Sharon.
HAPPY REUNION WITH KC. The 49-year-old Kapamilya star also revealed she personally requested her daughter KC Concepcion to visit her at the hospital.
Her eldest daughter came with her mom's favorite comfort food.
"KC visited me twice in the hospital.
"I asked my assistant to call her and ask if she could come because I missed her so much.
"And my baby came running after an event, with my favorite breads and a sandwich from Paul Patisserie as pasalubong [I'm not a rice person. Everyone who knows me knows that one of my diet downfalls is bread!].
"I have always loved KC lying down beside me, and hugging her. I love the smell of my baby's skin and hair."
ADVERTISEMENT - CONTINUE READING BELOW
It can be recalled that two months ago, the Megastar revealed her misunderstanding with KC shortly after expressing disapproval over KC's "unnecessary too-sexy poses" at an event in Smart Araneta Coliseum.
KC reacted by saying she will always love her mom Sharon despite their share of personal differences.
READ Sharon Cuneta back on good terms with KC Concepcion months after their reported rift
MISSING MOMMY ELAINE. Also part of Sharon's Facebook post stated how much she misses her deceased mom Elaine Cuneta, who passed away due to internal bleeding and complications arising from abdominal surgery November of last year.
Sharon further related, "I cried a couple of times while I was confined, because it was the first time I was hospitalized without my Mama around anymore.
"She would have come with the usual churros and tsokolate (always her pasalubong to me, even before my first marriage broke up. One of her 'pampa-comforts.'
"Puro food kami no?! Di naman nauubos! Basta nandiyan lang.:-)) I really miss her.
"And it didn't help that I was on the same floor as her room when she was last hospitalized there too, just before she passed.
"Only her room was on the other end of the hallway. I know she was and is with me, though," she mused.
Nevertheless, Sharon said she remains grateful for having husband Kiko Pangilinan and their children Frankie and Miel by her side as she recovers from her persistent cough at home.