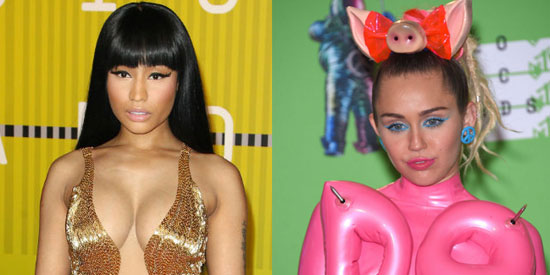 ---
Nicki Minaj branded Miley Cyrus a "b***h" at the MTV Video Music Awards last night, August 30.
The "Anaconda" rapper hit back at the hostess—who recently called her "not very polite"—while she collected the Best Hip-Hop Video prize onstage.
After giving her acceptance speech, Nicki said: "And now, back to this b***h that had a lot to say about me the other day in the press... Miley, what's good?"
Miley, 22, responded: "Hey, we're all in this industry, we all do interviews, and we all know how they manipulate s**t. Nicki, congratu-f***ing-lations."
The "Wrecking Ball" singer recently criticized the way Nicki handled her snub for the Video of the Year prize and got into a mini-feud with Taylor Swift.
Miley said: "What I read sounded very Nicki Minaj, which, if you know Nicki Minaj is not too kind. It's not very polite.
"I think there's a way you speak to people with openness and love. You don't have to start this pop star against pop star war.
"It became Nicki Minaj and Taylor in a fight, so now the story isn't even on what you wanted it to be about."
Miley, 22, believes that Nicki made the argument about herself—due to her "Anaconda" video being slighted—rather than making a statement for fellow African-American pop stars.
She added: "If you want to make it about race, there's a way you could do that. But don't make it just about yourself.
"If you do things with an open heart and you come at things with love, you would be heard and I would respect your statement.
"But I don't respect your statement because of the anger that came with it.
"And it's not anger like, 'Guys, I'm frustrated about some things that are a bigger issue.'
ADVERTISEMENT - CONTINUE READING BELOW
"You made it about you. Not to sound like a bitch, but that's like, 'E, I didn't get my VMA.'"
MILEY EXPOSES BREAST. Miley, on the other hand, exposed her nipple and passed around a lit joint at the MTV Video Music Awards last night.
The 22-year-old singer promised the craziest VMAs in history and she certainly delivered with outrageous antics during the music ceremony, including an X-rated moment on live TV.
As the show drew near its closing moments, Miley was seen backstage hiding behind a black curtain in her dressing room.
"As she was handed a microphone by a producer, her left breast was exposed for the entire viewing audience.
As the camera quickly cut away from the wild child, she was heard saying: "Oh what's happening? Oh sorry, my t*t's out?"
But Miley's shocking behavior didn't end there as she also passed around a marijuana cigarette in the press room after the event.
According to the New York Daily News, she told members of the media: "Everyone. I'm sure a lot of us have known each other for a really long time.
"Even though I'm not old, I've been doing this s**t for a while.
"And because you're all my friends, and my song is kinda sorta about the love of marijuana/the love of humankind, I brought a little joint if anyone would like any. Anyone?"
The singer also released her new album, Miley Cyrus and Her Dead Petz, online for free after hosting the VMAs.