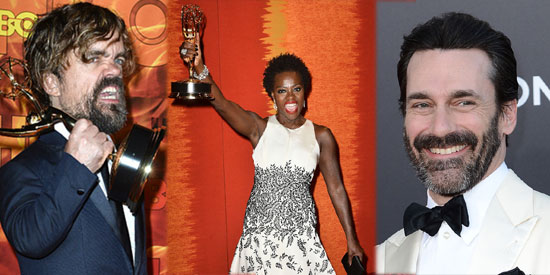 ---
Game of Thrones broke the record for winning the most Emmys in one year, taking their haul to 12 trophies last night, September 20 (U.S. time).
The HBO show added to the eight prizes it scooped at the recent Creative Arts Emmy Awards at the 67th Annual Primetime Emmy Awards by picking up another four awards; including the coveted Outstanding Drama Series, as well as Outstanding Writing in a Drama Series, and Outstanding Directing in a Drama Series.
Peter Dinklage, who has previously won for his role as Tyrion Lannister, took the prize for Outstanding Supporting Actor in a Drama Series for the second time.
Miniseries Olive Kitteridge was the big winner of the evening at the Microsoft Theater in Los Angeles, picking up six trophies, including Outstanding Limited Series and acting honors for Frances McDormand, Bill Murray, and Richard Jenkins.
Elsewhere, Viola Davis made history as the first woman of color to win the Outstanding Actress in a Drama award for her part in How To Get Away With Murder.
Viola, 50, quoted activist Harriet Tubman in her acceptance speech and paid tribute to fellow stars including Taraji P. Henson, Scandal star Kerry Washington, and Extant's Halle Berry for "taking us over that line."
She also said: "The only thing that separates women of color from anyone else is opportunity.
"You cannot win an Emmy for roles that are simply not there."
Elsewhere at the awards, which honor excellence in television and were hosted by Andy Samberg, Amy Schumer bagged the Inaugural Outstanding Variety Sketch Series award and dedicated the prize to her sister.
ADVERTISEMENT - CONTINUE READING BELOW
She said: "[To] my sister Kim, who's the only reason I'm alive and breathing."
67th Annual Primetime Emmy Awards list of winners:
Outstanding Drama Series: Game of Thrones
Outstanding Lead Actress in a Drama Series: Viola Davis - How to Get Away With Murder
Outstanding Lead Sctor in a Drama Series: Jon Hamm - Mad Men
Outstanding Supporting Actress in a Drama Series: Uzo Aduba - Orange Is The New Black

Outstanding Supporting Actor in a Drama Series: Peter Dinklage - Game of Thrones
Outstanding Comedy Series: Veep
Outstanding Lead Actress in a Comedy Series: Julia Louis-Dreyfus - Veep
Outstanding Supporting Actress in a Comedy Series: Allison Janney - Mom
Outstanding Supporting Actor in a Comedy Series: Tony Hale - Veep
Outstanding Variety Sketch Series: Inside Amy Schumer
Outstanding Limited Series: Olive Kitteridge
Outstanding Lead Actress in a Limited Series or a Movie: Frances McDormand - Olive Kitteridge
Outstanding Lead Actor in a Limited Series or a Movie: Richard Jenkins - Olive Kitteridge
Outstanding Supporting Actress in a Limited Series or TV movie: Regina King - American Crime
Outstanding Supporting Actor in a Limited Series or Movie: Bill Murray - Olive Kitteridge
Outstanding Variety Talk Series: The Daily Show with Jon Stewart
Outstanding Reality-Competition Program: The Voice
Outstanding Host for a Reality or Reality-Competition Program: Jane Lynch - Hollywood Game Night
Outstanding Unstructured Reality Program: Deadliest Catch
Outstanding Structured Reality Program: Shark Tan
Outstanding Variety Special: The Saturday Night Live 40th Anniversary Special
Outstanding Directing for a Drama Series: David Nutter - Game of Thrones
ADVERTISEMENT - CONTINUE READING BELOW
Outstanding Writing for a Drama Series: David Benioff and DB Weiss - Game Of Thrones
Outstanding Directing in a Comedy Series: Jill Soloway - Transparent
Outstanding Writing for a Comedy Series: Simon Blackwell, Armando Iannucci and Tony Roche - Veep

Outstanding Directing for a Limited Series, Movie or Dramatic Special: Lisa Cholodenko - Olive Kitteridge
Outstanding Writing for a Limited Series, Movie or Dramatic Special: Jane Anderson - Olive Kitteridge
Outstanding Directing for a Variety Series: Chuck O'Neil - The Daily Show
Outstanding Writing for a Variety Series: Elliott Kalan, Adam Lowitt, Steve Bodow, Jon Stewart, Dan Amira, Travon Free, Hallie Haglund, Matt Koff, Dan McCoy, Jo Miller, Zhubin Parang, Daniel Radosh, Lauren Sarver, Owen Parsons and Delaney Yeager - The Daily Show with Jon Stewart
Outstanding directing for a variety special: Don Roy King - The Saturday Night Live 40th Anniversary Special
Outstanding writing for a variety special: Louis CK - Louis CK: Live At The Comedy Store
Outstanding Television Movie: Bessie
Outstanding Guest Actor in a Drama Series: Reg E Cathey - House of Cards
Outstanding Guest Actress in a Drama Series: Margo Martindale - The Americans
Outstanding Guest Actor in a Comedy Series: Bradley Whitford - Transparent
Outstanding Guest Actress in a Comedy Series: Joan Cusack - Shameless
Outstanding Documentary or Nonfiction Special: Going Clear: Scientology And The Prison Of Belief
Outstanding Documentary or Nonfiction Series: The Jinx: The Life And Deaths Of Robert Durst

Outstanding Informational Series or Special: Parts Unknown - Anthony Bourdain