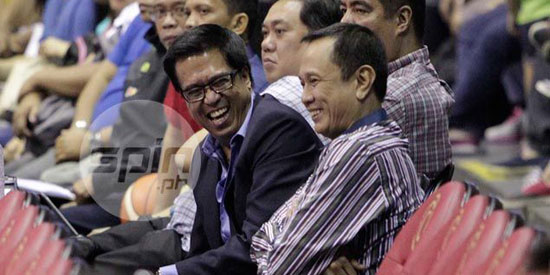 ---
WHEN Chito Narvasa delivered his first speech as commissioner before the PBA Press Corps at the latter's awards night on Wednesday, he gave a veritable lecture on "responsible journalism" before league beat writers and senior editors, some of whom were sportswriters even before the PBA was an idea.
Two days later, Narvasa revealed why the big lecture: He banned television host and Spin.ph contributing writer Snow Badua from PBA games and all league activities. He also ordered all players, coaches, and officials, under threat of penalty, not to talk to Badua, as punishment for what he called Badua's "irresponsible and deplorable actions" against Ginebra governor Alfrancis Chua.
Narvasa justified the severity and the apparent high-handedness of his action by pointing to Badua's posts on the latter's personal Twitter account, saying these "can only be the concoction of an evil mind."
But as facts and circumstances show, all is not what it seems.
The circumstances that led to the ban reveal an underlying mindset that should alarm, not just Spin.ph, but every single media entity whose job is to cover the PBA.
The timing of the ban itself is dubious.
A top PBA official had warned us that the league board agreed to take action against Badua on Friday — the day Spin.ph ran a story about model Abby Poblador's confession, in a popular radio show, of her alleged affair with Chua, and a good two days before Badua posted the tweets that have been made grounds for his ban.
Despite the warnings, we ran a second story on Monday culled from Badua's interview with the radio show's host, Mo Twister, confirming that Poblador mentioned Chua's name "like 15 times" during her "confession" of an affair.
The ban was handed down by Narvasa on Friday.
It must be said that Spin.ph is an independent and legitimate sports website covering, among others, the PBA, its activities, and its officials. This website is co-owned by GMA's New Media Inc. and Summit Media Inc., themselves long-standing media companies.
ADVERTISEMENT - CONTINUE READING BELOW
As a media platform, Spin.ph does not seek to besmirch the reputation of any institution or person, but neither does it shirk from asking anyone the tough questions.
To merge two apt clichés: we do not have an ax to grind but neither do we have sacred cows. In the end, what we do is simply give our readers the answers they deserve, as all media entities must.
Why did Badua get the PBA's goat?
A PBA official, requesting anonymity, intimated that some team officials present in that board meeting were fed up with articles that Spin.ph has dared run in the past. These presumably include the "farm teams" issue and game-fixing in the league, which we did run, precisely to give the professional teams a chance to air their side and address accusations constantly thrown at them by fans online.
So why did we run the Chua story?
As Narvasa himself said in his letter to Badua, Chua is a "person of authority in our association." Chua is, in fact, the head of basketball operations of San Miguel Corporation and Ginebra's representative to the league board, vesting him with vast influence not only on the three teams under SMC's umbrella but, more pointedly, on the results of league games.
A person with such power and sway, Spin.ph believes, should come under a professional and moral scrutiny more stringent than that levelled on the players themselves, especially since the PBA — with its commercial success over the past 40 years and its large fan base — has become the de facto caretaker of a sport we concede is the national pastime.
Read full article on SPIN.ph