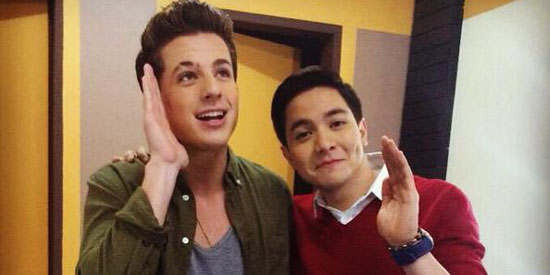 ---
Aside from the first handshake of Alden Richards and Maine Mendoza, another highlight of Eat Bulaga's episode today is the special performance of American singer Charlie Puth.
The 23-year-old singer performed his hit song "See You Again" while playing the piano.
"See You Again" is one of the theme songs of the Hollywood movie Fast & Furious 7, the last film of actor Paul Walker.
Charlie's other hit song is "Marvin Gaye," which features Meghan Trainor.
Some of the Eat Bulaga! hosts took the opportunity to have a selfie with Charlie, including Alden who even did the famous pabebe wave with the American singer.
.@charlieputh's pabebe wave with @aldenrichards02 is the cutest thing! #ALDUBmeetsTVJ #CharliePuthInMNL via @WMPhils pic.twitter.com/PcEb833xmL

— MNLOnline (@MNLOnlineNews) October 3, 2015
Charlie is in the Philippines for his showcase at Eastwood Mall in Quezon City, this Saturday, October 3.
He arrived in the country last September 30.
Charlie is now preparing for his debut album, Nine Track Mind, which will be released on January 22, 2016.
Read: Charlie Puth of "See You Again" fame wants to work with Bruno Mars "because he's half Filipino!"
SHARE THIS STORY Eat Bulaga; does the pabebe wave with Alden Richards" data-url="https://www.pep.ph/news/58212/see-you-again-singer-charlie-puth-performs-in-eat-bulaga-does-the-pabebe-wave-with-alden-richards" data-desc=""See You Again" singer Charlie Puth performs in Eat Bulaga." data-image="https://contents.pep.ph/images2/news/121a86d1f.jpg"> Eat Bulaga; does the pabebe wave with Alden Richards" data-url="https://www.pep.ph/news/58212/see-you-again-singer-charlie-puth-performs-in-eat-bulaga-does-the-pabebe-wave-with-alden-richards" data-desc=""See You Again" singer Charlie Puth performs in Eat Bulaga." data-image="https://contents.pep.ph/images2/news/121a86d1f.jpg"> Eat Bulaga; does the pabebe wave with Alden Richards" data-url="https://www.pep.ph/news/58212/see-you-again-singer-charlie-puth-performs-in-eat-bulaga-does-the-pabebe-wave-with-alden-richards" data-desc=""See You Again" singer Charlie Puth performs in Eat Bulaga." data-image="https://contents.pep.ph/images2/news/121a86d1f.jpg">
SHARE THIS STORY
Eat Bulaga; does the pabebe wave with Alden Richards" data-url="https://www.pep.ph/news/58212/see-you-again-singer-charlie-puth-performs-in-eat-bulaga-does-the-pabebe-wave-with-alden-richards" data-desc=""See You Again" singer Charlie Puth performs in Eat Bulaga." data-image="https://contents.pep.ph/images2/news/121a86d1f.jpg"> Eat Bulaga; does the pabebe wave with Alden Richards" data-url="https://www.pep.ph/news/58212/see-you-again-singer-charlie-puth-performs-in-eat-bulaga-does-the-pabebe-wave-with-alden-richards" data-desc=""See You Again" singer Charlie Puth performs in Eat Bulaga." data-image="https://contents.pep.ph/images2/news/121a86d1f.jpg"> Eat Bulaga; does the pabebe wave with Alden Richards" data-url="https://www.pep.ph/news/58212/see-you-again-singer-charlie-puth-performs-in-eat-bulaga-does-the-pabebe-wave-with-alden-richards" data-desc=""See You Again" singer Charlie Puth performs in Eat Bulaga." data-image="https://contents.pep.ph/images2/news/121a86d1f.jpg"> Eat Bulaga; does the pabebe wave with Alden Richards" data-url="https://www.pep.ph/news/58212/see-you-again-singer-charlie-puth-performs-in-eat-bulaga-does-the-pabebe-wave-with-alden-richards" data-desc=""See You Again" singer Charlie Puth performs in Eat Bulaga." data-image="https://contents.pep.ph/images2/news/121a86d1f.jpg">