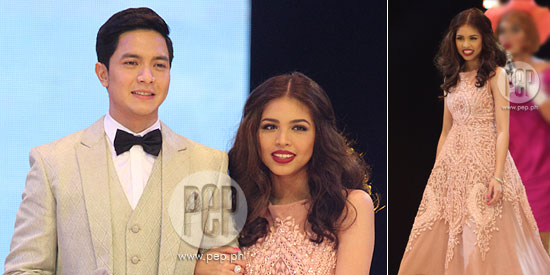 ---
For the record, celebrity stylist Liz Uy broke her silence about Maine Mendoza's Cinderella-inspired gown for Eat Bulaga!'s benefit concert/grand fans' day.
This is in relation to speculations that the gown Maine (a.k.a. Yaya Dub) wore was supposedly "recycled."
Liz happens to be Maine's stylist for Eat Bulaga's "Tamang Panahon" benefit concert, which was held at the Philippine Arena, Saturday, October 24.
"Maine's gown was chosen among several gowns because its style best fitted the show's Cinderella theme.
"The gown, which was first showcased at Francis Libiran's fashion show as part of his Bangalore collection, was purchased by TAPE, Inc. for the event," Liz stated in an official statement published in Style Bible yesterday, October 25.
FRANCIS LIBIRAN'S STATEMENT. In an earlier report, Francis explained that Maine's Cinderella-inspired gown was first previewed during his Spring/Summer collection fashion show back in 2013.
Incidentally, Kapamilya actress Kim Chiu happened to be Francis's muse who modelled the same gown at that time.
But Libiran stressed that the gown in question hasn't been worn "at any other event by any other celebrity."
Read: Kim Chiu finds nothing wrong with same gown issue with Maine Mendoza
JUAN SARTE: MAINE'S GOWN NOT A HAND-ME-DOWN. In a separate Facebook post, celebrity make-up artist Juan Sarte revealed that Liz actually prepared a custom-made gown, among several other gowns, for Maine to wear at the concert.
But on the day itself, Sarte related that Liz was prompted to pick Libiran's ready-to-wear gown for Maine because it fits the Cinderella theme of Eat Bulaga's "Kalyeserye" episode at the Philippine Arena.
Sarte was part of Maine's glam team for the "Tamang Panahon" benefit concert last Saturday.
Sarte's Facebook post partly read: "There was something custom-made for Maine but it turned out medyo plain for the event [considering one week lang ito from announcement to actual event].
ADVERTISEMENT - CONTINUE READING BELOW
"Liz wanted it a notch higher for the big event that's why she pulled out ready-to-wear gowns from designers and millions worth of jewelry.
"Standard practice of stylists is to pull-out other gowns from designers pang just-in case.
"There were instructions na from Mr. T [Tony Tuviera, head of TAPE Inc. and producer of Eat Bulaga!] to buy whatever gown is worn from the pull-out for the Eat Bulaga archives.
"The Francis Libiran gown was a pull-out/fallback pero mas bumagay kasi sa modern Cinderella theme you all enjoyed."
As someone who closely works with stylists and designers, Sarte pointed out that just because Kim previously wore the same gown as Maine's doesn't mean it's a "hand-me-down" or "recycled."
Sarte further explained, "It's not a hand-me-down from Kim Chiu because she doesn't own the gown.
"Liz didn't recycle because hindi naman siya ang stylist ni Kim.
"Binili ang gown! Sa panahon na almost lahat ng clothes na sinusuot ng artista sa TV at appearances ay 'hiram.'
"Bravo kay Mr. Tuviera for buying the gown! The man doesn't believe in 'patronage politics.'
"So, anong recycle doon? Kung na-achieve ng buong show na pasayahin ka at nag-enjoy ka naman, bakit kailangan gawing nega yung event?"
SARTE CALLS MAINE VS. KIM PHOTOS "MALICIOUS." At the end of his lengthy Facebook post, Sarte expressed his disapproval towards bashers who made a big deal out of Maine and Kim wearing the same gown.
Referring to Maine and Kim's face-off photos made by netizens, Sarted stated, "If two photos are maliciously juxtaposed beside each other, nag-iiba talaga ang perception ng tao.
"Ang saya ng show pero ngayon naging nega na dahil sa collage.
"May comments na ngayon na 'sabotage' daw?
"Alin ba ang sabotage? Yung pagandahin ang show or yung mag pic-stitch?"
ADVERTISEMENT - CONTINUE READING BELOW
He also defended Liz from bashers who accused the stylist of wardrobe "sabotage" by asking Maine to wear the gown in question.
"Kung may personal kayong galit kay Liz Uy at gusto ninyo siyang mawalan ng career or may inggit kayo dahil sikat siya, tell that to her face.
"Sana huwag ninyo na idamay yung good vibes ng show," Sarte concluded.