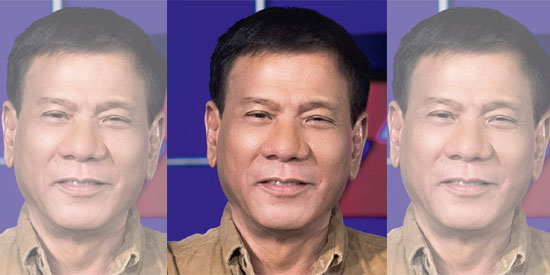 ---
Despite his earlier decision not to join the presidential race for the 2016 elections, Davao City Mayor Rodrigo Duterte was chosen by Partido Demokratiko Pilipino-Lakas Ng Bayan (PDP-Laban) as substitute for Quezon City barangay captain Martin Diño in case the latter withdraws his bid for presidency.
According to GMA News Online's report yesterday, October 27, PDP-Laban passed a resolution stating that it is a must for their party to "compel anyone of its members who can carry the banner and the torch of the party to victory" in the event that their standard bearer backs out from his candidacy.
PDP Laban's Resolution No. 2 Series of 2015 partly stated: "Wherefore, be it resolved, as it is hereby resolved, to substitute Martin 'Bobot' Diño in case he withdraws from the presidential race with Mayor Rodrigo Roa Duterte who is concededly the strongest presidential hopeful of the party aside from Martin 'Bobot' Diño, and who must dutifully abide by the decision of the party."
Recall that many of Mayor Duterte's supporters expected him to file his certificate of candidacy (COC) as president last October 16, which was the last day of filing for the 2016 elections.
But Mayor Duterte stood by his decision to run for reelection in his hometown, adding that he's not interested to run for the highest position in the land.
Read: Mayor Rodrigo Duterte dashes hopes of solid supporters: "I want to retire. I am tired."
Incidentally, Mayor Duterte's PDP-Laban co-member Martin Diño filed for presidential candidacy few minutes before the 5 P.M. deadline that day.
This sparked speculations that Mayor Duterte's bid for presidency is still a possibility.
The Commission on Elections (Comelec)'s target deadline for final list of candidates for the 2016 elections is set until December 10.
But in spite of this turn of events, PDP-Laban's interim president for Region 6 JV Hinlo maintained that the party remains supportive of Diño.
ADVERTISEMENT - CONTINUE READING BELOW
Hinlo pointed out that it still remains to be seen whether or not Mayor Duterte will accept the challenge to become a substitute presidential bet in the event that Diño decides to withdraw his bid for presidency.
At the same time, Hinlo revealed that PDP-Laban is also considering Senator Aquilino "Koko" Pimentel III as third nominee if Diño backs out and Mayor Duterte declines to substitute as their party's standard bearer.
"We know that he [Duterte] is the strongest candidate among the nominees.
"He's stronger than Diño, stronger than Koko [Senator Aquiilino Pimentel IV].
"Our chances of victory with the presidency is higher with Duterte.
"With Diño and Koko, we have to start all over again."
Martin Diño is the father of actress Liza Diño.
"We know that he (Duterte) is the strongest candidate among the nominees. He's stronger than Diño, stronger than Koko (Senator Aquiilino Pimentel IV). Our chances of victory with the presidency is higher with Duterte. With Diño and Koko, we have to start all over again, - See more at: http://www.gmanetwork.com/news/story/542101/news/nation/pdp-laban-adopts-resolution-making-duterte-its-substitute-presidential-bet#sthash.BFSYro9E.dpuf