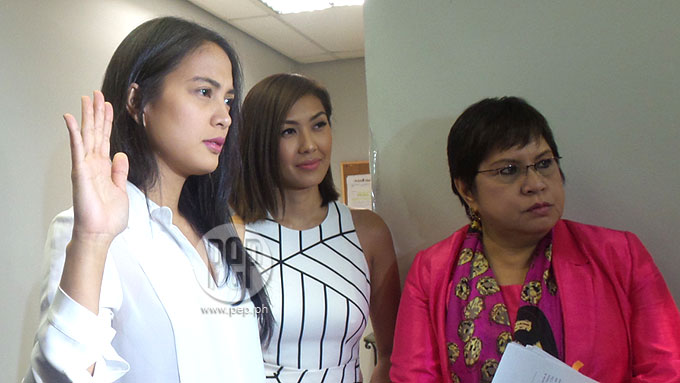 ---
Actress-model Isabelle Daza and Preview executive editor Isha Andaya-Vallés voluntarily testified for Liz Uy at the Makati Prosecutor's Office yesterday, November 9.
This is in relation to Liz's grave slander complaint against Fashion Pulis blogger Michael Sy Lim, who allegedly spread "false and malicious verbal tirades" against the celebrity stylist.
In an interview at the Makati Prosecutor's Office, Isabelle told the press how she and Isha allegedly witnessed Lim talking to some guests at a dinner event in The Peninsula Manila hotel, Makati City, last October 28.
Isabelle recounted, "Isha and I were at a dinner for Dra. [Vicki] Belo.
"We were sitting maybe five seats from him [Lim].
"Actually, wala akong alam sa issue kasi I don't read it [Lim's blog site].
"Pero he said something like, 'She made Maine [Mendoza] wear a jacket that she wore two weeks ago.'
"'I mean, if you're a stylist, why are you gonna make her wear something that you already wore?'
"And I know this verbatim kasi habang sinasabi niya, tine-text ko si Liz.
"'Liz, ano 'tong issue?'"
The 27-year-old Kapamilya actress was referring to the controversy about the designer jacket that Maine Mendoza wore during Preview's cover shoot last September 30.
Liz, on the other hand, was seen wearing a similar jacket based on her Instagram post last October 1.
Liz's camp, however, maintained that the stylist has nothing to do with Preview's cover shoot.
READ: Liz Uy files 11-million online libel, grave slander versus Fashion Police blogger
ADVERTISEMENT - CONTINUE READING BELOW
Isabelle further described Lim's conversation about Liz with other dinner guests as "malicious."
She recalled, "And yeah, Isha was also there, we heard it, there are other witnesses.
"We clearly know that it's kind of to slander Liz.
"It was done in a malicious way. It wasn't an opinion.
"It was done to put her career, you know, try to bring her down."
CYBERBULLYING? Liz, for her part, said that she has been plagued with negative feedback because of the whole controversy.
Asked if she considers herself a victim of cyberbullying, Liz answered, "Yes, of course.
"Everyday, I get hate mails and hate messages from social media because of what happened.
"I don't know exactly who they are [bashers], pero nakakaapekto rin."
SETTLEMENT? Nevertheless, Liz's legal counsel said that their camp is open to the possibility of settlement with Lim.
Atty. Lorna Kapunan explained, "You know, a case is only good for the lawyers.
"But in terms of settlement, why not?
"We're not here to make money. She's not here to make money.
"She's here to clear her name.
"I think this should be a lesson not only to Michael but to all those in the industry.
"Not only in the fashion industry but to those he has maligned."
FREEDOM OF EXPRESSION? Lim, on the other hand, stated that there was no truth to the online libel and grave slander allegations against him.
His official statement, published on his blog site yesterday, partly read: "I will fight this case with courage because I have no malicious intent.
ADVERTISEMENT - CONTINUE READING BELOW
"My lawyer is also studying the filing of counter charges for malicious prosecution and damages for this suppression of our freedom of the press and expression."
PEP.ph (Philippine Entertainment Portal) will be open to publishing official statements that will further come from Liz and Lim's camps regarding this issue.