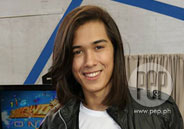 IMAGE Noel Orsal
---
Tommy Esguerra, 21, denied speculations that he is just courting Miho Nishida, 22, to be famous in showbiz.
Tommy and Miho were former housemates in the recently-concluded Pinoy Big Brother 737, where Miho emerged as the Big Winner and Tommy finished as the Second Big Placer in the Regular edition.
In Tonight With Boy Abunda's November 16 episode, the Fil-am model stressed that he wouldn't let other people's opinion dictate his feelings for Miho.
Tommy said, "That kinda sucks for people to say that. But it's not true.
"And for me, it doesn't matter. How I feel is how I feel."
Asked how he feels about Miho, Tommy beamed, "I'm in love with her."
Tommy further said that it's not so much as love at first sight, but a feeling that grew stronger as he got to know her.
"That's a hard one. I can't say it's immediately, 'Oh, my god! I'm in love with this girl.'
"It just happened over the course of being in the house.
"Maybe the first two weeks, I started to fall.
"But I thought she was attractive, cool, funny, cute."
"WE'RE MEANT TO BE." Tommy was practically beaming as he recounted how he surprised Miho during It's Showtime last Saturday, November 14.
He related how the madlang people urged him to win Miho's heart by serenading her in the open area of Big Brother's house.
Together with It's Showtime hosts Anne Curtis and Karylle, a blindfolded Miho turned up at the balcony with her daughter Aimi in tow.
ADVERTISEMENT - CONTINUE READING BELOW
Tommy, on the other hand, was accompanied by a couple of fans and a guitarist as the Fil-Am model sang "Kahit Maputi Na Ang Buhok Ko."
Recalling the whole kilig experience, Tommy admitted that it made him realize how much Miho means to him.
"What's really cool about it, it started raining when I started my harana.
"I believe in signs. I believe in love. I believe in signs. I believe in fate.
"And it started raining as soon as I start singing.
"And honestly, I forgot the song. I forgot the lyrics. I was so nervous!
"Oh, my gosh, I couldn't breathe! So, I missed out on the lyrics," said Tommy with that tell-tale I'm-head-over-heels-in-love look on his face.
Then he further related, "Pero the rain starts when I sing and then it ends right when I stopped.
"And I climbed up the ladder and it was just... if there's ever a sign, that's the one, you know.
"[That's the sign] that we're meant to be."
WORTH THE WAIT. When told that Miho previously admitted in an interview that she's "75 percent" falling for Tommy, the Fil-Am model said that it was actually a revelation for him.
"I'm happy. That's more than what I thought.
"'Cause she's a tough one, you know.
"She's strong. She keeps herself strong."
At one point, Abunda remarked that Tommy might have scored more pogi points after making an effort to serenade Miho.
To which, Tommy stated, "I would hope it's 100, pero I'm okay if there was 20, 30...
ADVERTISEMENT - CONTINUE READING BELOW
"Because there's a process of winning her that's really worth it."
Tommy also said that his mom—who happened to be watching his interview—approves of Miho.
"Of course [my mom likes Miho].
"My mom wants me to be careful because she's my mother and she loves me.
"She doesn't know what might happen, and she doesn't want me to have a broken heart, but she supports me."