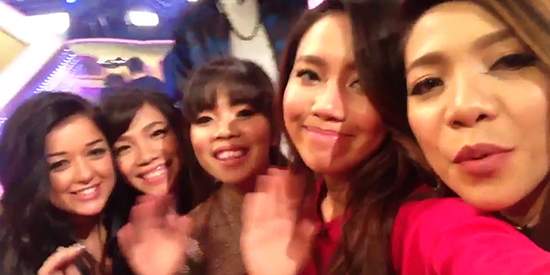 ---
The Filipina girl group 4th Impact comprising the Cercado sisters became the center of attention together with fellow contestant Lauren Murray after an incident that happened during the results night of The X Factor UK Season 12 last Sunday, November 22 (U.K. time).
The sisters Mylene, Irene, Celina, and Almira went straight to Lauren and Louisa Johnson at the safe zone for a hug after surviving the fourth eliminations night.
Eagle-eyed viewers of the show saw how Lauren appeared to have shoved the arm of Mylene who was about to hug her.
Netizens went ablaze after seeing the incident on live TV.
Some Twitter users claimed that the 25-year-old singer also uttered an expletive while pushing away the 4th Impact member.
Woah, Lauren was a bit savage with 4th impact! #harsh #XFactor pic.twitter.com/H8H3vwMAO9

— TANYA CROWTHER (@Spadge64) November 22, 2015
Te @MsLeaSalonga tinulak nong @laurenmurray yung isang member ng @4thImpactMusic grabe! Kitang-kita sa video. Naliliitan yata satin!

— John Lapus (@KorekKaJohn) November 23, 2015
Lauren murray stop Being rude dear,,, https://t.co/YgUAhCx2aS

— Jasmine (@vmedayo) November 23, 2015
However, after closely watching a slowed version of the scene, Lauren can be seen saying: "Oh come on, Che!" Apparently, Lauren just got so emotional about what was happening on stage as Che Chesterman and Anton Stephans were about to go head to head in the Sing Offs.
On Twitter, Lauren clarified what happened on stage and said: "OMG! Just to clear up I said come on che!! People love a bit of drama I adore 4th impact <3"
OMG! Just to clear up I said come on che!! People love abit of drama I adore 4th impact Ÿ'œ

— Lauren Murray (@laurenmurray) November 22, 2015
The 4th Impact sisters also uploaded a 30-second video on Twitter with Lauren and the other finalists, including Louisa Johnson and Reggie 'N Bollie, to show that all was swell with all of them.
Almira supported Lauren's explanation and told their followers not to bash their fellow contestant: "This is Lauren and please stop telling her anything because she's the one who supports us a lot!"
ADVERTISEMENT - CONTINUE READING BELOW
She continued, "We love Lauren, please! She's saying, 'Come on, Che!'"
Almira's sisters also expressed their love for Lauren.
Irene said, "She's our friend!"
Celina added, "Yes, we love Lauren!"
The caption on the video also readsi: "She's one of our big sister. We love you @laurenmurray @louisa and @ReggieNBollie"
She's one of our big sister. We love you @laurenmurray @louisa and @ReggieNBollie Ÿ'™Ÿ'›Ÿ'– #XFactor pic.twitter.com/G9Gdm3bbrF

— 4TH IMPACT (@4thImpactMusic) November 22, 2015
SHARE THIS STORY The X Factor UK finalist Lauren Murray" data-url="https://www.pep.ph/news/60540/4th-impact-clarifies-shoving-incident-with-fellow-the-x-factor-uk-finalist-lauren-murray" data-desc="4th Impact members say Lauren Murray is their "big sister."" data-image="https://contents.pep.ph/images2/news/b529a71bc.jpg"> The X Factor UK finalist Lauren Murray" data-url="https://www.pep.ph/news/60540/4th-impact-clarifies-shoving-incident-with-fellow-the-x-factor-uk-finalist-lauren-murray" data-desc="4th Impact members say Lauren Murray is their "big sister."" data-image="https://contents.pep.ph/images2/news/b529a71bc.jpg"> The X Factor UK finalist Lauren Murray" data-url="https://www.pep.ph/news/60540/4th-impact-clarifies-shoving-incident-with-fellow-the-x-factor-uk-finalist-lauren-murray" data-desc="4th Impact members say Lauren Murray is their "big sister."" data-image="https://contents.pep.ph/images2/news/b529a71bc.jpg">
SHARE THIS STORY
The X Factor UK finalist Lauren Murray" data-url="https://www.pep.ph/news/60540/4th-impact-clarifies-shoving-incident-with-fellow-the-x-factor-uk-finalist-lauren-murray" data-desc="4th Impact members say Lauren Murray is their "big sister."" data-image="https://contents.pep.ph/images2/news/b529a71bc.jpg"> The X Factor UK finalist Lauren Murray" data-url="https://www.pep.ph/news/60540/4th-impact-clarifies-shoving-incident-with-fellow-the-x-factor-uk-finalist-lauren-murray" data-desc="4th Impact members say Lauren Murray is their "big sister."" data-image="https://contents.pep.ph/images2/news/b529a71bc.jpg"> The X Factor UK finalist Lauren Murray" data-url="https://www.pep.ph/news/60540/4th-impact-clarifies-shoving-incident-with-fellow-the-x-factor-uk-finalist-lauren-murray" data-desc="4th Impact members say Lauren Murray is their "big sister."" data-image="https://contents.pep.ph/images2/news/b529a71bc.jpg"> The X Factor UK finalist Lauren Murray" data-url="https://www.pep.ph/news/60540/4th-impact-clarifies-shoving-incident-with-fellow-the-x-factor-uk-finalist-lauren-murray" data-desc="4th Impact members say Lauren Murray is their "big sister."" data-image="https://contents.pep.ph/images2/news/b529a71bc.jpg">