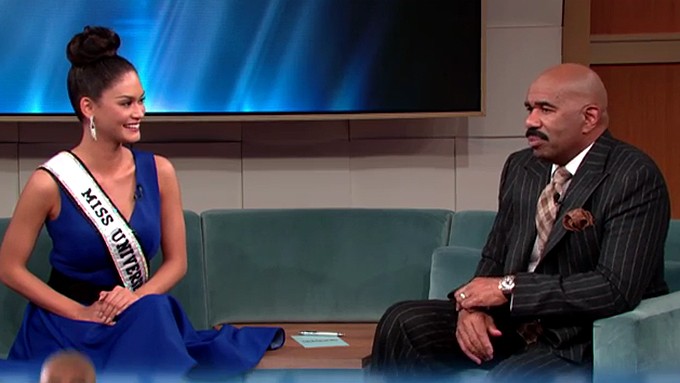 ---
"Don't beat yourself up for this anymore. Come on. Let's move forward, let's be happy."
This is what Miss Universe 2015 Pia Wurtzbach told American TV host Steve Harvey on a promotional video of her sit-down interview for the latter's self-titled daytime talk show.
After Pia's advice, Steve look relieved and replied, "Ok cool!"
The TV host continued and praised Pia for being an "absolute class act."
He told her, "As strong as I tried to be, this has been a dog fight. It's been crazy. Look, I want some healing to be done for you and for Miss Colombia.
"I want that more than anything. So, thank you for coming. I thought you were an absolute class act. Absolute class act."
Pia and Miss Colombia Ariadna Gutierrez appeared on Steve's talk show which will be aired January 18 and 19.
This is the first time that Pia and Steve saw each other again after his blunder at the Miss Universe coronation pageant last December 2015, where Steve made the mistake of announcing Miss Colombia Ariadna Gutierrez as the winner instead of the Filipina beauty queen.
ADVERTISEMENT - CONTINUE READING BELOW
STEVE SPEAKS OUT. In a separate video teaser video of his show uploaded online, an audience member asked Steve the hardest part about facing this issue. The TV host replied that he felt more concern for the two women.
He said, "I can tell you some hard parts for me. My deeper concern was for the two women, it really was, because as bad as I felt, 'Oh my god... Miss Colombia, how could she possibly have felt?' And my heart bled for her, and I haven't been able to talk to her since."
Steve got a little emotional when he talked about how his wife, Marjorie Harvey, helped him throughout the sleepless nights, and especially the death threats that he and his family received after the pageant.
Steve continued, "That night, I went to bed at 12:30. I woke up at 2:30, I couldn't even sleep but my girl got it with me, Marjorie. My wife, she got it with me. She was the best...
"You gotta have somebody with you, somebody to climb down in the hole with you and she did that. But she kept telling me, 'Steve, keep your head up. Keep your head up. You did the right thing.' She kept saying, 'You did what your father raised you to be. You went out there and you took the hit.'
ADVERTISEMENT - CONTINUE READING BELOW
"And then, you know, my kids man, people don't understand the damage of social media. You know, your kids go through this, your wife goes through this??everybody. Death threats get to your family, I can't let my kids go nowhere.
"It's difficult man, that's very, very difficult. But as difficult as it was for me, it was really funny man because... the reason I didn't do any interview in anything was because I wanted to talk to the women first.
"Because, regardless as to how I felt, I was still stuck on them two women. I really was 'cause I got daughters."