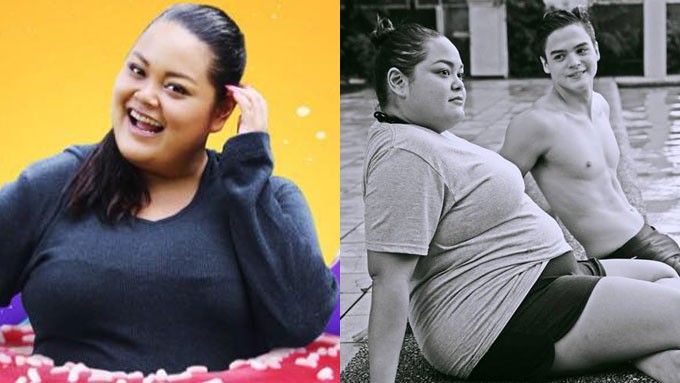 ---
Cai Cortez and movie director Jason Paul Laxamana questioned the "X" rating given by the Movie and Television Review and Classification Board (MTRCB) for their CineFilipino entry, Ang Taba Ko Kasi.
This means that the trailer of the film is not allowed to have a theatrical release or won't be seen in cinemas.
Cai, the lead star of the movie, posted on her Instagram account earlier today, March 12, a screenshot of MTRCB's decision regarding the theatrical release of the trailer.
The decision said that "X" rating is recommended for the trailer "due to strong offensive language/insult on the appearance of a person."
In her caption, Cai questioned why did the trailer for their movie received such rating.
She said, "Pwede pong paki explain, MTRCB?
"Taba is a description. It is not an insult.
"Same as Payat, tankad, liit, may mas malalala pa ngang trailer galing sa bansa o sikat na pelikula dito na paulit ulit na inaadvertise sa theaters eh.
"What is so offensive with ours that you label it 'x rated'??
"Would you have done the same if our title was Ang Payat Ko Kasi?"
On the other hand, movie director Jason Paul Laxamana also protested regarding the trailer of his movie through his Facebook account and posted the link of their "alleged X-rated" movie trailer.
He said, "I do not understand how the MTRCB does its rating."
I really do not understand how the MTRCB does its rating. You can view the alleged Rated X trailer of our movie "Ang Taba Ko Kasi" @ www.facebook.com/angtabakokasiMilo Gladys Reye

Posted by Jason Paul Laxamana on Friday, March 11, 2016
Direk Jason also helmed the recently-screened movie Love is Blind starring Derek Ramsay, Solenn Heussaff and Kiray Celis.
In the said trailer, the movie tells the story of a fat girl (Cai Cortez), who is determined to lose weight while she constantly receives snide remarks about her physical appearance. She then falls in love with her swimming instructor (Mark Neumann).
PEP.ph (Philippine Entertainment Portal) then sent a private message to Direk Jason upon seeing his post.
ADVERTISEMENT - CONTINUE READING BELOW
At 12:30 pm, he responded and told this writer that there are also other filmmakers who are part of the festival that are experiencing the same problem.
He also recommended that PEP must send a message to CinemaBravo's Facebook Page.
Minutes later, director David Fabros, who is the director of another CineFilipino entry Straight From The Heart, posted in his Facebook account that his movie trailer also received an "X" rating from MTRCB.
This writer then sent a message to the page of CinemaBravo at 1:38 pm to inquire about these issues. However, the message was only "seen" and PEP has not received any reply yet as of the moment.
NO FINAL RATING YET AS PER MTRCB. On the other hand, PEP.ph has also inquired to MTRCB chairman Atty. Toto Villareal after seeing Cai's Instagram post about their movie.
He immediately responded to this writer's text message but he clarified that he had to check with his office first regarding the movie trailer rating.
At 2:32 p.m., Atty. Toto had sent his full statement regarding the issue, but he has only given his side about the film Ang Taba Ko Kasi.
According to his statement, MTRCB clarified that as of this date, no final rating had been officially given to the said material.
He also reiterated that MTRCB has not received yet any motion from the applicant, which was TV5 or from its authorized representative Ramon del Rosario. Thus, he cannot give out any comment with the preliminary rating as it is "imprudent."
Here is Atty. Toto's full statement:
"In answer to some queries from media in regard to the application to exhibit movie trailer for the movie "Ang Taba Ko Kasi," filed only last 09 March 2016, the MTRCB wishes to clarify that there is of this date, NO FINAL RATING for the said material. Although the applicant did not get on first review its desired classification, it has 5 days from 09 March 2016, when it received the rating, to file a motion for second review.
ADVERTISEMENT - CONTINUE READING BELOW
"As of today, the MTRCB has not received any such motion from the applicant TV5 Network or its duly authorized representative Ramon del Rosario. The rating not being final, and since the MTRCB can only act if a motion for second review is received from the applicant through its designated representative, it would be imprudent to comment on the preliminary rating given. It would not want to pre-empt those mentioned above who would have the legal personality to act on the rating preliminarily given.
"Further to the MTRCB's policy of always being of service to the film industry consistent with its legal mandate, the agency shall be more than ready to entertain such motion. It would greatly help also if in the process, all those concerned will be guided by the norms under MTRCB Memo Circular 04-2014, which governs the review of trailers.
"It goes without saying that the matter is the lookout solely of the applicant network or company as far as the MTRCB is concerned. The creative team of any film will thus have to take up the matter first with the producer or sponsor-applicant.
"This goes for any other applicant who may be similarly situated. They must understand that there is a process that must be followed. And the MTRCB will always be there to assist as much as it can."
DIREK JASON PAUL ASKS WHY "X?". After constant communication with Direk Jason through Facebook Messenger, he gave his full statement at 5:47 pm.
In his statement, he wonders why his movie trailer received an "X" rating, while there are other movie trailers that used more insulting words.
Here is his full statement:
"Why is the initial rating even X? Given that there is a mechanism that allows for a second appeal, why is the original rating X, considering that more offensive, more graphically sensual/violent trailers are playing in theaters?
ADVERTISEMENT - CONTINUE READING BELOW
"If those trailers were greenlit for theatrical screening, is a second appeal even necessary for less offensive and less graphic material? The procedure is starting to look like an unnecessary ritual.
"They rated the Ang Taba Ko Kasi trailer X for "the use of offensive words to insult the appearance of a person," yet they were fine with the theatrical trailer of Deadpool, which is not only violent, but also has the same appearance-insulting part: 'You are hard to look at. You are like the topographical map of Utah. You look like an old avocado that had sex with an older avocado.'
"Compare that to Ang Taba Ko Kasi, where the little brother of the lead character played by Cai Cortez teased her, 'Tingnan mo o, may baboy na umiiyak.'
"It's easy to just go file a second appeal, but before that, I would like to ask first: why X?"
PEP also welcomes any statement given to parties involved in this issue.