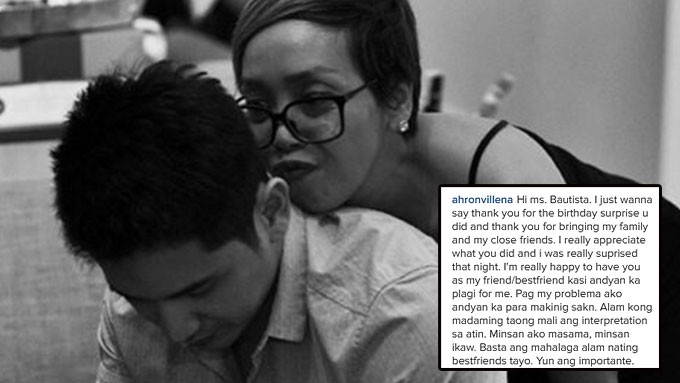 ---
Ahron Villena suddenly friend-zoned Cacai Bautista just when people thought that there's a budding romance between them.
In an Instagram post yesterday, March 15, Ahron referred to Kakai as "friend/best friend" several times as he thanked her for making him feel special on his birthday.
Ahron wrote in the caption of his post: "Hi Ms. Bautista. I just wanna say thank you for the birthday surprise you did and thank you for bringing my family and my close friends.
"I really appreciate what you did and I was really surprised that night.
"I'm really happy to have you as my friend/best friend kasi andiyan ka palagi for me.
"Pag may problema ako andiyan ka para makinig sa 'kin."
The 29-year-old Kapamilya actor also shared his thoughts on how other people often misinterpret his closeness with Kakai.
But he assured the talented comedienne that they will always be the best of friends no matter what.
He further wrote, "Alam kong madaming taong mali ang interpretation sa atin.
"Minsan ako masama, minsan ikaw. Basta ang mahalaga, alam nating best friends tayo. Yun ang importante.
"Thank you for everything.
"Mahal kita alam mo 'yan bilang kaibgan mo at bilang best friend mo.
"Lagi mo tandaan na andito lang ako for you.
"Let's just enjoy whatever we have now and be happy."
NETIZENS TAGGED AHRON AS "PA-FALL, PAASA." Ahron's post confused a lot of netizens who are aware that he and Kakai have been constantly dating, travelling, and visiting each other's house since last year.
Just a few weeks ago, Ahron admitted in an interview that his closeness with Kakai has reached the "next level."
Kakai, for her part, had always been vocal in saying that her term of endearment for Ahron is "love."
As such, some fans couldn't help but feel bad about Kakai being subjected to Ahron's "pa-fall" charm.
ADVERTISEMENT - CONTINUE READING BELOW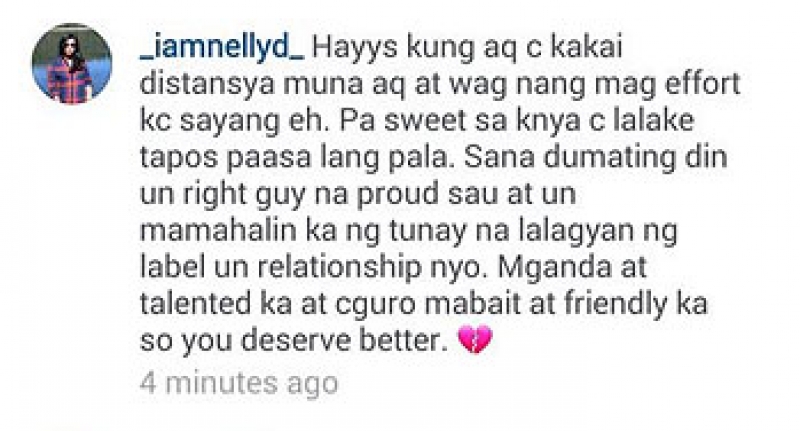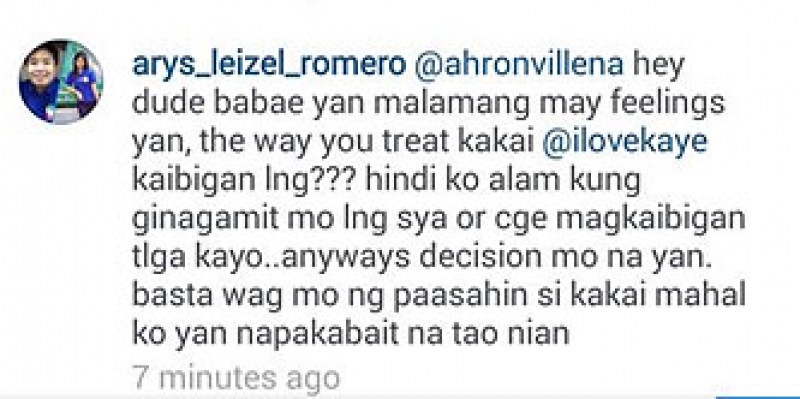 KAKAI DEFENDS AHRON. But before things get out of hand, the 37-year-old comedienne posted a photo of her and Ahron with a caption that sheds light to whatever relationship they have right now.
She wrote, "I hate it when people put pressure on people's relationships even if they don't know how it works.
"Pero ang alam ko lang, totoo kung ano mang meron tayo.
"Maganda ang nabuo nating friendship, masaya kung anong meron tayo! Dahil masarap maging best friend mo.
"Alam kong maraming hindi makakaintindi, pero ang importante, nagkakaintindihan tayo."
At the end of her post, Kakai's message to Ahron read: "Ang mag-best friends lang ang hindi nagbe-break. haha. Di ba nga?!
"Mahal kita. Wag kang ano. At di ko rin alam kung baket napaka-drama mo ngayong araw na ito."