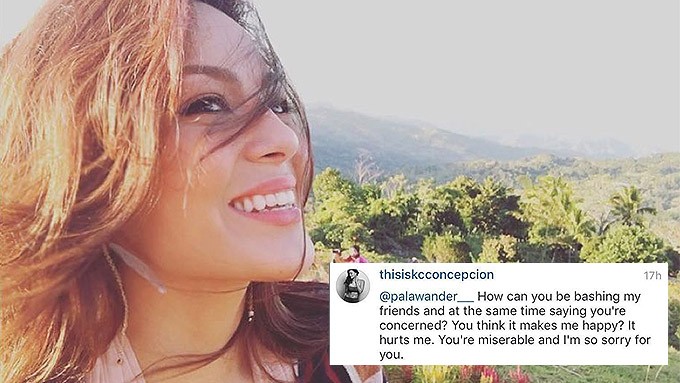 ---
KC Concepcion aired her feelings towards her bashers through her Instagram post (@thisiskcconcepcion) yesterday, March 19.
It's inevitable that celebrities like KC get the best and the worst comments in their Instagram accounts.
That's why its no surprise that KC finally broke her silence and said her piece about people commenting nonsense on her Instagram account.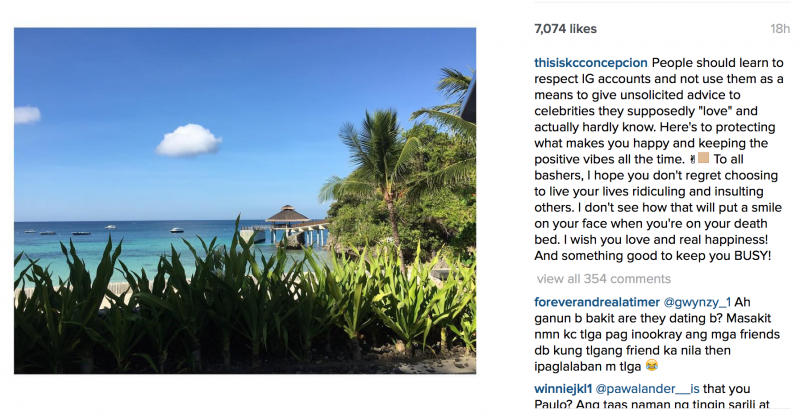 In the photo she posted she said, "People should learn to respect IG accounts and not use them as a means to give unsolicited advice to celebrities they supposedly "love" and actually hardly know.
"Here's to protecting what makes you happy and keeping the positive vibes all the time.
"To all bashers, I hope you don't regret choosing to live your lives ridiculing and insulting others.
"I don't see how that will put a smile on your face when you're on your death bed. I wish you love and real happiness! And something good to keep you BUSY!"
After a while, supporters of KC showed their support through their comments agreeing with what she said and assuring her that they got her back.
Even her friend Luis Manzano agreed and commented, "Everyone is an expert on social media."

However, an Instagram user named @palawander__ started commenting sarcastically saying, "We just love you that much that we want u to be with someone u can be proud of."

He also commented, "Kahit na talaga bingot pwede na sa yo matanda ka na eh kaya OK na ganon mukha."

Although it wasn't clear whom the basher was pertaining to, KC instantly replied, "How can you be bashing my friends and at the same time saying you're concerned. You think it makes me happy?
"It hurts me. You're miserable and I am sorry for you."