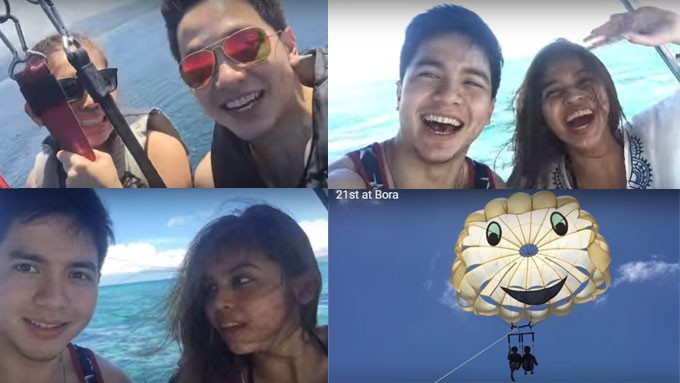 ---
Weeks after her 21st birthday, Maine Mendoza wrote a no-holds-barred blog entry about her unforgettable Boracay adventure with Alden Richards.
This was Maine's personal account of how she got a glimpse of the real "RJ" outside work.
"Here's a confession about having to spend an afternoon in Boracay with Alden Richards," Maine wrote in her blog entry last March 24.
"Nope, scratch that, with Richards Faulkerson Jr.
"Not even a second, have I ever felt like I was with the Pambansang Bae. (You know what I mean).
"From the moment we hopped inside the boat until his goodbye hug, not even once did I catch a glimpse of the Alden Richards we normally see on TV.
"He was different; he was his normal self. He was like a normal guy - more like a kid - having fun.
"He was enjoying every moment and you could see it in his gleaming eyes.
"Gleaming eyes that nobody gets to see regularly."
Given Alden's crazy schedule, Maine candidly stated that she was glad that he managed to take a breather for once.
"He needed this time off; he needed to take a break from everything even just for a little while.
"And aside from being oh-so happy that he surprised me, the fact that he got to take a day off to unwind and have REAL fun meant so much more.
"You deserved the short break, RJ. I am so happy you had fun."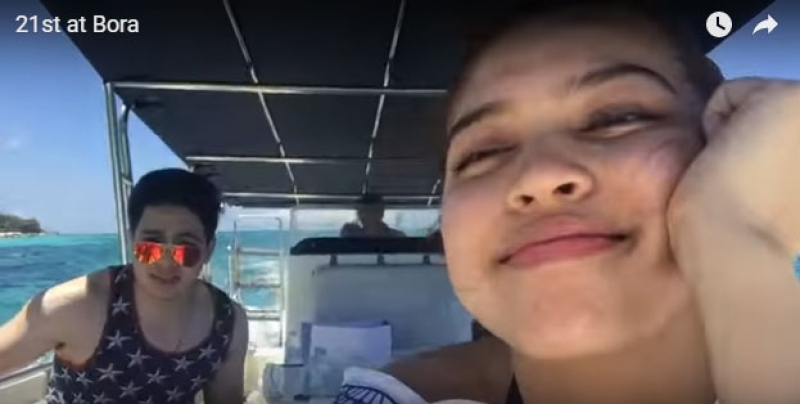 MAINE'S SIX-DAY TAMPO WITH ALDEN. Maine's blog entry was quite a revelation with the way she described her mixed emotions at the thought of Alden joining her for her birthday trip.
Apparently, she invited Alden two weeks before her 21st birthday, but he couldn't give her a definitive answer if he can go or not.
"Knowing Alden's mega hectic schedule, I did not really expect that he'll be able to join us; but I did hope that he could do something about it, since it's my birthday. (Plus he pink promised that he will try his very best!)
ADVERTISEMENT - CONTINUE READING BELOW
"I kept on asking him for updates day by day because I don't want to get too excited and end up disappointed in the end."
Talk about major disappointment when he finally told her that he couldn't make it!
Maine vividly recalled, "It was on Monday (2 days before my birthday and 5 days before the Bora trip) when he sent me a text message from his management saying they couldn't do anything about the commitment Alden has to carry through on the same date of my planned celebration.
"Few days before, he was asking me such things like, 'So yung Sunday yung parang free day natin? Ang balik natin is Tuesday morning?' which led me to the assumption that there's a big chance the he'd come.
"I didn't respond to his message for I was really sad at that moment. 'Ang aga-aga, Lunes na Lunes tapos ganito mababasa mo?!' I was really mentally shrieking."
Maine must have felt really bad as she narrated Alden's seeming indecisiveness in five lengthy paragraphs.
The fact that Alden joked about surprising her, when she thought he really couldn't make it, made Maine feel annoyed all the more.
"It was also on that day when he told me during the Sugod Bahay portion. 'May surprise ako sa 'yo sa birthday mo sa Thursday, tapos sa Saturday and after Saturday' which made me feel even more annoyed.
"I responded with 'Wag ako Alden, funny ako' instead of 'Ano, nang-aasar ka ba talaga Alden?!'
"Even so, I still had this feeling that he MIGHT surprise me but I just shrugged the thought of it; I don't want to end up disappointed again!"
Maine candidly admitted that she held a "tampo" against Alden for a total of six days.
"Nagtampo ako kay Alden. (lol) I stand corrected - six days ang tampo ko (Monday til Saturday), not four, as I had mistakenly declared. Haha!
ADVERTISEMENT - CONTINUE READING BELOW
"I kept on telling Ate Pat every single day how upset I was, yet she also kept on saying 'Wag ka na malungkot, gagawa ng paraan yun.'
"People around me kept on giving clues but I persisted in ignoring all of it."
ALDEN MADE IT! Given all that, Maine was rendered speechless when she saw Alden standing at the door of her room in Discovery Suites Boracay.
He arrived at 9 A.M. that Sunday, only a few hours hours after Maine got there.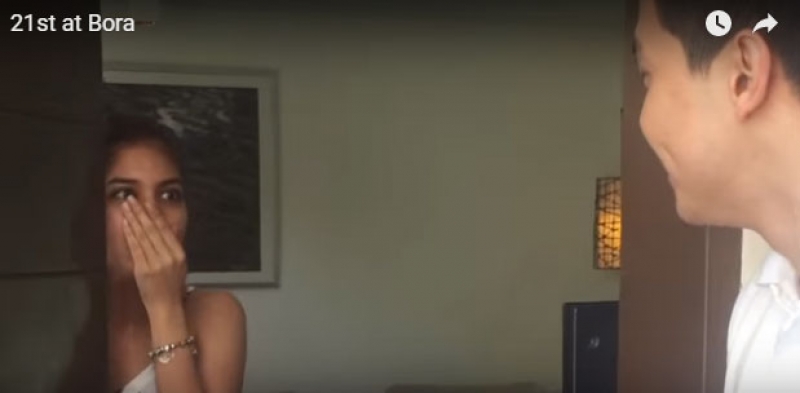 After recovering from her shock, Maine and Alden immediately went beach hopping together with her friends.
It was during their boat ride that Maine learned more about Alden.
"The time we spent at the boat travelling from each place to another was the chance for us to chat.
"From time to time I'd catch him chuckling and shaking his head off, I wanted to know what was going through his mind for he seemed amused and a little confused, so I asked him and the only thing he said was, 'Ngayon ko lang kasi talaga ginawa 'to.'
"Well, uhm, it's not that bad to try something new, di ba?
"And I am really glad that I am the first one who got to see this side of yours."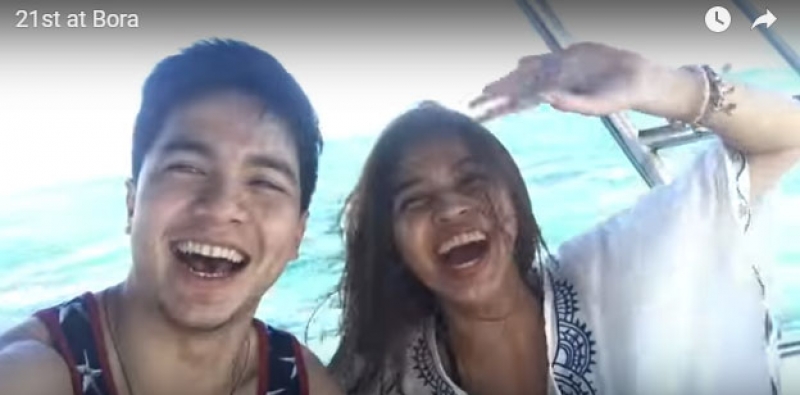 In a recent interview with PEP.ph (Philippine Entertainment Portal), Alden revealed that he was not really used to taking vacations when he was growing up.
Read: Alden Richards' top things to do during Lenten break
Coming from an affluent family, Maine is probably used to such a lifestyle.
PARASAILING, SCUBA DIVING, AND JET SKI ADVENTURE. But Maine and Alden were both first-timers when they tried parasailing and scuba diving in Boracay.
Maine further wrote in her blog, "Next, we went scuba diving. It was my first time! I didn't know it was that simple.
ADVERTISEMENT - CONTINUE READING BELOW
"We spent about half an hour feeding the fish, and then we went parasailing! It was also my first time!
"And if I am not mistaken, it was also Alden's first time."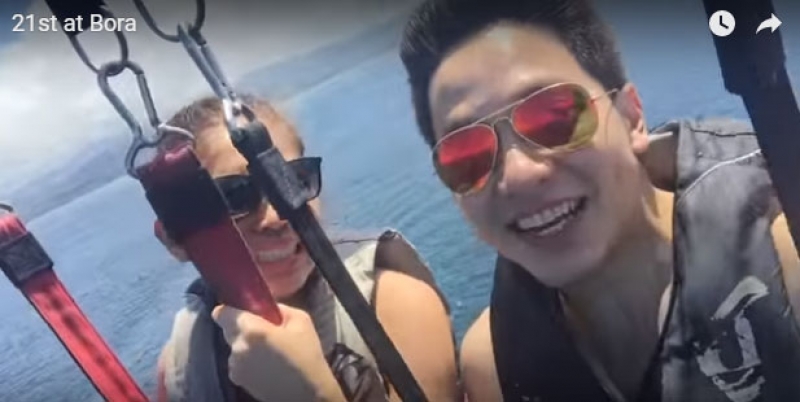 Maine shared that she was actually the one who got scared of parasailing.
"Medyo kabado pa ako at first kasi... 'Akala ko naman biglaan eh!' (I am sure Alden would laugh if he reads this, haha!)
"But as the parachute went higher and higher, I realized I wasn't feeling nervous anymore; rather I had the most carefree feeling in the world. Ang saya!
"We were soaring basta sobraang-taas-feet in the air! It was beautiful to be able to see everything from above. It was as if I was riding a flying carpet!
"I took my phone and my polaroid with me so we could take photos and videos from there.
"It was super scary to extend my arm to take shots from above because I might lose grip of my phone. Nerbyos to the highest level!
"Samahan mo pa ng Alden na ang hilig manggulat at manakot, grr!
"It was fun though, we were making fun of the moment... 'What if kahit dito sa taas, yung mga kasabay natin mag-parasail, magpa-video greet at fansign pa din?' LOL."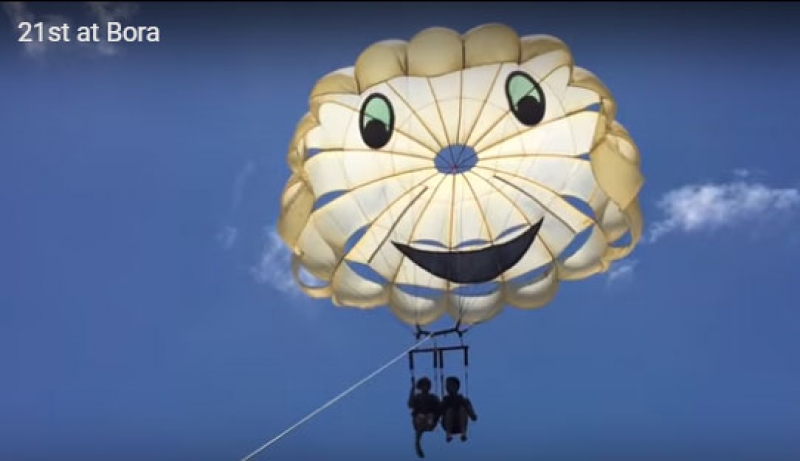 But Maine said that the "highlight" of their mini adventure was when she went jetskiing with Alden.
They were riding separate jet skis at first, but Maine got "panicky" due to a past mishap with a jet ski.
Maine further wrote, "Alden was riding his jetski by himself when he caught me driving it off real slow (plus nakaangkas pa si manong operator sakin!), he stopped and told me, 'Tara dito ka na lang sakin,' so I transferred."
While Alden kept laughing at her initial fear, Maine remembered the way "he'd stop driving from time to time" to check on her.
ADVERTISEMENT - CONTINUE READING BELOW
Eventually, she realized that she has nothing to fear because she's with Alden after all.
"I had this feeling that we might get thrown off into the water, but at that moment, it didn't matter anymore.
"I was having a really fun time and for as long as I am with him, getting thrown off would be alright.
"I know for a fact na hindi nya ako pababayaan—kahit anong mangyari."