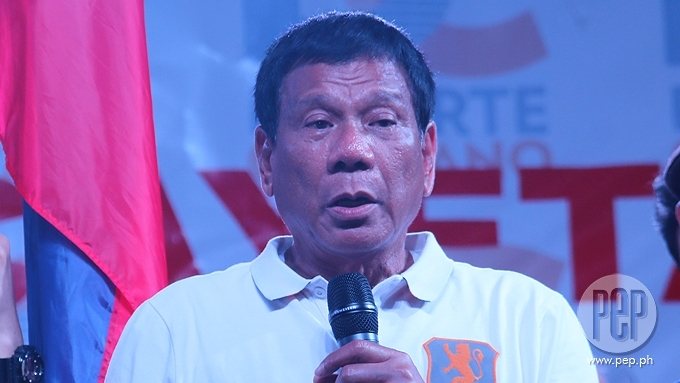 ---
Twenty-seven days after his landslide victory in the recent May elections, President-elect Rodrigo Duterte was feted a thanksgiving party with an estimated 500,000-strong crowd at his hometown in Davao, Saturday night, June 4.
In his more than 30-minute speech at the said event, Duterte underlined his vow to eliminate crime and corruption under his administration. 
He even went as far as offering a five million peso reward to whoever kills or arrests a notorious drug lord.
Duterte also reiterated his plan to prioritize healthcare and education just as he promised in his campaign rallies.
Following his controversial pressers earlier this week, the feisty Davaoeño took a swipe at Manila reporters, relating a previous incident when he threw a preposterous reply to an equally preposterous question.
Below are some of the more memorable quotes from the incoming President, who spoke in Cebuano, English and Filipino during his speech last night:
BETTER HEALTHCARE SERVICES

1. "Ang akong unahon sa aking priority is health.
"I will commit all of the earnings sa PAGCOR [Philippine Amusement and Gaming Corporation], which runs into billions.
"Ihatag sa mga ospital para sa medisina [at] inyong hospitalization. I will re-align the money sa health then sa edukasyon."
EQUAL ACCESS TO EDUCATION

2. "The problem now, there's an abberation created because of the K-12 [basic education program].
"You have about 700 students na wa siguro maka-enroll and let alone mga maestra na na-marginalize..."
3. Dito sa education, I will endeavor to build, if there are 25 to 30 students in any barangay, then you will have a national high school.
"No need to walk for 20 to 30 kilometers to go to school. Ako na mismo ang magdala ng eskuwelahan."

4. "In order to move, we have to keep on spending. Talagang kailangan kung anong binigay na gastusin, gastusin mo.
"The problem, yung bottoms up [bottom-up budgeting under the outgoing administration] came late, ginawang pamulitika.
ADVERTISEMENT - CONTINUE READING BELOW
"If you are a department and a I give you 30 billion [pesos], at the end of the year yung 30 billion [pesos] must be spent to the last centavo.
"Bigyan kita 30 billion, tapos ang gastusin mo lang 25 [billion pesos]. So may five billion, saan yung five billion [pesos]? Ubusin mo.
"Kapag nagkulang ka ng pera, sumobra ka. Either pumasok ka sa kurakot kaya nagkulang ang gobyerno. Kapag nagkulang ka naman, may sobra ka pera, hindi mo ginawa ang trabaho mo."
SLAMS ILLEGAL MINING

5. "I was poised to [appoint Maribojoc, Bohol Mayor Jun Evasco]. Yun ang hiningi niya, DENR.
"The problem with DENR [Department of Environment and Natural Resources] is I have a big problem with mining companies.
"They are destroying the soil of our country. Iyan ang mahirap kasi, kung ilagay ko siya, e komunista siya noon and you know invariably you have to use the force of the military and the police to enforce.
"E, kung ano naman siya, wala maniwala sa kanya. 'E, preso ka lang namin noon. Bakit kami maniwala sa 'yo?'
"So, ni-reserve ko muna yung DENR for somebody who has the…
6. "Alam mo the mining people must shape up.
"Karamihan ng ginagawa niyo ngayon especially [sa] Surigao, butas-butas.
"They have to stop. They are spoiling the land. They are destroying Mindanao.
"At iilan lang silang taga-Maynila na nananalo. Ang masakit diyan, even Moro people, supposed na taga dito, nawala rin sila.
"They're just along the marginal side of our business endeavors here in Mindanao.
"That has to change. Para sa akin, it must [be] galing dito."
CORRUPTION
7. You know, there is really so much misery in our country today.
"Ang masakit kasi is we have really the money if we just collect it and spend it correctly.
"Dito sa [Bureau of] Customs, on any given day, I would say we are losing 300 million [pesos].
ADVERTISEMENT - CONTINUE READING BELOW
"BIR [Bureau of Internal Revenue], ganun rin halos, mas malaki ang sa Customs, you'll just place it on a very conservative amount of about 200 [million pesos].
"Actually, we're losing 1.5 up to 2 billion [pesos] a day."
AGRICULTURE
8. "Kung nagamit lang iyang pera sa husto, then I could have provide the lands, yung mga awardees ng CARP [Comprehensive Agrarian Reform Program], I could have given you the farm implements, and the fertilizer.
"And I could even buy your products and sell it at government price to be competitive with the imports.

9. The onslaught of WTO [World Trade Organization]...
"We're having a problem with commodity.
"Ang atong mga balay, we have given so much to the multinationals. 
"Tinatamnan nila saging, pineapple, banana, mga kape... And it is a corporate endeavor na gagko lang ang makaya… Wala na tayo mapagtamanan…
"Because we are dependent on our importation from Thailand, Vietnam, and Laos…
"We are always at the mercy of other countries in ASEAN business.
"We have to catch up and we have to improve everything.
WARNING AGAINST CORRUPT POLICE OFFICERS

9. "Corruption must stop. Itong police must stop. I will have to ask about three generals diyan sa [Camp] Crame to resign.
"And do not wait for me to name you in public because i will only humiliate you.
"Lahat ng mga kasong police, mga dismissed ang kaso, will be reviewed.
"Kasi ang style nila ganito: kapag nahuli 'yan sila, nafile-an ng kaso, they disappear from the horizon. Tagu-tago lang sila. Police, e.
"Maya't maya, kapag matagal na, about two years [or] three years, magpunta na kaagad 'yan sa judge, may abugado na.
"Kung titignan niya na wala na yung mga witnesses, patay na o matanda na o hindi na interesado kasi hinoldap nila.
"For two or three years, walang nangyari sa kaso kasi at large na sila.
ADVERTISEMENT - CONTINUE READING BELOW
"Then, suddenly they will appear in front of a judge. 'Magpiyansa ako. Kung ayaw ni'yo ako magpiyansa, I insist on a trial.'
"Because in the constitution of the Philippines, there is a provision there which says there must be a speedy trial.
"Kung walang speedy trial, ma-dismiss ang kaso and it is always with jeopardy.
"Meaning, hindi na ma-i-file ulit. Iyan ang gawin nila.
"Ang mga server [sasabihin the witnesses] cannot be located. Hindi naman tinatanong ng judge kung totoo ba o hindi.
"Cannot be located or has transferred to another residence... Cannot be located ang witnesses.
"Ang complainant dismissed ang kaso, balik ulit sila sa serbisyo, and they go back again crucifying the Filipinos.
"Hindi ako papayag.

10. Lahat ng pulis na may kaso at wanted ngayon, you have to either kapag nandiyan ka pa sa droga, papatayin kita.
"Don't take this as a joke. Hindi ako nagpapatawa. [Expletive], papatayin talaga kita.
"As I have said in the meeting de avance, my parting words was that if you destroy my country, I will kill you.
"If you destroy the youth of this country, I will kill you.
"Nasa sa iyo yun kung hindi ka maniwala. Pero kapag tanungin mo mga taga Davao na nilibing na walang claimant…"
CAMPAIGN AGAINST ILLEGAL DRUGS
11. "Galit ako sa droga. if you are into it, wala ka man lulong, stop it...

"I have a rehab center. [Some patients get] released after five years of confinement and treatment, they end up doing it again...

"Shabu it shrinks the person faster and ever. That is why ang mga doktor wala na.
"Rehab is no longer a viable option."
12."Kaya kayong nandiyan sa neighborhood ni'yo, feel free to call us, the police, or do it yourself.
"If you have the gun you have my support… [Sabihin mo sa suspect] inaaresto kita bilang isang kriminal and I am invoking the criminal law of the land against selling of shabu.
ADVERTISEMENT - CONTINUE READING BELOW
"Pagka sabihin mo, sumama ka sa akin sa istasyon [ng police] because I have to bring you to the police station.
"In an arrest you must overcome the resistance of the criminal.
"And if he fights and he fights to death, you can kill him.
"You just follow that only if your life is in danger at lumaban at may kutsilyo, barilin mo.
"And I will give you a medal.
"If you do that every day, gawin kitang chief ng PC."
13. "Tatay ka, may baril ka, anak mo lumalabas, hindi mo mapipigilan. Sa totohanan naman talaga lumalabas mga anak ni'yo hindi ninyo mapipigilan. 
"Diyan sa kanto ng Doña Luisa, yung road papunta ko doon, kaya pala nakikita ko yung mga gago doon nag-i-istambay at two o'clock [or] three o'clock [in the morning] nag-uusap lang.
"Eventually, ang tinamaan mga anim. Kilala ko, mga anak ng kaibigan ko.
"At sinabi ko na palayasin ninyo kasi mamatay talaga 'yan. Yung iba naglayas, yung iba bumalik."
BOUNTY FOR ARREST OF DRUG LORDS
14. Ipapatay talaga kita. Ang bayad ko ngayon, pagka drug lord, mag-announce na ako five million [pesos] kapag patay.
"Kapag buhay, 4,999,000 [pesos] lang. Totoo.
"Tapos, yung distributor diyan gaya ng buhangin, kung mapatay mo basta drug lord, three million [pesos].
"Kapag hindi patay, 2.9 million pesos. Yung pitsi-pitsi, singkwenta [mil]."
CAMPAIGN MONEY

15. "Wala talaga. Ganito ang nangyari, wala kasing bumigay talaga sa akin na pera because they thought I'd never make it…
"And for the few times I was able to go outside Davao to campaign, it was only for a limited number of days and limited expenses. Bayad pang hotel...
AGAINST TANIM-BALA MODUS
16. "Iyang lagay-lagay ng bala na 'yan, sa susunod huwag ni'yo gawin 'yan. Talagang kakainin ni'yo 'yan. Maniwala kayo."
PERSONAL IDEOLOGY
17. "Marami ho tayong mga ideyolohiyang pumapasok. There are the capitalists, the rightists, the ultra rightists, may mga left, the socialists...
ADVERTISEMENT - CONTINUE READING BELOW
"Ako po ay isang presidente na nanggaling po sa left. And you know that kayong mga taga Davao.
"I belong to the left center but I am not a member of the Communist Party of the Philippines. I do not agree with the armed struggle and the killing of people especially Filipinos." 
MEDIA
18. "Ang akala ng taga Maynila… Magboycott, magboycott… Hala, sige, mag-boycott!"
GRATEFUL TO DAVAOEÑOS
19. "Ang malas ko kasi mga taga Davao kausap ko.
"Hindi na ninyo kailangan. You know the drill dito. Wala naman tayo problema.
"Pero thanksgiving man 'to kaya sige na lang.
"Totoo. It would be really a waste of time lecturing to you  what a society at this stage of our nation life should be.
"Medyo nakuha na natin. Hindi lahat. In a scale of one to ten, umabot tayo mga seven. Sa ibang lugar three or four because of shabu.
"It has to stop. Madugo ang labanan na ito."
20. "Basta ako magsilbi sa inyo."