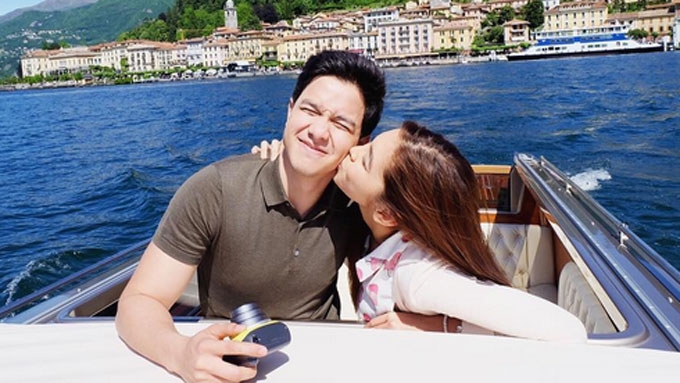 IMAGE Instagram account of Maine Mendoza (@mainedcm)
---
After the celebration of their first year of AlDub, Maine Mendoza took on Instagram and composed a sweet message for her loveteam partner Alden Richards.
The 21-year-old TV-movie personality posted a picture of her kissing Alden's cheek during the shooting of their movie Imagine You and Me in Italy.
On the first part of her caption, Maine described meeting Alden as a miracle.
She said, "Meeting you was fate; it was wonderful, it was miraculous, it was extraordinary and indeed sweet serendipity.
"For some, it was nothing but luck and plain coincidence; but for me it was something revelatory about the notion that miracles like this do exist.
"God made our story extra special; He let everybody witness every single thing from the very beginning. It was something unexplainable."
She then recalled the day when they smiled back at each other in Eat Bulaga!, the day they also first became a love team.
She continued, "I glanced and smiled at you and all I could do was wonder how did that simple smile changed both our worlds. It changed everything—it changed us.
"What happened on the 16th day of July 2015 will live on in people's hearts until the end of time."
At the end of her caption, it seemed like Maine is open for possibilities that something might happen between her and Alden in the future.
"We might not know what the future holds but you should know that no matter what happens, you already have this special place in my heart.
"And I want you to know that even if we end up being together or not, that spot is yours—forever.
"Happy first anniversary, @aldenrichards02. Thank you for everything."
Maine's Instagram post is almost the same as what she said during their celebration in Eat Bulaga! yesterday, when she and Alden became emotional while exchanging messages of gratitude.
ADVERTISEMENT - CONTINUE READING BELOW
Read: Alden Richards and Maine Mendoza emotional over first anniversary as love team