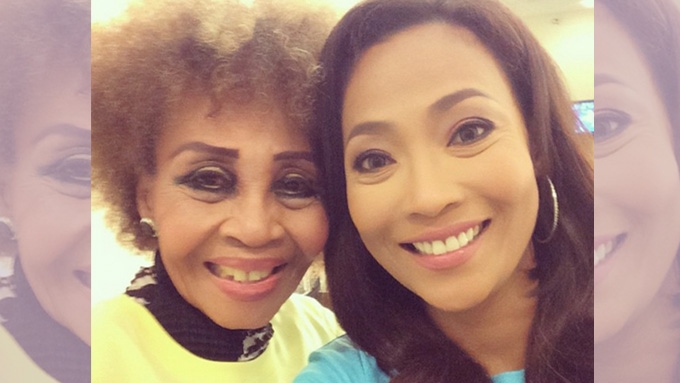 IMAGE @jayasoul on Instagram
---
October 8, 2016 marked the first death anniversary of the late Philippine Queen of Rock and Roll Elizabeth Ramsey.
Jaya, for her part, paid tribute to her late mother through a lengthy and heartfelt message posted on Instagram.
The message reads, "All these months leading to today has been quite challenging to face.
"Moving on from someone's passing, especially your parent is quite difficult to deal with when you have your family and work to prioritize. So I've kept all my feelings to myself.
"Honestly, all has been well even if inside I grieve. Perhaps we all grieve differently."
She later on detailed how she chose to grieve over her mother's passing a year ago.
"As for me, I am very practical and realistic.
"I have accepted my Mother's illness and passing years before it happened.
"Of course I had to accept that one day she will leave all her loved ones behind.
"Maybe that is why I am at peace. At peace that she and I had moments that no one can take away."
The Soul Diva reminisced how her relationship with the late stand-up comedian and singer.
"We lived a very colorful life together, shared the same passions, had not so good and very bad days and yet we survived.
"We did not have the perfect relationship but we were perfectly alright with our relationship.
"We deeply loved each other. We deeply respected each other. We loved being on the same stage.
"We sang, danced and laughed together for so many years."
ADVERTISEMENT - CONTINUE READING BELOW
Part of Jaya's message talked about Elizabeth behind the spotlight.
"I say to you, she might have been the funniest woman and one of the greatest comedian to many, but she was just a woman who struggled all her life to love, protect and provide not only for her children but those who were in need.
"I will always admire, respect, adore, and miss her. She was one of a kind. I will always be proud of her."
Jaya later on expressed her gratitude towards the people who helped her get through the pain.
"I am thankful to our God for allowing us to be mother and daughter, best friends and colleagues, family, sisters.
"Thank God for his amazing grace that He took away all the pains that my Mother would have suffered through had she lived another second.
"And thank God for giving me this unexplainable strength and wisdom to now face this world without my greatest defender.
"To my dear friends, whom I call family, and other colleagues and relatives that sent their concerns and love to me, you know that my love for all of you is what keeps me moving.
"And my husband Gary and my children, Sab, Dylan and Gavin, whom I have been blessed with and cannot live without, are truly what keeps me alive and you made me know what love, God's love truly means.
"My Lord and savior Jesus Christ, you are my God and rock and I will praise your Holy name until my last breath.
ADVERTISEMENT - CONTINUE READING BELOW
"You are my father who truly knows and sees the contents of my heart and let it be known that I love you with my whole being.
"Nothing in this world will shake me because you are always with me."
On the latter part, Jaya left a note to her late mom.
"And so today, Mama, I honor you once again.
"Thank you for your love. I am comforted knowing that you are with God.
"I know we will see each other again someday.
"But for now, I hope and pray that whatever I do here will be a testimony to how great you have been as a mother.
"The past went away and the present and future remains to be seen.
"I promise to honor you by being a good, God-fearing, loving and helpful child.
"It won't be easy, but I will do it.
"And don't worry about me and the kids, maraming nagmamahal sa amin.
"Ma, I will carry your name for as long as I live, as long as I sing.
"We all miss you, we all love you. We all thank you...rest in God's eternal peace..."
At the age of 83, the comedy royalty peacefully passed away in her sleep after more than two months of suffering a hyperglycemic attack due to diabetes.