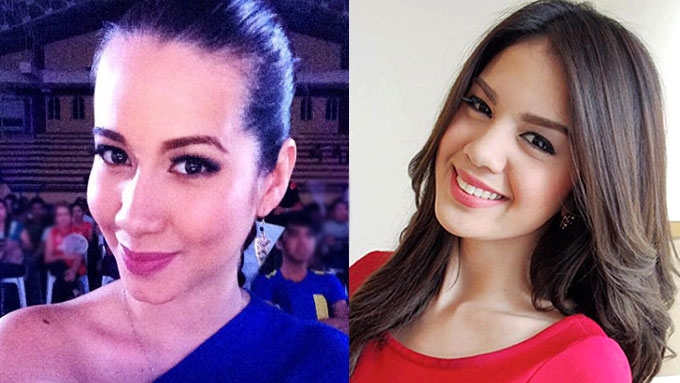 IMAGE @karlapaulahenry Instagram / Missology website
---
Miss Earth 2008 Karla Henry called out Miss Philippines-Earth 2016 Imelda Schweighart for supposedly making her look like she's mocking Miss Earth competition or its very own candidate.
This is in connection with Imelda's cryptic Facebook post about "two girls" who allegedly laughed at her during a preliminary judging event last October 25.
Based on Imelda's Facebook post, she was offended with the two unnamed girls' rude behavior while she was speaking about her "aspirations in life" in front of a panel of judges.
Imelda's post partly read: "I was faced with a panel of judges for them to get to know my aspirations in life.
"When I said what my dream was... two girls from this country laughed at me in [front of] the panel of judges the moment I shared my dream.
"What is wrong with this country? Why are people so fond of pulling each other down?"
KARLA'S OPEN LETTER TO IMELDA. Karla, who hosted the pre-pageant event, addressed the issue by writing an open letter to "Ms. Philippines-Earth 2016 Imelda Bautista Schweighart."
Karla frankly stated on her Facebook post yesterday, October 27:
"Since you did not want to talk to me directly I'll just say this here, since you're also so fond of posting your rants on social media.
"I believe you are referring to me as one of those ladies who laughed at you when you shared what your dream was since all judges were older than 7-9 years.
"Well, I suggest you either find out the whole truth and not come out with your own version of it on social media."
ADVERTISEMENT - CONTINUE READING BELOW
Karla categorically denied that she was laughing at Imelda at the time.
The former Miss Earth titleholder further wrote: "FACTS FOR YOU MY DEAR PLS READ CAREFULLY:
"1. I was NOT a judge just a host/timekeeper
"2. I did not laugh at you because after what you have said and done the past few weeks I was actually curious of what you had to say
"3. Somewhere mid of your interview I lost interest and started talking to Princess about something completely unrelated to you or Ms Earth for that matter."
"So now that you know please stop having so much self pity and start getting your head in the game."
KARLA'S "FRIENDLY" ADVICE. Karla also warned Imelda that a beauty queen can only take so much controversies at a time.
It can be recalled that earlier this month, Imelda drew flak following her viral Facebook video where she accused President Rodrigo Duterte of doing "Hitler stuff in the Philippines."
Read: Miss Earth Philippines 2016 Imelda Schweighart clarifies 'soft joke' about Duterte
Still addressing Imelda, Karla further wrote in her open letter, "You had or maybe still have a whole group of people who are backing you up day to day, because believe me my dear not very many beauty queens would get away with half the stuff you have done."
At the end of Karla's Facebook post, she offered a "friendly suggestion" to Imelda:
"Stop focusing on what everyone thinks of you, and start actually being the best version of yourself that you so fondly say all the time.
ADVERTISEMENT - CONTINUE READING BELOW
"Oh and by the way, you said you wanted to be a popstar. Well, suggestion No.2, have thicker skin if you want to be in this industry.
"Best of luck on October 29."
At press time, both Karla and Imelda have already deleted their respective Facebook posts.
In an exchange of messages with PEP.ph (Philippine Entertainment Portal) today, October 28, Karla was asked if she and Imelda have already settled the issue.
Karla answered, "Yes, we have both aired our sides and we are now moving on."
PEP also sent a message to Imelda to ask for an official statement, but the latter has yet to reply, at this writing.
Miss Earth 2016's main pageant will be held at SM Mall of Asia Arena tomorrow night, October 29.