Alex Gonzaga surprised her Instagram followers with a cryptic announcement that seems to be pertaining to the current status of her love life.
In her Instagram post dated November 13, Alex shared a photo of herself together with sister Toni Gonzaga, Paul Soriano, Vice Ganda, and an unidentified non-showbiz guy.
Alex's caption simply read: "Not a third or fifth wheel anymore #Thisisit"
WHO IS MIKEE? As such, netizens couldn't help but speculate about Alex's relationship status with the unnamed non-showbiz guy.
Based on the comments of Alex's post, some netizens identified the non-showbiz guy as "Mikee" or "Mike."
Others even tagged the guy's Instagram account with the handle name @mikee_mo.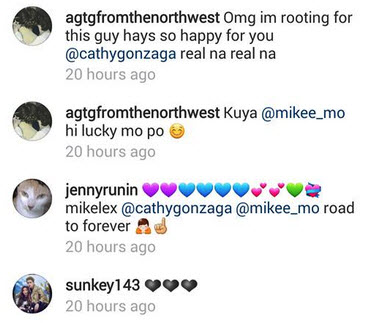 While Alex has yet to confirm the real score between her and Mikee, some of their sweet photos can be seen on certain Instagram fan accounts.
In another Instagram post, Alex and Mikee posed for a photo while holding each other's hands.
Interestingly, the same non-showbiz guy was present during a recent family gathering of the Gonzagas and the Sorianos.