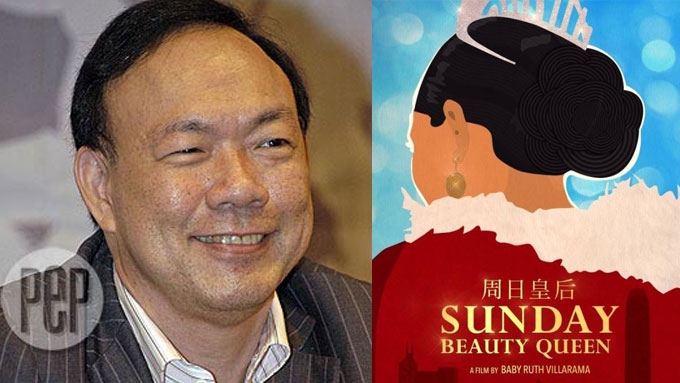 IMAGE Noel Orsal / Sunday Beauty Queen Facebook
---
The issue of "conflict of interest" may be brewing anew.
It was a big issue at the Metro Manila Film Festival in 2015, and it may turn out to be a big issue again in 2016.
Wilson Tieng, a member of MMFF's powerful Executive Committee this year, is reportedly also the distributor of Sunday Beauty Queen, a film documentary produced by Tuko Films Productions, Buchi Boy Entertainment, and Voyage Studios.
Sunday Beauty Queen made it to this year's Magic 8.
Wilson is well-known in the industry as his trade brings him right in the belly of the entertainment business.
The owner of Solar Entertainment, he makes a good living by operating and providing content for cable channels (Solar Sports and ETC), as well as distributing both local (Bonifacio:Ang Unang Pangulo, Bang Bang Alley, Manny) and foreign movies (Colossal, Message from the King, Awaken).
But as a member of the festival's Execom this year—as he has been over several MMFF editions—he is constrained by festival rules to keep his trade away from MMFF business.
ADVERTISEMENT - CONTINUE READING BELOW
Certainly, the MMFF Rules and Regulations—although subject to change every year, with every new chairman and new executive committee composition—have clearly set the limits for the 2016 Execom members' engagements.
Its Rule B2 says quite categorically: "Members of the MMFF Executive Committee and its sub-committees are disqualified from joining the competition in whatever capacity."
Reached for comment, Boots Anson-Rodrigo, an Execom member and this festival's spokesperson, declined to make an official statement on the latest report involving Wilson and Sunday Beauty Queen.
She told PEP.ph (Philippine Entertainment Portal) in a phone interview today, November 29, that she would prefer to wait until December 2, when the Execom meets.
For the record, however, Boots said that Wilson Tieng is a member of the Execom and also of the Sales and Playdate Monitoring Committee this year.
"Ang mga Execom members who know the distribution, playdate, and booking business are really assigned to be part of that committee.
ADVERTISEMENT - CONTINUE READING BELOW
"That's why they are there, precisely, to help.
"Ang sigurado lang ako that was clear as a policy was that no Execom member would have a hand in the selection process of the eight entries.
"I'm sure that in this coming festival, no Execom member will have a hand in the selection process of the eight entries."
The unanswered questions remain: Is Wilson Tieng the distributor of Sunday Beauty Queen? And can he be a member of the festival's highest set of officials, the Executive Committee, and still be the distributor of a competing festival entry?