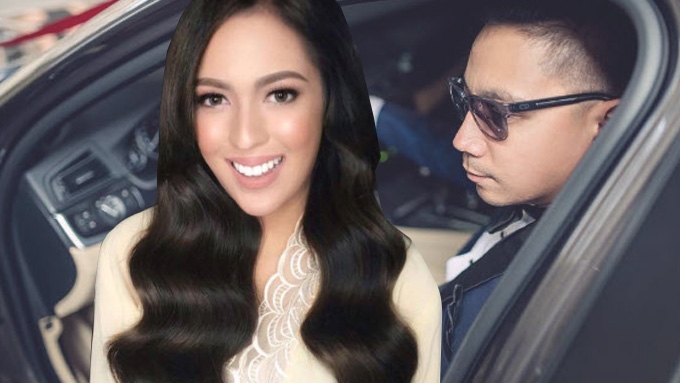 IMAGE @iamkarelmarquez / @benjietiongco on Instagram
---
Karel Marquez-Fariñas never expected her marriage to businessman Sean Fariñas to gain enough attention for netizens to nitpick on their expenses—particularly, Karel's pricey wedding gift to her husband.
READ: Karel Marquez gives groom Sean Farinas a gift worth P4 million
Before the wedding ceremony, netizens buzzed about the BMW 5-series sedan that Karel bought for Sean.
Luxury cars cost millions, and a brand-new BMW 5-series sedan could cost PHP 3,990,000.
Fans questioned whether it was necessary for a bride to spend that much for her groom, especially since most brides usually give a watch.
PEP.ph (Philippine Entertainment Portal) has found the answers.
In a long Facebook post that Karel wrote on December 3, the actress-singer expressed confusion about the reactions to her choice of a wedding gift.
She said, "I do not grasp why people would have so much hate and jealousy when we are just content after all our hardships and challenges in life. Hindi ba pwedeng pinaghirapan namin ang lahat? Alam ko pwede yun.
"Why would people dictate what we should do when we all can do what we want as long as we worked hard for it, and as long as wala tayong inaaway o tinatapakang tao?
"We all have different opinions. Different life choices."
Karel doesn't see herself as the type of wife who depends on a husband for her monetary needs.
She prides herself on being a hard worker who manages her own finances.
That is why, she said, she managed to give her husband a car.
She said, "Trust me, oo mahirap. Literal blood, sweat, and so much tears, pero grabe ang balik ni Lord.
"Kung patient ka ba naman at madiskarte, lahat tayo, kayang maabot ang mga pangarap."
NOT BRAND NEW. Contrary to claims that Karel purchased a brand-new model, the gift was actually a second-hand car she bought from one of their ninongs.
ADVERTISEMENT - CONTINUE READING BELOW
It was also not bought from Sean's uncle or from any member of the Fariñas clan.
Karel remarked, "It was the most I could afford today and spare, so it is not a brand new one.
"It took me 6 months to earn this and always had to set aside a monthly budget in the middle of paying for our groceries, food, my children's tuition fees and the list goes on.
"It was a sacrifice.
"Yes, my gift isn't 2016 brand new, but I am still proud of the hard work I have put into it.
"Yes we are happy."
NOT REAL PLATE NUMBER. Netizens were also quick to point out the car's plate number.
The plate number 8 is usually reserved for members of the House of Representatives.
In the same post, Karel clarified the issue: "About the plate # '8' in front: Who ever had a screenshot of my gift for him with the # 8 plate in front, you can zoom in to the photo and see that it was just placed on top just maybe after Sean went down the hotel lobby with his entourage to see his surprise gift.
"His cousin is a son of a congressman so they just put it there during the surprise.
"It's his dad's and not ours so relax. It was taken off by the boys I think seconds right after the photo and before even heading to the church.
"We have a normal plate number."
FIRST MARRIAGE. Towards the end of her post, Karel also shot down rumors that her marriage with Sean is not her first.
"Despite all the conjectures, I kept quiet and avoided the limelight and unnecessary issues.
"People would stereotype that maybe just because they know I have two beautiful children, I may have gotten married. I was never married yet even via church or civilly my whole life."
ADVERTISEMENT - CONTINUE READING BELOW
Karel has two kids with ex-boyfriend Armand de Guzman: Keiley, 7, and Kyler, 6.
"Yes, I have two kids from my ex. Ex boyfriend, that is."
Karel married Sean on December 1, 2016, at the Santuario de San Antonio in Forbes, Makati.
Read full Facebook post here.