Amid persistent rumors linking him to Ellen Adarna, Sebastian â??Basteâ?? Duterte addressed talk that the sexy Kapamilya star wouldnâ??t give him the time of day if he werenâ??t the son of President Rodrigo Duterte.
This was after a netizen criticized Baste for prioritizing his alleged growing romance with Ellen instead of his duties as the presidential son.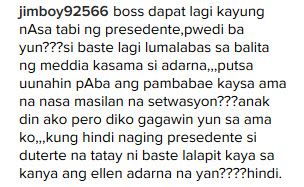 Addressing an Instagram user with the handle @jimboy92566, Baste retorted, â??Hindi powz koya kashe pangit akoh
â??Kaya poh koya nageng president ang fafa kow parah lomapit ang adarna.â??

Ellen, who also saw the netizenâ??s comment, cut in to say that she had known Baste since 2004.
â??@sebastianduterte @jimboy92566 aktwally phowz.. matagal kona hinahanap yang si baste mga 2004 pa phowz!!!!! Di lang kc nagpapakita yan.. hahahhahaahhahahahaâ??
The rumored couple also exchanged light banter on the same comments thread, with Ellen telling Baste: â??kiss nalang ko beh ahhahahahahahaâ??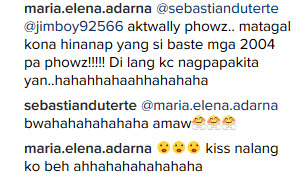 Baste was initially dismissive about the netizenâ??s negative feedback about his supposed romance with Ellen.
But the presidential son began reprimanding the netizen when the latter hurled a vulgar comment.
Baste wrote: â??@jimboy92566 ayawg panghilabot ug masuya ra man diay ka. Buguon ay [Huwag ka mangialam kung naiinggit ka lang. Bobo nito.]â??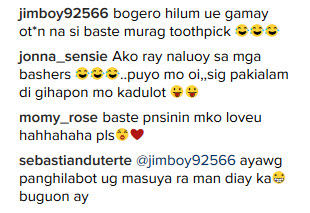 Baste posted his comments above on his Instagram account last Sunday, December 4.
NETIZEN CALLS ELLEN A "HOMEWRECKER." Meantime, another netizen commented that Baste and his non-showbiz girlfriend Kate Necesario were probably no longer together.
The netizen also went on to call Ellen a â??homewrecker.â??
Baste responded, â??awww wala na, wawa naman huhuhu"
This exchange between Baste and the netizen could be seen on Ellenâ??s separate Instagram post last December 5.
MOM OF BASTE'S TWO-YEAR-OLD SON. To date, Sebastian "Baste" Duterte has yet to set the record straight about whether or not he and Ellen are officially in a relationship.
Generally, the presidential son/surfer/endorser has kept his private life under wraps.
However, it is no secret that he has a two-year-old son with partner Kate Necesario.
What remains unclear is if they are still together or have gone their separate ways.
And if they are still together, where does Ellen Adarna fit in.
The last time Baste and Kate were seen together in a big social function was when they attended President Duterteâ??s inauguration on June 30.
Below is a snapshot of Baste and Kate taken while they were on their way to Malacañang that day.