Six days before opening day, the 2016 Metro Manila Film Festival (MMFF) is facing yet another brewing crisis.
The first sign came from a member of the festival Executive Committee.
Without naming names, Execom's Ed Cabagnot took a swipe at a film company that he said refused to grant a 30 percent discount on festival ticket prices for students, senior citizens, and persons with disabilities (PWDs).
On his Facebook post today, December 19, Cabagnot wrote: "Kindly do NOT be surprised if ONE of MMFF 2016's Magic 8 refuses to grant students, seniors, and PWDs the previously announced 30 percent discount.
"Simply walk away silently, Skywalker. And just watch the other seven.
"#notaloss"

In the comments thread of his post, one of Cabagnot's Facebook friends asked if he was pertaining to Star Cinema, the film arm of ABS-CBN, which has one official entry.
Cabagnot gave a not-so-subtle response: "(humming softly, while staring outside the window)"
The MMFF 2016 exec also hinted that "money" played a big factor on the unnamed film company's refusal to go with MMFF's proposed discounted ticket price on the eight official films.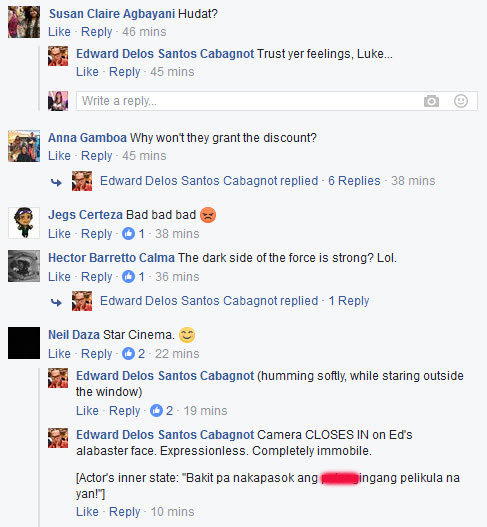 MMFF 2016's Magic 8 is composed of Die Beautiful (The IdeaFirst Company and Octobertrain Films); Ang Babae Sa Septic Tank Part 2: Forever is Not Enough (Quantum Films, Buchi Boy Film Productions, Tuko Film Productions, and MJM Production); and Vince & Kath & James (Star Cinema)...
Sunday Beauty Queen (Tuko Film Productions, Buchi Boy Entertainment, and Artikulo Uno Productions); Seklusyon (Reality Entertainment); Kabisera (Firestarters Production and Silver Story Production), Saving Sally (Rocketsheep Studios), and Oro (Feliz Film Productions).
Cabagnot could have been pertaining to any of these competing entries.
But at press time, the Facebook post could no longer be seen on Cabagnot's Facebook feed for public users.
STAR CINEMA TO PULL OUT OF MMFF? But more than the issue of one festival entry rejecting a proposed discounted ticket price, a bigger issue looms.
The Philippine Entertainment Portal (PEP.ph) has received information that, as of yesterday, December 18, Star Cinema had already withdrawn its competing entry, Vince & Kath & James, starring Julia Barretto.
Its withdrawal is said to be contingent on the MMFF Execom pushing through with its new festival rule to lower ticket prices on all films.
It was during MMFF 2016's press party last Thursday, December 15, that Liza Dino, chairperson of the Film Development Council of the Philippines (FDCP), announced the 30 percent discount on ticket prices for senior citizens, PWDs, and students.
"Sa darating na MMFF, sa buong festival run natin, magkakaroon ng 30 percent discount ang lahat ng senior citizens, students at PWDs para mapanood nila ang lahat ng pelikula," said Liza.
Noel Ferrer, the festival's spokesperson, confirmed that the festival rule on discounting ticket prices was made by the MMFF 2016 Execom earlier that day.
He said festival execs created the new rule on ticket pricing to encourage more viewers to watch the festival's Magic 8.
Since the eight official entries were announced last November 18, it's no secret that organizers have been looking for ways to encourage moviegoers to support this year's films.
Except for Star Cinema's Vince & Kath & James, the rest of the competing entries are independently-produced and have limited access to traditional media platforms for publicity and promotion campaigns.
This resulted in the Execom's efforts—along with producers and theater representatives—to devise an "omnibus" approach to boosting moviegoers' interest in the all-Pinoy-films festival.
THE SUPER TICKET. To address marketing issues, the SM theater group proposed the "Super Ticket" promo.
PEP.ph acquired a copy of SM's proposed mechanics for the "Super Ticket," which entitles a moviegoer to four MMFF films for only P599, or approximately P150 per film.
A representative from the SM chain (incidentally, the biggest cinema chain in the country) sent its proposal to the MMFF 2016 Execom via e-mail as early as December 5.
Most non-SM theater representatives were against the discounted ticket price. This was for the simple and valid reason that many of them had not reached their quota for the year, and were now eager to tap into the traditionally lucrative holiday-season movie crowd.
Star Cinema and other participating producers also thumbed down the proposal and questioned the need for the lowered ticket price.
DISCOUNTED TICKETS. In fact, the subject of discounted festival-ticket prices was raised earlier, on December 12, at the MMFF 2016 Execom meeting with producers and theater representatives.
In that meeting, Execom member Moira Lang, who is also a member of the Sales and Playdate Monitoring Committee, proposed a 50 percent discount for students.
The producers were torn in half. Some agreed to the discounted rate, others did not.
That proposal eventually fell through.
Until, at the December 15 press party hosted by the MMFF, the 30 percent discount on ticket prices, this time for students, seniors, and PWDs, was announced.
The MMFF Execom may have been well-meaning, wanting only to encourage more viewers to come. But it failed in the all-important job of consulting all festival stakeholders. It spoke to the producers; it did not speak to the theater owners.
EXPECTED BOTTOM FIVE, TOP THREE ENTRIES. Yesterday, December 18, the Execom finally called for a meeting with participating producers and theater representatives.
All producers of the eight competing entries were present; not all theater representatives were.
In this meeting, the Execom announced its decision to bring ticket prices down by 30 percent for all films.
It was also in this meeting that the distraught Star Cinema representative announced: "We're out."
Star Cinema is the only major film outfit to make it to MMFF 2016, successfully getting one slot for one of its two entries, but the outfit said that a 30 percent price reduction on every ticket will mean losing money.
The lower ticket price is expected to hurt the anticipated "Top Three" films: Vince & Kath & James, Ang Babae Sa Septic Tank 2, and Die Beautiful.
The discounted rate on tickets is believed to have been proposed to save the expected "Bottom Five" in the coming film festival: Seklusyon, Saving Sally, Oro, Kabisera, and Sunday Beauty Queen.
As it is, the expected Top Three are topbilled by mainstream stars, who are not only visible on TV but have already earned a fan base, which will watch their MMFF 2016 bets whatever the ticket cost.
SHARING SCHEME. For their part, non-SM theater representatives reiterated that the 30 percent discounted rate—albeit for selected audiences only—is just too much for them to shoulder.
Add this to the fact that ticket prices vary, from as low as P150 to P220, depending on the theater chain.
One theater representative also remarked: "Discounts have never worked to increase the audience."
Based on industry practice, the sharing scheme between producers and theaters is, ideally, an equal division: 45 percent for producers, 45 percent for theater owners, with the remaining 10 percent for the amusement tax.
So, the big question during the meeting was: Who would shoulder the discount?
Since non-SM theaters did not agree with the festival's new pricing rule, then it was left to the participating producers to shoulder the discounted ticket rate.
Star Cinema thumbed down the proposal.
Quantum Films was said to be willing to abide by the rules, but was generally unhappy with the proposal and may eventually also pull out.
The rest of the production companies were said to have gone along with the proposal.
PEP tried to reach Star Cinema for comment on the ticket-price discount for selected audiences, but at press time, had not given any official statement.
The MMFF 2016 Execom called for another emergency meeting today, December 19, but the stakeholders' sentiments about the discounted rate was reportedly not part of the agenda.
On a positive note, competing entries which are graded A by the Cinema Evaluation Board (CEB) have been given a 100 percent tax rebate as incentive.
Ang Babae Sa Septic Tank, Die Beautiful, Saving Sally, Sunday Beauty Queen, and Vince & Kath & James were all rated A.
Seklusyon and Oro, which got a B rating, can avail of the 65 percent tax rebate as incentive.
Kabisera did not merit a rating from the CEB.
VOLUNTARY DONATION? While MMFF 2016 Execom has yet to resolve the issue of ticket-price reduction for selected audiences, another cause for concern is the revival of the so-called voluntary "donation" to the festival Execom.
As of last Friday, December 16, the SM chain had committed to donate P5 per ticket sale.
At the height of the MMFF 2015 scandal, "voluntary donations" was an issue raised during the February 18 congressional probe of an alleged ticket-price increase anomaly in provincial theaters.
MMFF 2015 Finance Chairman Edenison Fainsan admitted that "voluntary donations" from provincial theaters were collected during the term of MMDA Chairman Bayani Fernando.
Fernando held the position from 2002 to 2009.
Fainsan elaborated, "Parang request po nila sa mga theater owners. In fact, yung LGUs, nag-request sila. Pero yung iba nagbigay, yung iba hindi."
The Commission on Audit later noted that a total of P1.6 million worth of MMFF funds had been used for Fernando's birthday parties from 2003 to 2006.
Read: MMFF 2015 SPECIAL REPORT: CHAPTER 9: Dominic Du denies involvement in ticket-price anomaly