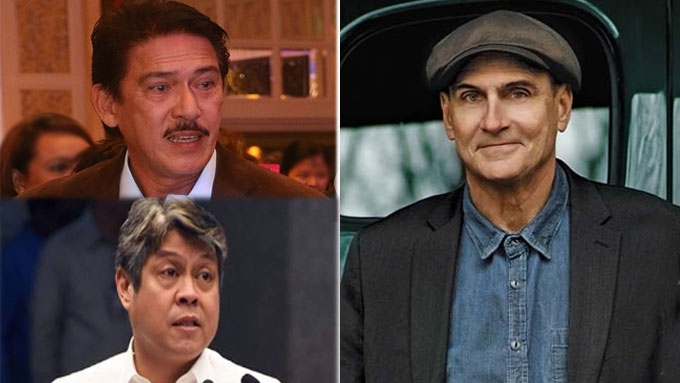 IMAGE Facebook photo of James Taylor (main) file photos (Sotto, Pangilinan)
---
Senator Tito Sotto has questioned the reason of American singer James Taylor for cancelling his concert in Manila.
"A singer said he loves d rule of law, 'kaya?' Or he loves d lure of drugs?,' the Senate majority leader posted on his Twitter account dated December 21.
Sotto is reacting to Taylor's statement that he is making a stand against the war on drugs in the Philippines.
The multiple Grammy awardee writes in his post: "I don't think of my music as being particularly political but sometimes one is called upon to make a political stand."
The "Fire and Rain" singer's statement also reads, "Summary executions of suspected offenders without trial or judicial process are deeply concerning and unacceptable to anyone who loves the rule of law."
Sen. Sotto further tweets: "If you are not a pusher or a user, you have nothing to fear in the Philippines!"
---
Stories We Are Tracking
---
KIKO APPLAUDS. On the other hand, Senator Francis "Kiko" Pangilinan backs Taylor's stance.
"James Taylor has taken a strong stand vs summary executions in the Philippines' war against drugs. We all should," says the new president of Liberal Party in his post.
The senator goes on to cite police data on drug-related killings in the country.
"Stop the killings! Over 6000 have been killed since July 2016 according to Police data.
"The killings must end, drug addicts must be given the chance to be rehabilitated and this government must go after those behind the more than 4000 vigilante murders committed since then."
NETIZENS REACT. Meanwhile, Taylor's announcement in his Facebook and Twitter accounts has drawn mixed reactions from Pinoy netizens.
Most of them agree with the singer:
On the other hand, some Facebook users express their disappointment: