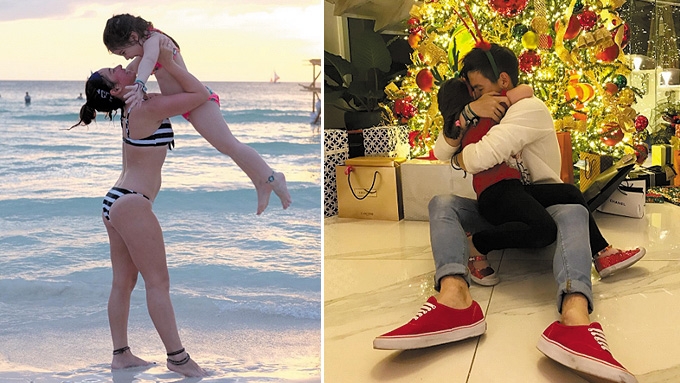 IMAGE Instagram (@andieigengirl and @unoemilio)
---
Andi Eigenmann and Jake Ejercito are both wishing for a better year after all the controversy and, in Jake's words, "brutality," of 2016.
Through their respective social media accounts, the former couple revealed their New Year's resolutions and wishes for the Year of the Rooster.
JAKE'S NEW YEAR TWEETS. On December 30, 2016, Jake tweeted: "In spite of this year's brutality, stay grateful and hopeful. At least we get to fool ourselves again with a 'fresh start.'"
On New Year's Day, the son of former President Joseph Estrada and former actress Laarni Enriquez posted a thoughtful and a meaningful tweet.
"Happy 2017! May we all be quicker to forgive and slower to anger," he tweeted.
Happy 2017! May we all be quicker to forgive and slower to anger

— Jake Ejercito (@unoemilio) January 1, 2017
ANDI'S NEW YEAR'S RESOLUTION. Meanwhile, Andi welcomed the New Year in Boracay with mother Jaclyn Jose, daughter Ellie, and boyfriend Emilio Arambulo.
The actress also said in an Instagram post that Emilio had been a big part of her 2016, and that she looked forward to spending the brand new year with him and her daughter.
She wrote in the caption: "Thank you for making me realise that while nobody can stop the waves, we can always learn to surf!
"You're a big part of what made my 2016 worth it, and I can't wait to ride more waves together with you and Ellie this coming 2017."
Andi also posted a special message for Ellie on Instagram this New Year.
Her New Year resolution is "not to be too scared to take more photos again AND actually post them because LOOK AT HOW FAST YOU GROW!"
Andi's wish for Ellie: "May negativity roll off you like a bead of water on a blade of grass. May you rise up always towards the light, illuminated, purified and wise. May you continue to grow your wild spirit in vibrancy and fearlessness in the night.
ADVERTISEMENT - CONTINUE READING BELOW
"Everyday is something to look forward to because of you, my magic and my light!"
Andi and Jake, who are the biological parents of Ellie, became involved in a "word war" with each other in August 2016.
This started when Jake accused Andi of dragging his name in to promote her movie.
Their exchange of tweets got more personal, and they threw hurtful words at each other: Jake called Andi "fake" while Andi called Jake "talentless."
After a few weeks, the two got involved in another controversy, following the revelation that Jake was the biological father of Andi's daughter, Ellie.
---
Stories We Are Tracking
---