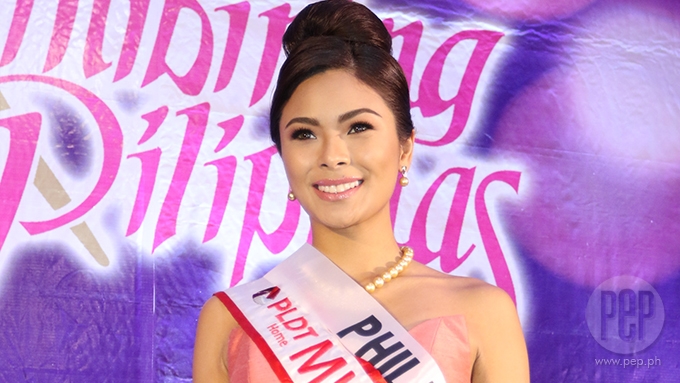 IMAGE Noel Orsal
---
"I am empowered."
Miss Universe Philippines 2016 Maxine Medina confidently replied when asked what would make her win the Miss Universe crown.
Maxine said, "Ever since I started this journey, I never thought of myself being a beauty queen.
"And now that I am a beauty queen, I'm really empowered.
"I really want to inspire the youth and other people to have their own advocacies, as well.
"I really want to become Miss Universe 2016 because I want to empower people through my experiences and skills."
The 26-year-old Pinay beauty queen faced the press during her send-off party hosted by the Binibining Pilipinas Charities Inc. (BPCI) and its chairperson, Stella Araneta, held at Novotel Hotel in Quezon City, Tuesday, January 10.
With only a few days left before the 65th edition of Miss Universe pageant officially begins, Maxine admitted feeling a bit pressured by the public expectation of a back-to-back win in the Miss Universe pageant.
ADVERTISEMENT - CONTINUE READING BELOW
How does she deal with it?
"The pressure is always there and I always have my candies with me, my favorite sou patch.
"So, when I'm stressed, I always eat it," she said.
Coming from the host country, Maxine is seizing the opportunity to boost the image of the Philippines and its people in the eyes of the other candidates.
The interior designer/model/beauty queen said, "I will be sharing our hospitality, our culture, our values.
"And, of course, the best thing is, I will share with them the best food choice in the Philippines, which is the Filipino food.
"Do you know the boodle fight? I would like for them to try it!
"[Eating] without utensils, that's very challenging!"
Maxine also said she doesn't really need to do anything to draw attention to herself.
She quipped, "Actually, pansin na pansin na nga ako, kasi it's in our country.
ADVERTISEMENT - CONTINUE READING BELOW
"I have to be honest, so let's give them a chance, a little bit."
It has been reported that President Rodrigo Duterte will be watching the pageant live on January 30 at the SM Mall of Asia Arena in Pasay City.
Maxine said she is "very honored that our President will be there to witness a back-to-back..."
PAGEANT TRAINING. The first thing Maxine did after being named Miss Universe Philippines in April 2016 was instruct her mentors to help her prepare for the Miss Universe.
"To be honest, after I won, I texted everyone for help.
"Because the world of pageantry is really a big thing, not just for myself but also for the whole country.
"And I really have to work hard for it. And I really devoted myself in learning these things ever since I won.
"So now, I'm getting better, I'm getting confident.
"I've seen the candidates and I'm sure we'll do a back-to-back [win]."
ADVERTISEMENT - CONTINUE READING BELOW
Maxine assiduously went through the rigors of training with the help of the Binibining Pilipinas Organization and the Aces and Queem.
She related, "I've been training 24/7 and, every day in my life, I'm actually learning.
"I had one-on-one coaching with [John Robert Powers], and all of my mentors, especially with Binibining Pilipinas."
Maxine added, "I've seen myself growing up, evolving, you know, with my communication and speaking in front of a lot of people.
"I realize, it's fun."
Maxine also assured she's hundred percent ready for the Q&A round of Miss Universe. 
She explained why she will be answering in English, "We are proud, as Filipinos, that we can speak English fluently.
"And I'm making it sure that I will be great on stage... I would like to speak in English. It's the pride of the Philippines.
"They've been throwing me a lot of questions and I'm answering it in English.
ADVERTISEMENT - CONTINUE READING BELOW
"One hundred percent, we can do this."
AN APPEAL. Maxine also expressed her gratitude for the support of her fans and pageant fanatics.
She said, "Maraming salamat, siguro masyado lang akong focused sa training ko, hindi ko nanu-notice, pero maraming salamat sa suporta."
Asked who she thinks will be her strongest competitor in the pageant, Maxine confidently answered, "Wala, we can do this!"
Like Miss Universe 2015 Pia Wurtzbach, Maxine also calls on the Filipinos to refrain from bashing other candidates and their fans in social media.
She said, "Let's all be equal and let's just wait for the pageant kasi dun naman lahat nai-score, e.
"Doon natin makikita lahat ng kakayanan ng mga ladies na 'to, ng mga co-candidates ko as well, with me.
"So sana, let's just be equal [and] let's tame it a bit para pagdating ng pageant, doon na lang tayo magpasabog."
Maxine acknowledges that some Filipinos are a little too passionate when it comes to beauty pageants.
ADVERTISEMENT - CONTINUE READING BELOW
"Hindi naman natin maalis yun, kasi lahat ng Filipinos are rooting for a back-to-back and they're expecting a lot.
"Siguro, let's be happy [and] let's make it light para pagdating ng pageant, okay tayo lahat."
ADVOCACY. Just like Pia, Maxine would also like to promote HIV/AIDS awareness. 
"My advocacy is about the youth who has HIV.
"Specifically, the youth, because nowadays, I would like to feed them the help, the hope to, you know, give them access to education, live the life that they should."
She also said, "There's a little girl there who's just like me, a simple girl who don't know that she can be a beauty queen.
"And that is also one of my advocacies.
"I hope to empower people, especially women."
If she wins the crown, Maxine said she is very much willing to leave her life in the Philippines during her reign.
She explained, "Of course, this is once in a lifetime and I'll be devoting myself for this, for the country, for the community and everyone. 
ADVERTISEMENT - CONTINUE READING BELOW
"This is something that can really inspire them to dream big also, which [inspires me to] get the crown for them, for everyone."
So, is she ready for her signature walk?
Maxine said, "Signature walk, wala pa siguro. Siguro sa pageant na."