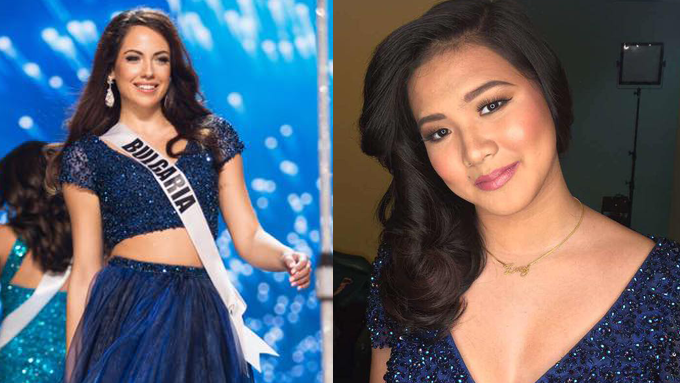 IMAGE From Violina Ancheva's Facebook account
---
Miss Bulgaria Violina Ancheva's act of generosity earned the admiration of netizens.
It may be recalled that just before she left, Violina gave away the midnight blue gown she wore during the Miss Universe pageant.
Single mom Issay Gallano sent Violina a message via Facebook saying the gown would be so right for her 15-year-old daughter Zyra Nicole Cifra, who would be going to the prom.
Zyra became the lucky recipient.
On February 4, Violina posted a photo of Zyra clad in the midnight blue gown.
Before long, netizens began criticizing Zyra's appearance.
Apart from questioning whether the girl was tall enough to wear it, some were convinced that she didn't appear "poor" enough to become the proper recipient.
VIOLINA DEFENDS ZYRA. In a video message sent to CNN Philippines, the beauty queen asked bashers to stop it.
"It's hard to believe that it is possible for somebody to write negative and rude comments to one 15-year-old girl.
"The decision to give this dress to this girl was mine and you have to respect my decision.
"The sparkle, the dress, the heels, the jewelries aren't the most important thing in your life. The most important thing is your heart.
"You teach me that we have to be better person. And one day, all of us can be in need, and we have to be ready to help each other and not to be rude.
"So people, please stop. Please."