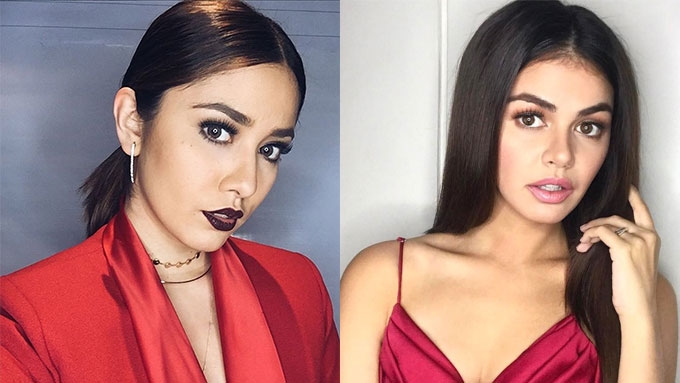 IMAGE Instagram @lo_young / @janinegutierrez
---
Lauren Young revealed that Janine Gutierrez made the first move for them to talk about having been in a relationship with their common ex-boyfriend Elmo Magalona.
Without mincing words, Lauren related, "She was the one who broke the ice, not me. I appreciate that.
"To make everyone's lives easier and so they don't tiptoe around us. 'Oh my gosh, issue, Elmo, whatever.'
"Tapusin na. Let's talk about it.
"We're fine. This is the closest we've been in two years!"
The two ladies sat down with the entertainment press at the launch of GMA Network's new afternoon soap, Legally Blind, held at the 17th floor of GMA Network Center, Saturday night, February 11.
Asked how Janine initiated the talk, Lauren related that it happened when they were doing a familiarity workshop.
In an interview with PEP.ph (Philippine Entertainment Portal) after the presscon, she elaborated, "There's a certain exercise where you say things that you feel and are uncomfortable with.
"I guess, for the both of us, that was the one thing we are very uncomfortable with.
"It was talked about, it was addressed, and resolved.
"Now we work perfectly fine together."
Lauren admitted that she felt relieved that she and Janine were able to deal with their respective past relationships with Elmo in a mature manner.
She explained, "I don't wanna think na coward ako, na wala akong initiative to do that.
"It's just, I didn't feel like it should come from me because I was the past.
ADVERTISEMENT - CONTINUE READING BELOW
"If she wanted to talk to me, then ok.
"If hindi nangyari yung 'the talk,' then I would respect that as well."
Lauren was rumored to be in a relationship with Elmo in 2013, but they never confirmed the real score between them. It was also not clear when they broke up.
On the other hand, Janine and Elmo were in a relationship months before they went public about it in October 2014.
Then on October 2016, after two years of being a couple, Janine confirmed that she and Elmo had called it quits.
"NO BAD BLOOD." Lauren, for her part, clarified that she has no hang-ups about the fact that Janine became Elmo's girlfriend after her.
She clarified, "I don't have any ill feelings towards Janine.
"Because when that happened, I was very young. I was 18, I think.
"It was such a long time ago. I moved on.
"What's done is done. Things have to happen.
"As they say, 'Ano yun, he's gonna stay single forever?'
"Hindi naman puwedeng ganun, di ba?"
While she maintained that there's no bad blood between her and Janine, Lauren added that she won't go as far as saying that she and Janine are friends now.
She added, "We've been working together for a month.
"I don't wanna be showbiz, na, 'We're best friends. Super close kami.'
"Hindi ako ganun, hindi ako plastic.
"I'm not gonna lie. We're not friends. I treat that word very strongly kasi.
"I think it's the early stages. We're ok.
ADVERTISEMENT - CONTINUE READING BELOW
"And if it just so happens, through the time that we spend time together, we become friends, then ok.
"But right now, may isang bagay na kami na natapos. Let's see where it goes from there there."
NOT FRIENDS WITH ELMO. To date, Lauren said she's still friends with the Magalonas and Elmo's mom Pia Magalona remains her manager.
Is she friends with Elmo?
As expected of the straight-shooting actress, Lauren replied, "Not really. He's not my friend.
"I guess, it's also, I didn't want to disrespect Janine when they were together.
"I didn't want to disrespect my boyfriend as well.
"But if I see him, I say hi. I can interact with him.
"It's just I would rather not put certain people in bad positions.
"Respect na lang."
Lauren is in a relationship with a non-showbiz guy for almost three years now.