On her Instagram thread last night, February 12, Vanessa Matsunaga hit back at a netizen who questioned her brother Daniel Matsunaga's financial capability.
This was in relation to Vanessa's denial over speculations that Daniel and his ex-girlfriend Erich Gonzales broke up because of money issues.
Vanessa's earlier retort to one of the bashers partly read: "As for my family taking advantage of Erich, well, let's just put it this way, we are in a better position, so much so that we choose to help others."
READ: Vanessa Matsunaga to Erich Gonzales: "I honestly wish you had addressed the money issue."
A netizen with the handle name @sharlene_mae reminded Vanessa of Daniel's own confession, during his Pinoy Big Brother stint in 2014, that he had to leave Brazil to help his family's household finances.
The netizen's Instagram comment partly read: "He even said he needed the prize money (pbb) so he can buy plane tickets for your parents and brother.
"My point is you're making it appear that your family is well off in your country, because if it is, you and Daniel would have not gone from country to country just to make a living, instead both of you would have finished school."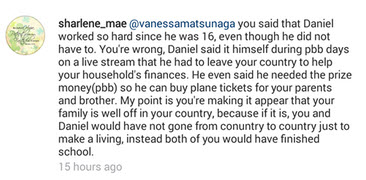 Vanessa, for her part, reiterated that Daniel's decision to leave his home country didn't mean that he was hard-pressed for money.
She elaborated, "I don't owe you an explanation but now you are indirectly calling me a liar…
"Back home we were not well off, don't get me wrong, but we had a good and comfortable life and nobody can take that away from my Dad.
"My dad sent us to private schools and we could afford vacations, we have a good house and cars.
"We weren't wealthy but we were considered to be in the middle class."
Vanessa further explained that their family could afford the high cost of living in Brazil.
She wrote, "If you don't know your economics the middle class of Brazil and the Philippines are totally different.
"Don't forget to factor in the cost of living in our city, Brasilia.
"To enlighten you, a household helper gets paid between 20-30k pesos a month to work 3 times a week and that's still not considered much because of the cost of living."
In a separate post, Vanessa reiterated that her brother Daniel has always been a responsible son helping their parents get "an even easier life.
She said, "Going back to PBB, yes I remember Daniel saying that.
"My brother is very hard working and a Man of dignity and character, once he started making money he always felt he needed to help my dad back home, to give them an even easier life.
"That only shows what kind of man he is!
"And regarding him needing the prize, yes of course he needed the prize, he was inside the pbb house for three months not making any money, and he wanted to bring my family here.
"Do you even know how much a ticket from Brasil is? Go check on delta please, that's usually the airline of our choice.
"I hope that answers your questions."
According to the airline's website, the lowest fare going to Sao Paolo, Brazil is $3,400 or PHP 169,765.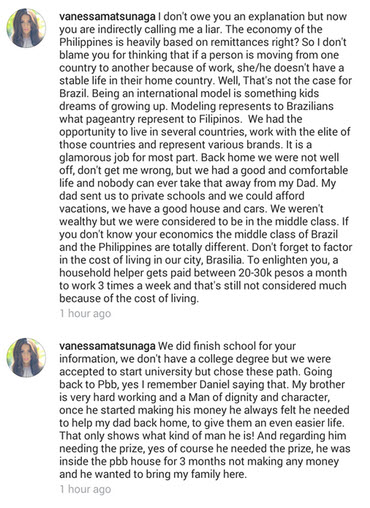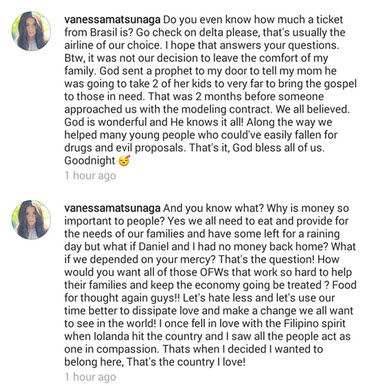 Vanessa also posted another comment reiterating that only Daniel and Erich can explain the real reason why they parted ways after two years of being in a relationship.
"Erich is moving on the best way she knows and Daniel is doing the same. A day might come when they are stronger and can explain to all of you why they are no longer together or may be it won't but the point is it's up to them and all we can do is just respect and wait."