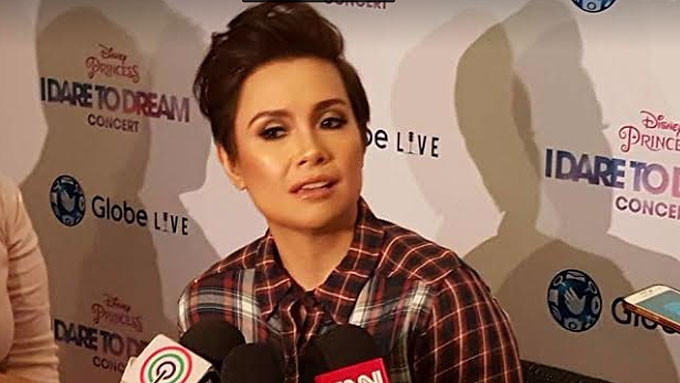 ---
"Everything's fine. Everything's fine."
This was Lea Salonga's response when asked about daughter Nicole's unpleasant encounter with fans recently.
Last March 20, the Pinay Broadway star took to Twitter to air her disappointment at some fans who made her 10-year-old daughter cry.
Because of the incident, Lea said she may start refusing photo requests from fans.
I may have to start refusing photo requests from fans now. Thanks a lot, you guys. I hope you're proud of what you've done. #MadMama

— Lea Salonga (@MsLeaSalonga) March 20, 2017
In a short interview with the entertainment press before the Disney Princess: I Dare to Dream concert, held at the Mall of Asia Arena in Pasay City, last night, March 22, Lea did not give details about her previous tweets.
However, she explained, "You know, it's just jarring when I see my kid cry.
"For me, that's just not cool. And you incur the wrath of every member of my family when you do that."
For the most part I try to be accommodating. But when you mess with my kid and make her cry, you've messed with me.

— Lea Salonga (@MsLeaSalonga) March 20, 2017
The Voice coach said it was her mom, Ligaya Salonga, who explained to Nicole about the behavior of some fans when they see their idols.
"My mom was like, 'Babe, that's life. That's what your mom does and people get excited.'"
---
Stories We Are Tracking
---
ON VIOLATING PERSONAL SPACE. While Lea remains very grateful for the unwavering support of fans, she also hopes that they respect her and her family's personal space.
"You know, for me, we have our fans, for whom my husband constantly reminds me, 'You have fans and you should be grateful and feel blessed that you have them.'
"And I do, I truly do.
"But when personal boundaries and space are violated, how am I supposed to react as the mom of the kid?
"I then become a normal mom and I do get angry, that's it."
She added, "I understand if you're gonna have a breakdown in front of me or if you're gonna ask me for a hug.
"I may not always wanna give a hug because you're a stranger and I don't know what your intentions are, so there's also that.
ADVERTISEMENT - CONTINUE READING BELOW
"Malay ko kung may kutsilyo ka nang hawak at baka saksakin mo ako kung niyakap mo ako."
The singer-actress said many artists might have had experienced this kind of paranoia.
"I think that kind of paranoia is in the mind of a lot of artists. And you should rightfully have that.
"There are people probably thinking once they hear me say that, 'I will never do that to you.'
"Well, you would never do that, but there might be some crazy person out there with that intention.
"And I don't know if it's you or it could be somebody else."
Lea also noted that it's celebrities' responsibility to keep themselves safe from any harm.
She stressed, "If our assistants, managers, bodyguards act in the way that they do, it's so that you will still have an idol to idolize tomorrow."