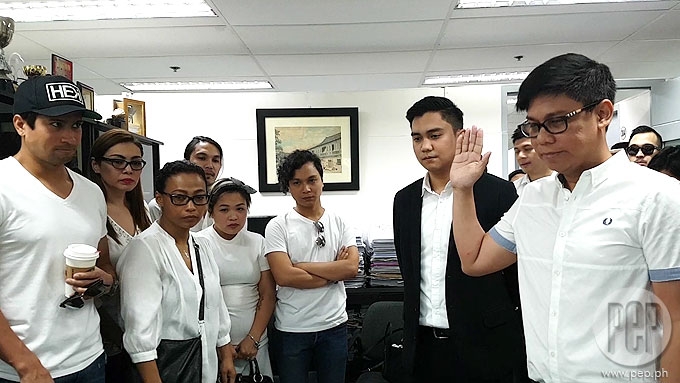 IMAGE Rachelle Siazon
---
Cornerstone Entertainment Inc. founder and president Erickson Raymundo slammed as "baseless" allegations that he manipulates Tawag Ng Tanghalan contestants into signing up with his talent management.
This was in relation to dzMM radio show host and reporter Jobert Sucaldito's series of Facebook posts "concealed as blind items" about an owner of a talent management company who steals clients and projects from other talent agencies.
At the Quezon City Prosecutor's Office yesterday, March 30, Raymundo filed 22 counts of cyber libel, six counts of grave threats, and one count slander against Sucaldito.
In a brief interview with PEP.ph (Philippine Entertainment Portal), Raymundo explained what pushed him to take legal action against Sucaldito.
He said, "Yung turning point, nung binabasa ko kasi, it's all lies.
"It's affecting me emotionally, my artists, my staff, my company.
"I feel na we have to put an end also to the vicious cycle of harassing artists and personalities to advance personal interests."
GIVEAWAY BLIND ITEMS? PEP was able to obtain a copy of Raymundo's sworn affidavit with attached screenshots of Sucaldito's "defamatory" Facebook posts.
Citing Sucaldito's March 10 Facebook post, Raymundo emphasized that there was a giveaway clue about the identity of the unnamed talent agency owner.
"While the identities of said persons involved were not revealed, there was an obvious intention, however, of providing his readers a hint that the talent management he was referring to had something to do with the word stone or 'bato.'
"He alluded with the use of a context question as a last statement to his blind item – 'Mabato ba?', after asking 'x x x ano ang pangalan ng kompanya niya?'.
Below is a copy of Sucaldito's March 10 Facebook post: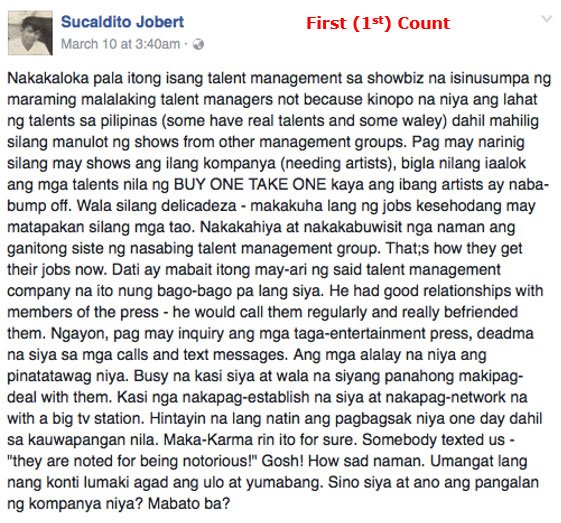 Raymundo also cited Sucaldito's March 12 Facebook post about an unnamed talent manager who allegedly makes questionable transactions.
ADVERTISEMENT - CONTINUE READING BELOW
Raymundo provided a screenshot of Sucaldito's March 12 Facebook post which partly read:
"Sino itong talent manager na kinakausap daw ang ilang promising contestants ng isang singing contest by whispering to them something like 'kung gusto mong manalo, sa akin ka magpa-handle. Kita mo naman na halos lahat ng judges ay alaga ko.'"
Sucaldito's blind item was capped with a final sentence that read: "Ayoko tamaan ng bato."
This was deemed by Raymundo as a telling clue based on the comments thread of Sucaldito's March 12 Facebook post.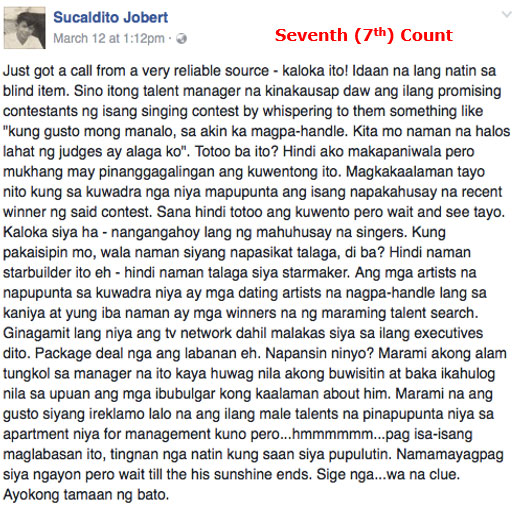 Addressing Sucaldito's blind item, Erickson said in his sworn affidavit, "I was outraged when I learned about the said maligning post.
"Apart from being a complete lie, it connotes that I tried to manipulate the outcome of Tawag ng Tanghalan – an amateur singing competition aired as a segment of ABS-CBN's noontime show, It's Showtime.
"It likewise suggests that I promised contestants of the said show that I could be their key and gateway to win the said competition, as majority of the judges of the show are under my management."
This was followed by Sucaldito's March 13 Facebook post wherein the radio show host affirmed that the unnamed talent manager's alleged questionable transactions came to the attention of a certain TV executive.
Below is a copy of Sucaldito's March 13 Facebook post: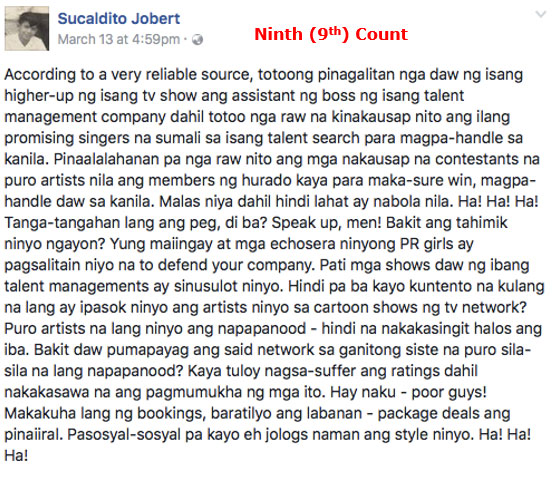 By this time, Raymundo narrated that he felt "outraged, distraught, and betrayed" over Sucaldito's "malicious posts."
The Cornerstone founder and president said in his sworn affidavit, "I could not think of any reason why Jobert would malign me and my company.
"During the twelve (12) years that I have been running Cornerstone, there was not a single instance that I did him any wrong.
"In fact, Jobert would sometimes book my artists and I would accept whatever budget/honorarium he has for them, even if it was way lower than their standard rate.
ADVERTISEMENT - CONTINUE READING BELOW
"In fact, one of his last messages to me was thanking me for the support for the concert of his artist, Michael Pangilinan, because Richard Poon and KZ Tandingan were the guests."  
Below is a screenshot of Sucaldito's text message to Raymundo dated November 27, 2016: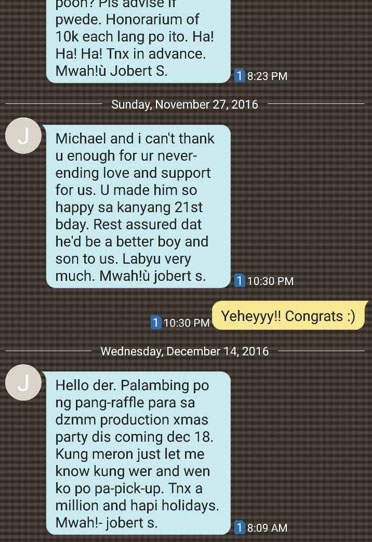 NAME-DROPPING ERICKSON RAYMUNDO. According to Raymundo, the final straw was when Sucaldito finally identified him as the person behind the radio show host's blind items. 
Citing Sucaldito's March 22 Facebook post, Raymundo said that Sucaldito not only made defamatory remarks and grave threats against him, but also to Cornerstone's longtime talent Erik Santos
"Finally, after publishing the said defamatory posts on his Facebook page, Erik Santos and I were finally identified to be the persons attacked by Jobert's malicious imputations, which he again reposted…"
Below is a copy of Sucaldito's March 22 Facebook post:

In another Facebook post, Sucaldito said that he was incensed over the fact that both Santos and Raymundo made a complaint against the radio show host before their bosses.
Below is a copy of Sucaldito's Facebook post calling Santos and Raymundo as "iyakin, ubod ng yabang, and walang utang na loob."

Raymundo, for his part, reiterated that there's no truth to Sucaldito's allegations against him.
The Cornerstone founder and talent manager said: "These disparaging statements were evidently intended to portray that I am a manipulator – that I would operate to alter the results of the singing competition, just to be able to convince the contestants to join my management group.
"FOR THE RECORD, I NEVER TRIED TO INDUCE OR SWAY ANY OF THE CONTESTANTS, LET ALONE, TRY TO MANIPULATE THE RESULTS OF TAWAG NG TANGHALAN TO FURTHER MY INTERESTS OR THAT OF MY COMPANY.
"IN FACT, THERE IS NOT A SINGLE CONTESTANT FROM THE TAWAG NG TANGHALAN, WHO IS NOW UNDER MY MANAGEMENT."
ADVERTISEMENT - CONTINUE READING BELOW
JOBERT'S TEXT MESSAGE. Raymundo added that on March 22, he received a text message from Sucaldito, asking if they can meet over coffee after repeatedly "maligning" him online.
Raymundo provided a screenshot of Sucaldito's message, which read: "Got a long talk wid ogie. Medyo I felt better after we talked. Pagaling ka and let's have coffee para makapag-usap tayo. I wil delete all my posts para u wud feel better."
The Cornerstone founder and president explained that actor/talent manager/reporter Ogie Diaz volunteered to "mediate" between him and Sucaldito.
But it did not push through, Raymundo said, because of Sucaldito's persistent posting of "derogatory statements" during the time Ogie was setting up a mediation. 
Raynundo is seeking P10 million in moral damages and P2 million in exemplary damages from Jobert.
PEP remains open to any statement from parties mentioned in this article.