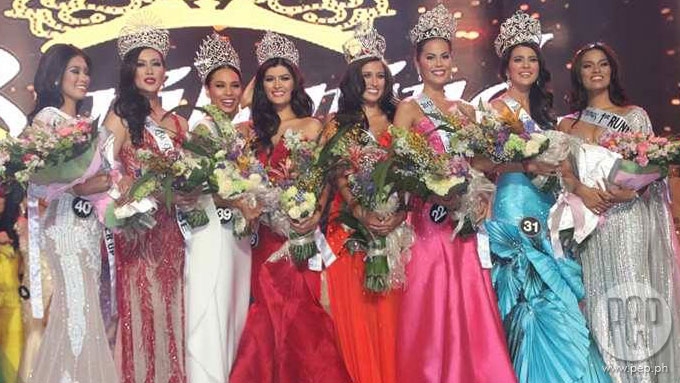 IMAGE Allan Sancon
---
Newly-crowned Miss Universe-Philippines Rachel Peters was speechless when she faced the press for a quick interview after her victory at the Binibining Pilipinas 2017 grand coronation night on Sunday, April 30, at the SMART Araneta Coliseum in Cubao, Quezon City.
"It's a dream come true," the 25-year-old began.
"I have no words, but I'm so happy and I'm so grateful to all the people who have helped me along the way.
"Thank you to all my family and friends.
"I hope I can make the Philippines proud."
Meanwhile, Bb. Pilipinas-International 2017 Maria Angelica de Leon, who made a successful return to the Binibining Pilipinas competition, couldn't wait to get started with her "adventure."
She told the press, "I'm really proud of how far I've come and it's a start of another adventure."
---
Stories We Are Tracking
---
WINNING ANSWERS. The Top 15 candidates went through the Q&A round.
The questions comprised of socially-relevant issues such as death penalty, same-sex marriage, and the recently-held ASEAN (Association of Southeast Asian Nations) Summit.
Members of this year's board of judges took turns in asking a candidate.
The judges included Kapamilya actor Paulo Avelino, CNN Philippines news anchor Mitzi Borromeo, Brazilian Ambassador Rodrigo Souza, chief operations officer of BPI Holdings Inc. Phil Reed, veteran news anchor Ted Failon, current head of ABS-CBN marketing Nandy Villar, former volleyball star-turned-Kapamilya host Gretchen Ho, European Union ambassador Franz Jessen, and PLDT-Smart Chief Revenue Officer and ePLDT President & CEO Eric Alberto.
Here are the questions asked to the six newly-crowned Binibini and their winning answers:
What is your definition of a winner?
ADVERTISEMENT - CONTINUE READING BELOW
Katarina Rodriguez, Bb. Pilipinas-Intercontinental 2017: "My definition of  a winner is somebody who understands that winning isn't just because of the reward. It's because of the responsibilities that comes along when you win.
"What you do when you win and how you execute the job after you win.
"I think a winner is somebody who knows how to inspire others, who is kind, and brave, and so ever curious."
What activity perceived to be male-oriented you can do better?
Maria Angelica de Leon, Bb. Pilipinas-International 2017: "Well, I think I can box better than males. I believe I can do everything better than males because it isn't about gender at all.
"It's about abilities, your strengths, your weaknesses, and your confidence within yourself, and with that, you can achieve anything."
If you're caught in traffic, what do you do to make your time productive?
Elizabeth Clenci, Bb. Pilipinas Grand-International 2017: If I'm caught in traffic, what I usually do is I read or I sleep because time is of essence.
"So I feel like when you're stuck in traffic, you really need to make use of your time.
"So I read, sleep, or I talk on the phone with a loved one."
Many countries have already legalized same-sex marriage. Do you think the Philippines should follow? Why or why not?
Chanel Olive Thomas, Bb. Pilipinas-Supranational 2017: "As a Christian, I do believe that marriage is between a man and woman, however I do believe that everyone—every single person in the world deserves to be with whoever they want.
ADVERTISEMENT - CONTINUE READING BELOW
"And if they want to get married, that is fine."
Are you for and against death penalty?
Nelda Ibe, Bb. Pilipinas-Globe 2017: "Well, I believe that we should not condemn life.
"We are sinners, but then, we have to give importance to the life that God has given us.
"So my stand is I am against of it, because we should celebrate what God has given us and that is life."
This week, the Philippines have hosted the ASEAN Summit. If you were invited to speak, what would have been your message to the leaders?
Rachel Peters, Miss Universe-Philippines 2017: "I believe that one of the biggest problems that our country faces today is divisiveness in politics, in religion, and also in culture.
"And I believe it is something that is the same across the world, and so that is something I want to address.  
"I believe that when people learn to tolerate each other's differences, and respect each other's opinions, then we will just be a stronger nation and world.
"Thank you."