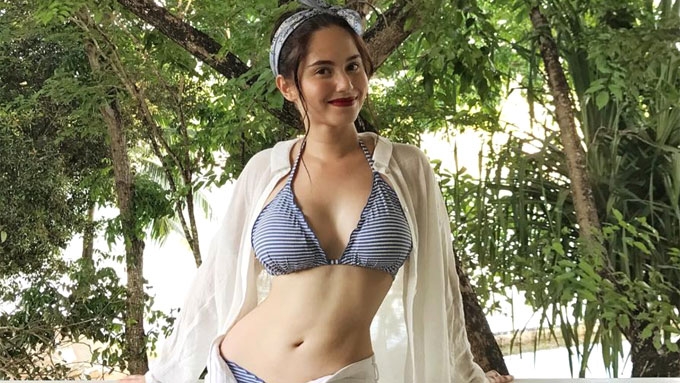 IMAGE Instagram @senorita_jessy
---
Jessy Mendiola fired back at a basher who pointed out that she didn't make it to the list of top five contenders for FHM 100 Sexiest In The World's latest partial tally.
Jessy was among the top ten contenders in the partial and unofficial results released by FHM Philippines last May 29 and June 1.
But the reigning FHM Sexiest Woman got booted out of the top ten based on the partial tally dated June 9.
---
Stories We Are Tracking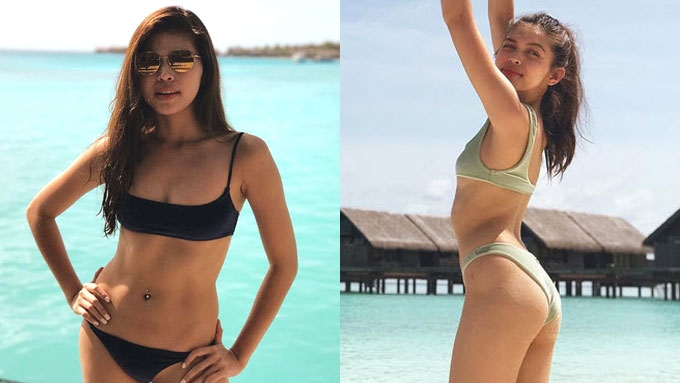 Maine Mendoza ranks 10th in FHM 100 Sexiest partial tally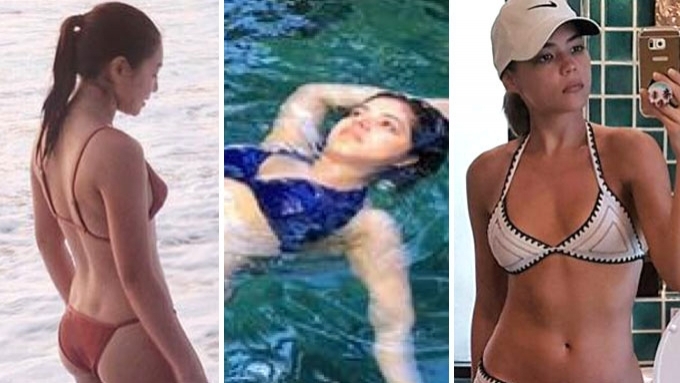 Nadine, Angel, Rhian top contenders for 2017 FHM 100 Sexiest
---
In Jessy's Instagram thread today, June 11, a basher asked, "Ano feeling na di ka man lng pumasok sa top 5 ng fhm eh last year no 1 ka hala ka baka iwan k ni Luis @senorita_jessy"

The Instagram user with the handle name @zimplybhie was referring to Jessy's boyfriend Luis Manzano.
Jessy gave a feisty response: "@zimplybhie alam mo sa totoo lang, hindi naman ako mamamatay kung hindi ako makapasok sa FHM.
"Bakit ka ba sobrang affected?
"Sali ka te para di ka masyadong stressed ha?
"Kalma ka."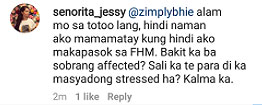 Jessy posted this statement on the comments thread of her Instagram post about her reunion with her British-Lebanese dad.
But as of this writing, she has temporarily deactivated the comments section of her Instagram account.
Last May 19, it can be recalled that Jessy responded to a netizen's comment about her fellow Kapamilya actress Angel Locsin's ranking in the online poll for sexiest women.
Jessy said, "Deserve naman niya yun."
---
Stories We Are Tracking
---
The still-ongoing online poll for FHM 100 Sexiest In The World is scheduled to end on June 15.
SHARE THIS STORY FHM."" data-url="https://www.pep.ph/news/67250/jessy-mendiola-to-basher-hindi-ako-mamamatay-kung-hindi-ako-makapasok-sa-emfhmem" data-desc="Jessy Mendiola irked by basher's comment about her ranking in FHM 100 Sexiest partial tally." data-image="https://contents.pep.ph/images2/news/2017-06-11_21:43:06_Jessy-Mendiola.jpg"> FHM."" data-url="https://www.pep.ph/news/67250/jessy-mendiola-to-basher-hindi-ako-mamamatay-kung-hindi-ako-makapasok-sa-emfhmem" data-desc="Jessy Mendiola irked by basher's comment about her ranking in FHM 100 Sexiest partial tally." data-image="https://contents.pep.ph/images2/news/2017-06-11_21:43:06_Jessy-Mendiola.jpg"> FHM."" data-url="https://www.pep.ph/news/67250/jessy-mendiola-to-basher-hindi-ako-mamamatay-kung-hindi-ako-makapasok-sa-emfhmem" data-desc="Jessy Mendiola irked by basher's comment about her ranking in FHM 100 Sexiest partial tally." data-image="https://contents.pep.ph/images2/news/2017-06-11_21:43:06_Jessy-Mendiola.jpg">
SHARE THIS STORY
FHM."" data-url="https://www.pep.ph/news/67250/jessy-mendiola-to-basher-hindi-ako-mamamatay-kung-hindi-ako-makapasok-sa-emfhmem" data-desc="Jessy Mendiola irked by basher's comment about her ranking in FHM 100 Sexiest partial tally." data-image="https://contents.pep.ph/images2/news/2017-06-11_21:43:06_Jessy-Mendiola.jpg"> FHM."" data-url="https://www.pep.ph/news/67250/jessy-mendiola-to-basher-hindi-ako-mamamatay-kung-hindi-ako-makapasok-sa-emfhmem" data-desc="Jessy Mendiola irked by basher's comment about her ranking in FHM 100 Sexiest partial tally." data-image="https://contents.pep.ph/images2/news/2017-06-11_21:43:06_Jessy-Mendiola.jpg"> FHM."" data-url="https://www.pep.ph/news/67250/jessy-mendiola-to-basher-hindi-ako-mamamatay-kung-hindi-ako-makapasok-sa-emfhmem" data-desc="Jessy Mendiola irked by basher's comment about her ranking in FHM 100 Sexiest partial tally." data-image="https://contents.pep.ph/images2/news/2017-06-11_21:43:06_Jessy-Mendiola.jpg"> FHM."" data-url="https://www.pep.ph/news/67250/jessy-mendiola-to-basher-hindi-ako-mamamatay-kung-hindi-ako-makapasok-sa-emfhmem" data-desc="Jessy Mendiola irked by basher's comment about her ranking in FHM 100 Sexiest partial tally." data-image="https://contents.pep.ph/images2/news/2017-06-11_21:43:06_Jessy-Mendiola.jpg">