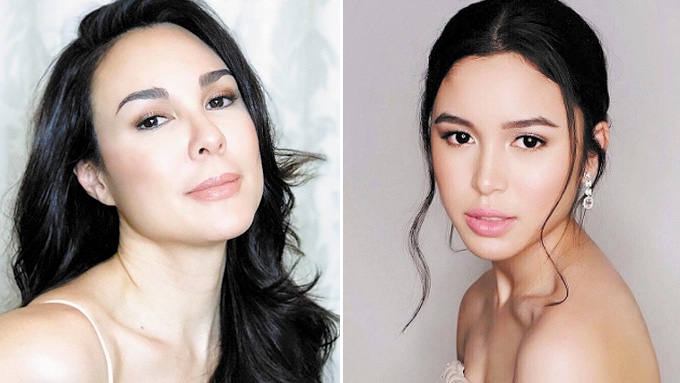 IMAGE Instagram (@juansarte, @claudia)
---
Gretchen Barretto asked for forgiveness from her niece, Claudia Barretto, a day after the actress dissed Claudia for an earlier statement she made—which was apparently misconstrued and taken out of context.
The issue began when a netizen took notice of Claudia's statement in a recent video interview during the launch of her music album, "Stay."
The video was uploaded on YouTube.
Claudia is the younger sister of Julia Barretto, and both girls are the daughters of Gretchen's sister, Marjorie.
In the video interview, Claudia was asked if she is prepared to be compared to her Tita Gretchen, who released the albums, 'Complicated' in 2009 and 'Unexpected' in 2016.
In her response, Claudia used the phrase "somebody else," and the netizen implied that she was referring to Gretchen.
In no time, the comment got Gretchen's attention, after which she immediately let out her stream of verbal tirades on her Instagram account, calling Claudia an "ungrateful child," along with other claims which involved Claudia's family.
---
Stories We Are Tracking
---
GRETCHEN SAYS SORRY. This afternoon, Gretchen made a new post on Instagram which clearly refers to her earlier tirades against Claudia, and which have since been picked up by the entertainment media.
In the caption, she confessed that she is still hurting and she sometimes tends to hurt her loved ones.
Though she did not specify why she's hurting, keen showbiz watchers are well aware that Gretchen has had a long-standing rift with her family: father, mother, and other siblings, including Marjorie and Claudine.
She began her statement: "I'm currently in Hong Kong for the weekend ,I was hoping to enjoy but no matter what I do , I realize that I am hurting & in the process, I have deeply hurt the ones I love dearly ..."
Gretchen revealed that it was her daughter Dominique who asked her to reach out to Claui (Claudia's nickname) to kiss and make up.
ADVERTISEMENT - CONTINUE READING BELOW
"[M]y daughter , Dominique gave me a call yesterday to please reach out to claui & understand her & forgive her , claui is considered Dominique's little sister & I consider claui my very own child ..
"I am learning the very painful way that as a mother , we must be selfless, we must forgo Hurt , disappointment, we must be more understanding & patient ,,, we must ignore the pain that our children make us feel , we must embrace them through their flaws & love them UNCONDITIONALLY.
"I Do not want my claui to be Bashed in any way ... I Beg for Understanding & forgiveness... please allow us all to Heal peacefully... I ask for forgiveness from my Instagram followers for spreading hurt & bitterness on my post."
And finally, she asked for forgiveness from her niece: "[I] ask for forgiveness from claui for making her go through this hurt?"

CLAUDIA REACTS. In the comment section, Claudia responded to her aunt's emotional post.
She explained that she did not intend to hurt her Tita Gretchen and her apparent shortcoming in the interview may be attributed to her inexperience in the industry.
The 17-year-old showbiz newcomer posted, "Thank you for this post. I just want you to know that what I said was never meant to offend you nor disrespect you. It was maliciously and wrongfully viewed by the user who decided to take my comment largely out of context. As you know, I'm only starting my career and have yet to truly showcase my intelligence. It's difficult to do that now because of how nervous I can get sometimes when I'm asked questions."
She continued that she still has a lot to learn, but stands firm in her belief that she didn't say anything wrong.
She also referred to Gretchen as "mama."
"I have yet to get used to it and have yet to learn how to use the correct words. However, I still believe that what I said was not wrong. I hope you see the video, mama."
ADVERTISEMENT - CONTINUE READING BELOW