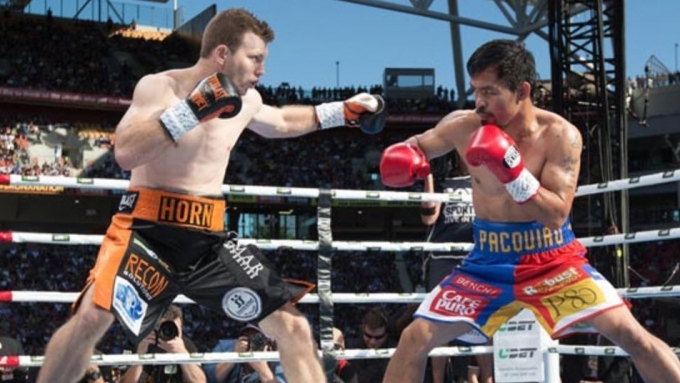 IMAGE Top Rank Photo
---
BRISBANE, Australia - Jeff Horn showed Manny Pacquiao's best days are behind him by scoring a major upset in a good, old-fashioned brawl to wrest the Filipino boxing hero's World Boxing Organization (WBO) welterweight crown.

The 29-year-old Australian roughed up and bullied the 38-year-old Filipino for 12 rounds and won by scores of 117-111, 115-113, 115-113 before a roaring hometown crowd at the Suncorp Stadium here.
Horn was the younger and bigger fighter, and it showed for the entire bout fought in a makeshift ring built in the middle of a football field that drew a record crowd of 55,000.
Pacquiao found it hard sizing up his Australian opponent and didn' t really got going until the latter part of the action-packed fight.
[See Kobe Bryant, Lennox Lewis left in disbelief by controversial decision awarding Horn win]
Horn, who reached as far as the quarterfinals of the 2012 London Olympics, said he was more than willing to give the former champ a rematch.
"I do welcome it," he said in an interview done in the middle of the ring.
Pacquiao was bloodied - caused by two cuts on each side of the head - but unbowed. He was gracious in defeat though, saying he has no complaints on the judges scorecards.
"The decision of the judges, I respect that," said Pacquiao to the wild applause of the predominantly Aussie crowd.
"It's a very tough (fight) but it's part of the game."
Asked on his take for a rematch, Pacquiao quickly replied, "absolutely."