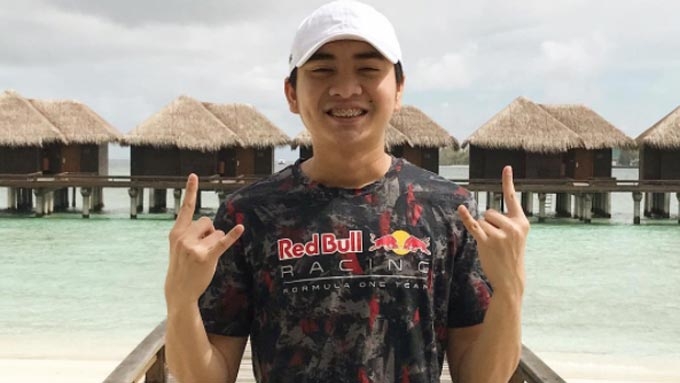 IMAGE Instagram photo of Xian Gaza
---
Following his grand invitation for a coffee date with actress Erich Gonzales, many netizens have become curious about Xian Gaza.
---
Stories We Are Tracking
---
A female netizen named Dewanie Catapang took to Twitter to "expose" who the real Xian Gaza is.
Using the username @waniedoo, Dewanie posted a series of tweets to reveal the 'real personality' of the young businessman.
Xian, according to his Facebook account, is the CEO of a Hong Kong-based company called Guanxiquian Group.
Dewanie started the thread by saying the billboard invitation that he mounted was not really for Erich, but for himself.
She said, "THE THING IS, THAT MOVE IS NOT FOR ERICH, IT'S FOR HIS SELF. HE WANTS TO BE VIRAL. THAT'S HIS REAL GOAL."
Dewanie then mentioned about a supposed charity project she agreed to do with Xian, which will benefit the victims of typhoon Yolanda.
Eventually, according to her, she and the rest of their team found out that the charity project that Xian started turned out to be a scam.
After several months, Dewanie said that Xian contacted her again to promote his new business—a mobile app.
It was during this time that Xian started using the codename "CEO Stark," whom Dewanie later on described as "best in disappearance."
Dewanie also claimed that Xian victimized some other Davaoeños.
PEP.ph (Philippine Entertainment Portal) sent a message to actor and talent manager Ogie Diaz to ask if he personally knows Xian.
The talent manager of Liza Soberano confirmed that he knows Xian.
After the mobile app, Dewanie found out that Xian also became the CEO of Gazeera Social Media Holdings which, according to her, was also a scam.
"I AM TELLING THE TRUTH." At this writing, the tweets of Dewanie have been shared a number of times on Twitter and other social media platforms.
While there may be doubters, the netizen remained firm on her exposé about Xian, the aspiring suitor of Kapamilya actress Erich Gonzales.
"YASSSSS! I AM TELLING THE TRUTH GUYS! Hahaha," Dewanie said when a netizen replied to one of her posts.
On her succeeding posts, Dewanie said the intention of her exposé about Xian is to warn other people.
"NAGSASALITA NA AKO PARA MATAPOS KANA SA PAMBIBIKTIMA MO. AKALA MO SIGURO MAKAKALUSOT KA SA MGA PAANDAR MO!"
NOT JUST ERICH. Apparently, Erich is not the only source of Xian Gaza's "genuine happiness."
According to Dewanie, he also made grand gestures for young actresses Liza Soberano and Ella Cruz in the past.
Dewanie posted several "receipts" on Twitter to prove her claim:
Xian, according to Dewanie, also gave flowers to Thai influencer Nitchamon Jirapatchanon.
The following photos show how Xian tried to get the attention of Liza Soberano:
Based on the conversation, Xian was talking about the Dolce Amore Choose Love concert that happened on August 20, 2016, at the Kia Theatre in Quezon City.
Dewanie also said she's not sure what Xian's real motive is.
Nevertheless, she still wants to warn other people not to fall easily into his tricks.
Dewanie also said that she will just wait for Xian's message.
"BASTA BAHALA SIYA. NASABI KO NA LAHAT NG GUSTO KONG SABIHIN. I REST MY CASE. FOR SURE IMEMESSAGE NYA AKO MAMAYA! HIHINTAYIN KO NALANG."
PEP has sent messages to Xian since yesterday, July 3, to ask him about his billboard for Erich.
We also sent him a message earlier to ask about Dewanie's claims.
At this writing, the young businessman has yet to respond to any of our messages.
Meanwhile, on June 20, Xian posted a status on his Facebook account to address accusations about him being a scammer.
PEP is open to publish any statement from Xian Gaza about this issue.