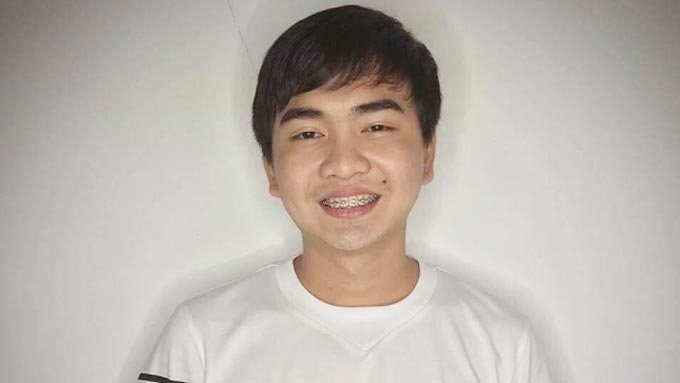 IMAGE Facebook photo of Xian Gaza
---
After being vilified by netizens, young businessman Xian Gaza deleted his posts on his social media accounts.
This, after giving a statement that he would not delete anything already posted.
Now, the only remaining posts on his Instagram account are the photo and video showing the billboard he mounted to invite Erich Gonzales for a coffee date, and a fan picture with the Kapamilya actress.
His Facebook only shows his last two posts.
Up until yesterday, July 4, he had kept the comment option of his Facebook page open in a post where he admitted that he was a former scammer.
His own comment to his post was addressed to his haters: "Consider it all as a freedom wall and freely express whatever you want, it's a free country anyway."
---
Stories We Are Tracking
---
SUV DEAL. One of Xian's two remaining FB posts was a response to the accusation of actress Ella Cruz's mother, Jesica Cruz, that he issued them a bad check to purchase their Toyota Fortuner.
ADVERTISEMENT - CONTINUE READING BELOW
In an exclusive interview with PEP.ph (Philippine Entertainment Portal) yesterday, Jesica related that Xian gave them a post-dated check as down-payment for their vehicle.
She said the post-dated checks turned out to have insufficient funds.
Moreover, the 24-year-old businessman decided to back out on their deal and returned their vehicle.
---
Stories We Are Tracking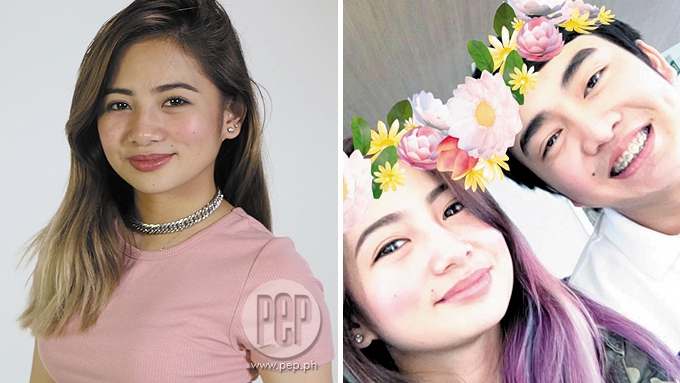 Ella Cruz's mom reveals how Xian Gaza scammed her family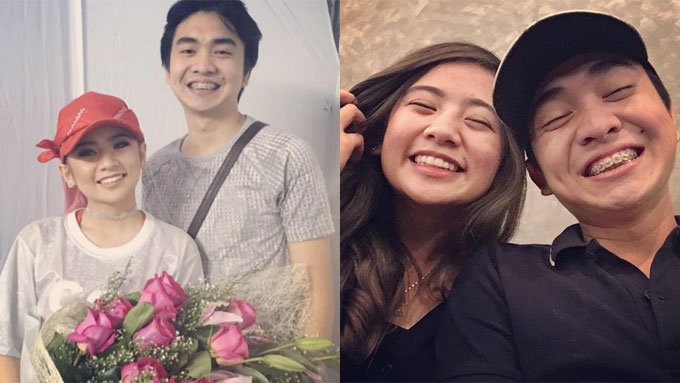 Ella Cruz says businessman Xian Gaza never courted her
---
Xian, using his FB account, explained his decision to PEP: "I personally pressured myself to take it dahil gusto ko silang i-impress kahit wala naman akong paggagamitan ng unit at wala ring siguradong buyer.
"When I found out that the unit is roughly 500K-550K ang market value at luging-lugi ako, there I decided not to fund it anymore and nagkasundo nalang na magsolian ng unit and so with my downpayment.
"We just came up ni Mr. Cruz last January 2017 na mag-danyos perwisyos ako ng 50K Pesos taking it from my downpayment para sa 3 weeks time na perwisyong nadulot ko sa kanila."
ADVERTISEMENT - CONTINUE READING BELOW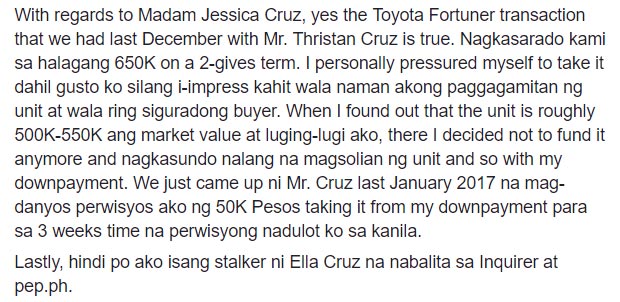 QATAR SHOW. The young businessman, who described himself as a CEO of a startup company based in Hong Kong, also reacted to accusations that he received money from Ryan Salcedo Tañada for a supposed event in Qatar.
Xian admitted to receiving the amount of P200,000 as down-payment for an event in Qatar in which Tañada was the executive producer.
ADVERTISEMENT - CONTINUE READING BELOW
But his explanation made things murkier: "Without the knowledge of Mr. Tañada, the 200K Pesos was diverted to the operation expenses backlogs of Gazera Media na company namin ni Mr. Walter De Vera who is the founder of Filipino Vines community.
"I partnered with Mr. De Vera last March 2016 on a 50-50 ownership sharing, me as the pure financial partner while him as the industrial partner."
According to Xian, the business did not do well, and he stopped funding the company, until he declared bankruptcy.
He wrote, "I stopped shelling funds to the company to stop my bleeding dahil wala na akong nakikitang kalalabasan na maganda on the aspect of profit generation and declared bankruptcy to Mr. De Vera last December 2016."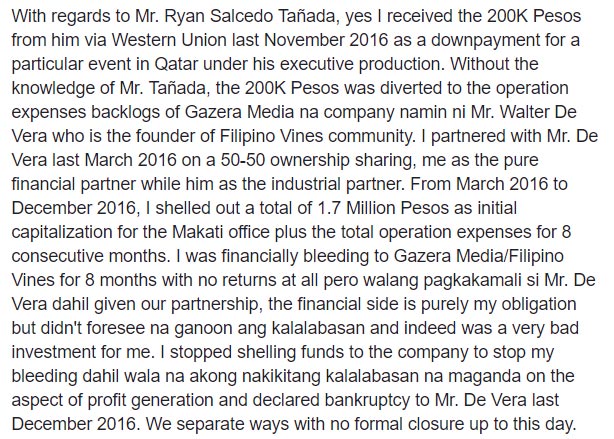 ADVERTISEMENT - CONTINUE READING BELOW
HAIYAN SHIRT PROJECT. In the same long Facebook post to PEP, Xian clarified the charity project he initiated for Yolanda/Haiyan survivors.
A netizen named Dewanie Catapang alleged, in a series of Twitter posts yesterday, that Xian was a scammer.
Her long Twitter thread cited instances, including the Haiyan project, to back up her claim.
---
Stories We Are Tracking
---
But Xian has insisted that The Haiyan Shirt Project was legitimate, except that it did not materialize.
He said, "It didn't push through because the funding that was promised to me ay hindi po dumating at napako."
The young CEO said he ended up using his personal money for the initial capitalization of the project.
He added that there were about 2,000 T-shirts produced in Davao that were sold, but that these were distributed to various charitable institutions.
Xian said, "Wala akong kinita maski ni isang kusing and even lost 300K Pesos on that project plus the burden of paying 10K Pesos every month until now to the company that I partnered with to produced the 2000 Haiyan Shirts in Davao City."
ADVERTISEMENT - CONTINUE READING BELOW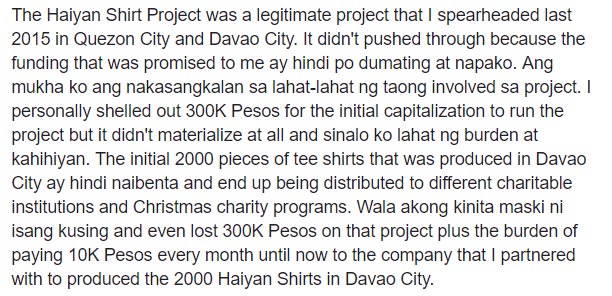 PERSONAL BANKRUPTCY. In his post earlier today, July 5, Xian apologized to his former business partners and employees in his now-dissolved companies, Langguanxi and AVG.
"I am very sorry for twisting the truth on my real financial status now. I declared personal bankruptcy on all your ears and make all of you believe that everything that your eyes can see now are mere fake high-profiling agenda, all for my personal selfish interest."
ADVERTISEMENT - CONTINUE READING BELOW
This year, Xian claimed that he decided to go solo in his new business company, Guanxiquian.
He explained, "I can't find it worth it anymore to financially support and compensate all of you so I decided to stop the financial bleeding on my end by declaring a false bankruptcy. I saw all of you as a baggage and not as my personal asset so I moved forward all alone last January 2017 towards to what I am today here in Guanxiqian. Indeed, so selfish of me."
Xian concluded, "I am very sorry for all the damages that I had inflicted in your lives and so with all your families. I hope one day magkaroon lahat ng kapatawaran ito."