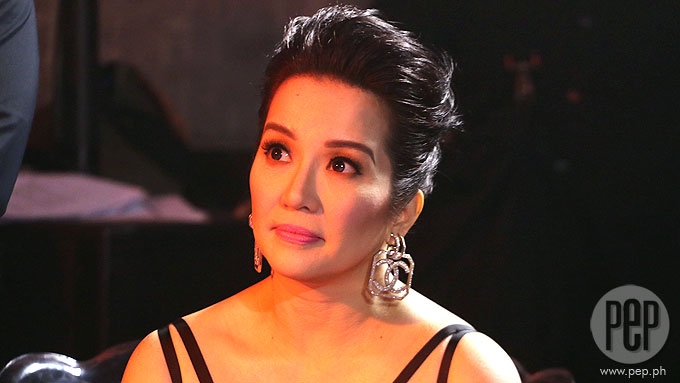 IMAGE Noel Orsal
---
Kris Aquino is all riled up that The Philippine STAR entertainment editor Ricky Lo is standing by his story about her son Bimby being a "no-show" at the first birthday party of his half-brother MJ last Saturday, August 12.
MJ is the son of James Yap, Kris's ex-husband, with his Italian girlfriend Michela Cazzola.
The TV host's Instagram post today, August 16, partly reads: "@therealrickylo won't man up & admit his Monday @philstarnews headline had no factual basis."
This is Kris's latest statement following her dismay over Ricky's column on August 15 titled "Bimby no-show at MJ's party."
---
Stories We Are Tracking
---
Today, August 16, Ricky has come out with a follow-up article stating that he received a "mouthful" from Michela, who clarified that she had a prior agreement with Kris that the kids are better off meeting in private rather than at a party.
Ricky hints that Michela was angry at how his article may have caused unwanted speculations about her and Kris's unconventional family set-up. 
The veteran columnist has also attached an excerpt from Michela's series of text messages yesterday morning, which partly reads: "I told the (coordinator) to cross out Bimby's name from the list because Kris and I have already agreed beforehand that the kids would be meeting in private…" 
Ricky further quotes Michela telling him, "I don't want to create issues where everybody is OK already."
The veteran columnist, for his part, calls Michela and Kris's reaction to his August 15 article a "non-issue."
To his defense, Ricky adds, "Had Mic informed Doc Welson and me about her and Kris' 'secret agreement,' yesterday's story would have been different and, I suppose, Mic would have the full-page spread framed for posterity."
ADVERTISEMENT - CONTINUE READING BELOW
He ends the article with a reminder to Kris to refrain from posting Instagram pictures of her children if she doesn't want them exposed to "harm's way." 
KRIS REACTS TO RICKY'S FOLLOW-UP STORY. This lack of apology from the veteran columnist seems to have further irked Kris.
In the continuation of her Instagram post today, the 46-year-old TV host-actress accuses the veteran columnist of "deflecting the issue" at hand. 
She writes: "Can you fault any mother or father, whether celebrity or non celeb for being proud of their children & wanting to share their love & pride w/ their circle- in our case it's a much bigger circle?
"Simpleng tanong, may connection ba ang IG pictures namin nila Kuya Josh & Bimb sa Birthday ni MJ?
"Or is this a case of trying to deflect an issue by pinning the blame at someone who tried her best to keep quiet for the sake of peace?
"Harm only comes our children's way when there are exploitative, unverified headlines.
"And everybody who has bashed Kuya Josh or Bimb on IG has tasted the fire of my words in defending them- expressed w/ dignity & based on facts because i was raised to remain polite even when dealing w/ pambabastos..."
MISGIVINGS ABOUT JAMES. Kris also fires back at Ricky for insinuating that the the whole misunderstanding may have stirred the "proverbial hornet's nest."
According to Kris, she is not going to cover up James's "shortcomings" as a father this time around.
Kris elaborates: "Your article pointed out a hornet's nest, I'd like to believe you & Star readers are intelligent.
ADVERTISEMENT - CONTINUE READING BELOW
"Isn't it telling that Mic & I have communication, i like & respect her, while James & Bimb don't keep in touch? 
"The 2 moms have tried our best to keep this fact private for the sake of our 2 boys- BUT why protect someone who didn't tell the truth?
"Mic told him Bimb's decision w/c i fully supported for my sons to not attend the party but have a get together privately in Mic's new place or our new home.
"35 yrs old na si James, I won't cover up for his shortcomings.
"I don't need to say more- because my sons know how much their mom loves them & for me that's my priority."
KRIS TO RICKY: "SANA MABALIK ANG RESPETO AT PAGMAMAHAL." Kris goes on to say she's still dismayed that Ricky had written an article about her son without factual basis. 
"I agree though i spent a sleepless night thinking very carefully about the proper amount of exposure i should share about our family life- especially because I'm only now confronting this.
"Kuya Josh is a special child & God shielded him from being cognizant of some of the cruelty thrown our way- but Bimb is intelligent, innately curious and even more articulate than his mother.
"And 10-14 years old are crucial years in his intellectual, emotional & psychological development.
"Special thanks to Miguel Belmonte for keeping communication lines open & understanding my sentiments as a mother. 
"Tito Ricky, BINILIN ako ni auntie Betty Go Belmonte sa yo, sana mabalik ang respeto at pagmamahal."
The Belmontes are the owners of The Philippine STAR.
ADVERTISEMENT - CONTINUE READING BELOW