In a rare moment, James Reid responded to a netizen accusing him of simply allowing bashers to hurl "below-the-belt comments" and "foul words" against girlfriend Nadine Lustre.
The 24-year-old Kapamilya actor wrote, in part: "You sound crazy.
"You have no idea how strong Nadine is.
"It takes more than foul words to bring her down."
James gave the statement today, September 1, a day after he put back the comments section on his Instagram account.
A quick look at James's August 31 Instagram post showed more than 2,000 comments, with bashers either badmouthing Nadine or accusing James of fooling around with other girls.
CARELESS JAMES? It was the comment of Instagram user @luwsvee.gerg in particular that James responded to.
The netizen's comment partly read: "Maybe James has hidden agenda why he turned this comment section on again.
"Obviously he is reading the comments here which are mostly hitting Nadine below the belt.
"Why can't he turn it off like what Nadine did? She said she doesn't want people hating & fighting each other in her own account.
"But James is different, he doesn't care at all with the 'FOUL WORDS' being hurled at Nadine...
"He's trying to prove that he really is 'CARELESS' & will live that word forever 'cause as we all know he labeled his '1st LOVE' - 'CARELESS MUSIC.'"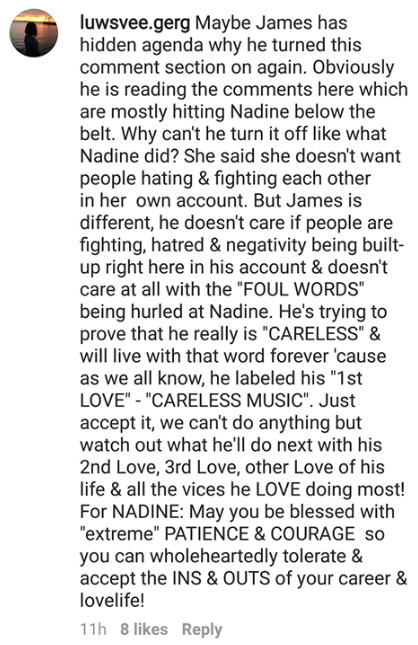 UNFAZED BY BASHERS. To his defense, James insisted that he and Nadine are strong enough to take criticisms in stride.
He also wrote, "I don't tell people what to say.
"Say what you want. I can only do what I think is right.
"I think you give those bashers too much credit assuming nadine and I even care about it…
"one day I'll turn those bashers into lovers and if I can't then I feel sorry for them.
"Focus on the love."
James also answered the netizen's allegation that he puts his "CARELESS MUSIC" as his "1st LOVE" over Nadine.
The netizen seemed to be alluding to James's new album Palm Dreams produced by Careless Music Manila.
The actor-singer remarked, "Careless is an inside joke and has a completely different meaning that you obviously don't understand.
"It's trying to break the mould for a new generation of opm."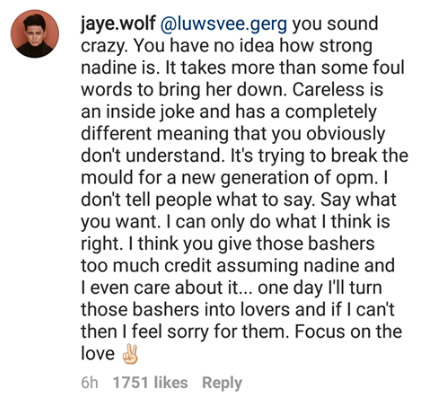 Despite all the negative comments from his Instagram, the actor-singer sounded unfazed and sent a light note to solid James and Nadine—JaDine—fans.
He wrote, "JADINES You don't need to fight the bashers. You just need to CARE LESS :)"

At press time, Nadine's Twitter and Instagram accounts, deactivated since early August for undisclosed reasons, were still deactivated.
Last July, Nadine and James fielded mixed reactions from the public following her strong stand on young couples living together.
Then in a July 23 interview with PEP.ph (Philippine Entertainment Portal), James addressed the rumor that he was living with Nadine, as well as other controversies surrounding their relationship.