James Reid is laughing off speculations that he is cheating on girlfriend Nadine Lustre.
The 24-year-old Kapamilya actor gave the following statement after an Instagram user @worldisnotbalance accused him of "flirting" with his female "friends" and "random girls" in "bars/clubs" frequented by the actor-singer.
In his Instagram comment last Saturday, September 3, James wrote:
"Nadine trusts me with anyone.
"She has nothing to feel jealous of.
"Sounds like you're more jealous than her [laugh emoji]"
The same netizen criticized the actor for being "insensitive, clueless, sawa kay Nadine, and clingy" with other girls.
IG user @worldisnotbalance told James: "Sabi niya strong women si Nadine kaya pala napuno eh no nagdeactivate at kaya di pala wala din pake si @jaye.wolf kung,
"if wala wala siyang planong magbago to be better grumaduate sa walwal at landian sa iba pede ba wag niyang gamitin si Nadine…
"di mo nga mapangatawanan pagiging sensitive at consistent bf maging hubby material pa kaya,
"magwalwal na lang siya kasama mga babae niya at squad…"
The netizen was alluding to Nadine's decision to deactivate her Twitter account, allegedly fed up by negative talk about her and James.
NO PDA. James explained that public a display of affection (PDA) is just not their thing.
He said: "don't get mad if nadine and I aren't PDA you obviously don't know that nadine hates that.
"We like to keep those moments to ourselves because for so many years we've kissed and hugged for everyone to see on tv and movies.
"Is privacy too much to ask for?
"Judging by the way you see my life and relationships says more about yours than mine..."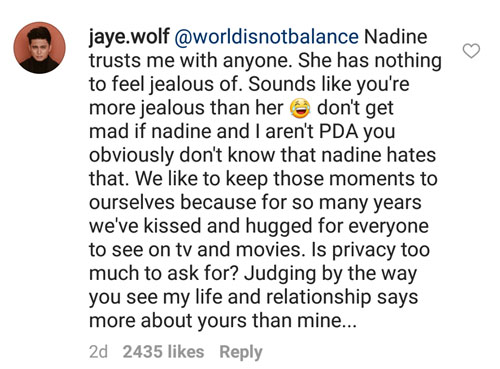 THE NETIZEN'S ALLEGATIONS. Below are screenshots of the lengthy post of Instagram user @worldisnotbalance: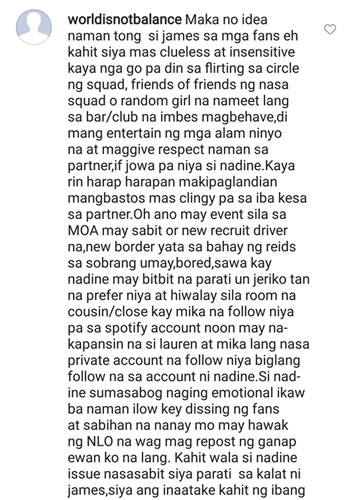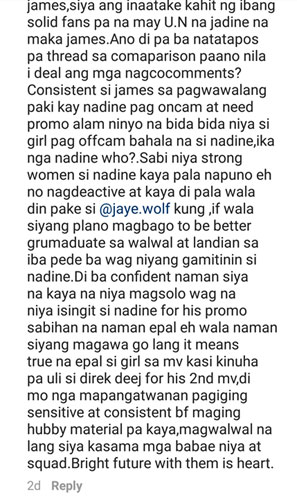 On the same day, September 3, James declared on national television that Nadine has never been the jealous type of girlfriend.
He said Nadine is "strong" enough to handle "foul words" from bashers.