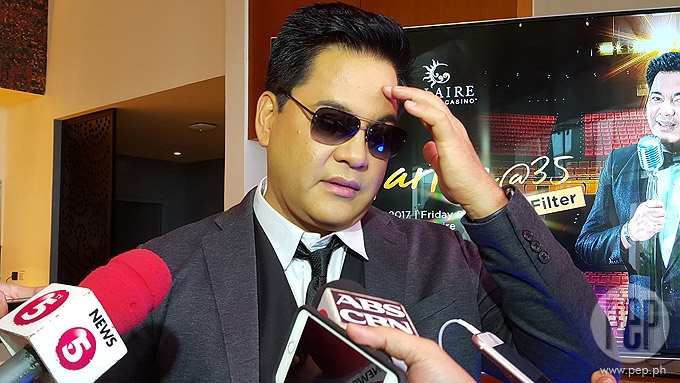 IMAGE Nerisa Almo
---
"What happened in Las Vegas is truly a tragedy," said Philippine Concert King Martin Nievera in reaction to the mass shooting in Las Vegas on Monday, October 2.
A lone gunman opened fire on attendees of the Route 91 Harvest Music Festival at Mandalay Bay in Las Vegas, Nevada.
He added, "Anywhere in the world, this happens.
"But kapag hometown mo, you always think, 'It's not gonna happen here. It's gonna happen somewhere else.'
"But yung nangyari sa Las Vegas, it's so close to home, on the strip of Las Vegas, I was devastated."
The "Be My Lady" singer does regular gigs in Las Vegas.
In fact, Martin said that he's been contacted by some his colleagues in Las Vegas to help those affected by the tragedy.
The 55-year-old singer related, "I've been called by some of my colleagues in Las Vegas wondering if I'm in town to help with the blood banks and help with whatever fund raisers, and there's gonna be a lot.
"A lot of families have been affected—59 deaths and over 500 casualties."
Furthermore, the singer-TV host said he's personally affected by the bloody incident as he now endorses a local resort and casino.
"Now that I am an endorser, the ambassador of Solaire Resort and Casino, even though we are all competitors in this business, we're also family.
"So what happens to the Mandalay Bay in Las Vegas, to Resorts World recently, these things, we also are affected."
Last June, a lone gunman had set fire to gambling tables in Resorts World Manila, in Pasay City, which left 36 people dead from suffocation.
ADVERTISEMENT - CONTINUE READING BELOW
"So, being a singer, being an endorser, being the voice of a resort and casino, is really...
"My job becomes harder now because I have to lift up the spirits of the people who may be afraid to go to a casino now," Martin said.
PEP.ph (Philippine Entertainment Portal) and other reporters talked to Martin at the press conference of his commemorative Martin @ 35 concert, at The Theater at Solaire Resort and Casino, in Parañaque, on December 8.
The presscon was held at Solaire today, October 4.
SHOW MUST GO ON. As a performer, Martin said he feels that he needs to exert more effort to entertain casino-goers.
"As an entertainer in Las Vegas, especially now that I'm in this casino, Solaire, I have to find different ways to make you feel comfortable because we know, as a people, as a Filipino or American, as a people, terror cannot change our lives, it should not.
"We should move on, we should go on as if nothing happened.
"We know that's easier said that done especially for those lives changed and lost in Las Vegas and in every terrorist act.
"But we, as entertainers, that's our job.
"That's our job to make you smile, we're the court jesters of the world."
He further stressed, "No matter what the tragedy is, we have to keep you positive and keep always looking up."
Martin is set to have his annual show in Las Vegas on December 16 and 17.
He assured that he will do a tribute for the casualties of Las Vegas tragedy.
ADVERTISEMENT - CONTINUE READING BELOW