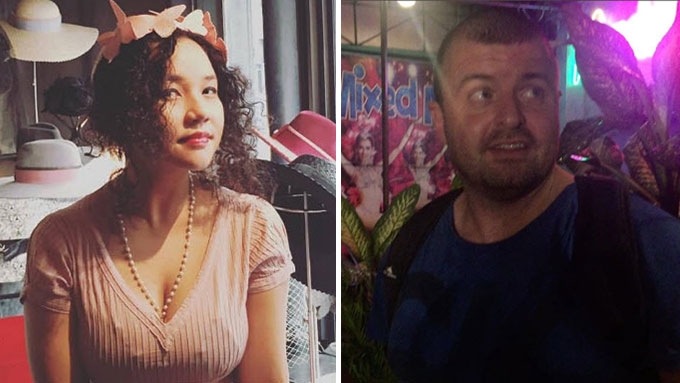 IMAGE michdulce on Instagram
---
Former Pinoy Big Brother housemate and designer Mich Dulce confronted an American expat last night, Friday, October 13, at the Ringside Bar Makati, after the latter "groped" her butt.
"Groping" refers to any unwelcome touch or contact bordering on sexual assault. The Merriam-Webster dictionary says groping means to "feel or fondle (someone) for sexual pleasure, especially against their way."
Mich was able to partially film her confrontation with the foreigner with her phone, and then publicly posted the video on her Facebook and Instagram accounts.
The expat, who revealed on video that he currently resides in the Philippines, gave no apology and "showed no remorse" when Mich told him off.
Mich said to him angrily: "You just groped me, and then you said to me, 'I live here and I can touch any Filipino ass I want!'
"Are you f*cking kidding me?
"You can't touch any woman!"
The guy can be seen dismissing Mich's tirade.
He remained unapologetic, and told Mich to give him proof.
He said on record, "How did I grope you? Show me the video."
His response angered and frustrated Mich even more.
She retaliated: "Just f*cking walk away! I don't have a video because you f*cking touched me. Everybody's right here."
THE INCIDENT. In her caption, the designer recounted the events that led to their confrontation.
Mich was at the venue to shoot an online documentary, and was standing outside the bar with her producers when the incident happened.
She wrote, "So this guy just groped my ass, and I started to scream at him.
ADVERTISEMENT - CONTINUE READING BELOW
"He walked back and told me to my face that he was an American in the Philippines and that he could grab any ass he wanted.
"I couldn't believe my ears!"
From here on, Mich began to capture their exchange of words on video.
As she narrated it, "I started to film him after screaming at him for a while and he showed no remorse.
"I'm so pissed off at these entitled f*cking assholes.
"Another white guy was watching the whole thing and said, 'That's it? He should go to jail!' 
"So, there are still decent guys.
"But f*cking hell, I hate these asshole sexpats."
Mich encouraged her followers to share her video post on their social media accounts: "This post is public and I encourage you to share and shame this f*cking idiot.
"He said he lives here so let's ruin his life."
See the full video post below: