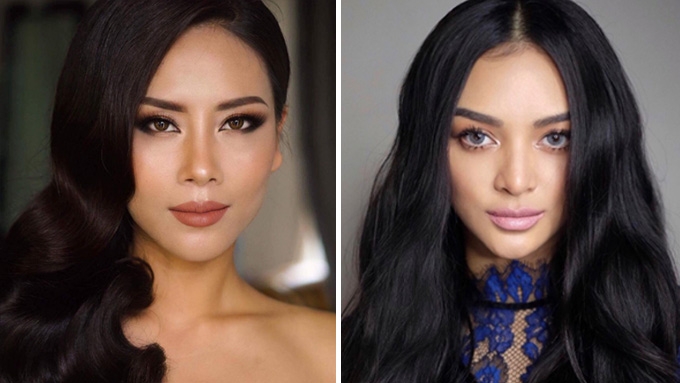 IMAGE @nguyenloanvn / @kylieverzosa on Instagram
---
Miss Universe Vietnam 2017 Nguyen Thi Loan has apologized to Miss International 2016 Kylie Verzosa and Filipino pageant fans for a remark she made about the Pinay beauty queen over a year ago.
Thi Loan was just recently named Miss Universe Vietnam 2017.
Filipino pageant fans were dismayed by a comment the 26-year-old Vietnamese beauty queen left on an Instagram post last year.
Her comment was "ugly." And she left that following an Instagram post featuring Kylie during the swimsuit competition of the Miss International 2016 pageant held in Japan.
Last Friday, October 20, the former Miss World finalist broke her silence and expressed her sincere apology to Kylie and Kylie's fans. 
Thi Loan explained that it wasn't really her intention to call Kylie "ugly."
She clarified that her comment was really directed towards the unflattering photo, which she said failed to capture Kylie's beauty.
The Miss Universe 2017 contestant added that her meager English skills and her wrong choice of words failed to convey her intended message.
ADVERTISEMENT - CONTINUE READING BELOW
Read Thi Loan's full statement below:
"Dear Kylie & Filipino Beauty Fans,
"I would like to clarify a comment that I made last year. Please give me a minute to explain.
"A year ago, when I was checking information on social media, I saw a picture of Kylie, Miss International 2016. Just by natural reaction, I thought that it was not a good picture of her and I commented based on my honest feelings. You would agree with me that sometimes, even the most beautiful person, could have a non-really photogenic picture... due to the angle, lighting or a wrong moment. Perhaps, I could have stated things more clearly but due to my limited English I made you all misunderstood me. I want to emphazise that i don't judge or comment about people just like that. Instead of being more explanative about my meaning, after realizing that I did not use my words correctly, I immediately deleted the comment.
ADVERTISEMENT - CONTINUE READING BELOW
"After that, I decided to keep silent because I did not want to cause any more misunderstandings or accidentally hurt anyone's feelings (including Kylie's ones if she would have noticed about that).
"I am so sorry for any inconvenience caused. I sincerely apologize for hurting Kylie and you by accident. This is a lesson for me and I will take more care in the future.
"I wish all Filipino fans good health and happiness... and congratulations Kylie for your successful year term as Miss International 2016. Best wishes for you!!"
The Miss Universe 2017 pageant will be held on November 26 at The AXIS in Las Vegas, Nevada.
Miss Universe Philippines 2017 Rachel Peters is scheduled to compete with Thi Loan in the pageant.