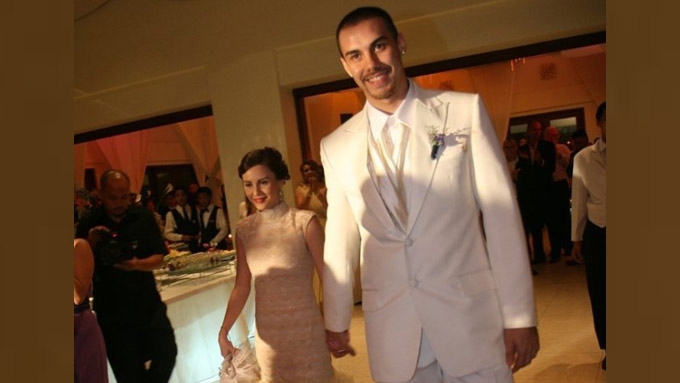 IMAGE Instagram photo of Doug Kramer
---
Doug Kramer took to Instagram yesterday, October 23, to clarify the controversial post of his wife, Chesca Garcia, about the roles of husbands and wives.
On October 17, Chesca posted an illustration where the husband "protects" and "provides for" the family, while the wife is "children managers of the home."
In the caption, the celebrity mom quoted this passage from Ephesians: "Wives, submit yourselves to your husbands, as is fitting in the Lord."
The same illustration and caption were posted on their family's Facebook page, Team Kramer.
The post currently has more than 28,000 reactions and more than 6,900 shares.
It drew mixed opinions from netizens.
While some fellow Christians came to the couple's defense, there were others who criticized the post for its "dated" views.
The post was edited yesterday after gaining a lot of attention from netizens and being picked up by online outlets.
An update to the caption read: "PLEASE READ TILL THE END... I have edited this and put my personal point of view. Thank you everyone!"
DIFFERENT ROLES FOR HUSBAND AND WIFE. Meanwhile, in a series of Instagram posts, Doug explained his wife's post by responding to netizens who slammed their family for being "patriarchal."
The 34-year-old PBA player first pointed out, "We are not a perfect family.
"But we strive every single day to make our relationship work as husband and wife, and especially our roles as father and mother to our 3 beautiful blessings."
Doug married Chesca in 2008. They have three kids named Kendra, Scarlett, and Gavin.
Doug continued, "God designed marriage (not me or my partner) for both husband and wife to have very important roles. And that doesn't mean the wife's role is lesser of the husband."
He went on to clarify, "I never treat or make Chesca feel she is inferior to me.
"In fact, I make her feel more important than myself.
ADVERTISEMENT - CONTINUE READING BELOW
"But this doesn't take away my leadership and stand to lead my family.
"And I mean this in all aspects, I choose to lead my family financially, emotionally, physically and spiritually.
"And guess who is my partner when I fall short at times? My wife.
"She gives life to our family. She gives me motivation to be the best father and husband to my family.
"So is a wife's role just as important as a husband? Yes! But do they have the same roles? No!"
SUBMISSION DOESN'T MEAN WIVES CEASE TO EXIST. In his second post, Doug explained the Bible passage that his wife quoted.
"What does submission to your husband mean according to the Bible?
"Does it mean like this, 'hey you woman, make me a meal, or wash the dishes now. Or give me what my body wants?'
"Is this the kind of submission you really think the Bible means?
"In our setup for our family, when there's decisions or choices that need to be made, I consult my wife first. We talk about it.
"Her input and suggestion matters because she is the mother of my kids and I love her.
"In the end, I will consider all things and make the final decision that will be best fit for my family."
Doug also clarified that Chesca's "submission" to him does not mean she's prevented from being productive.
"Now does Chesca stop being productive and just submit and submit? Nope!
"In fact, she gets restless at times.
"But she uses her restlessness to think of how she can also help in other aspects and be productive.
"Like with finances of the family through business ventures, partnerships and collabs."
He summed up, "These are just ways to show that submission to your husband doesn't mean you also stop existing."
ADVERTISEMENT - CONTINUE READING BELOW
PARTNERSHIP. In his final post about the issue, Doug said that wives can also take over their husband's role if the latter fail to take care of their family.
"Now are all husbands good and faithful to their wives and finances? Unfortunately not.
"My opinion is, to the wives, if your husband doesn't know how to handle the families finances, I suggest you take over.
"But teach him too the proper way, so in the future, he may possibly lead and may make better decisions.
"A marriage is a daily working partnership."